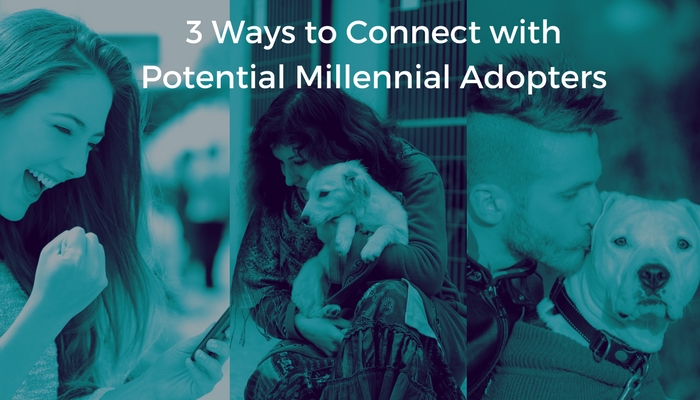 A really great realtor knows that selling a home hinges on three things: preparation, presentation, and education. A potential homebuyer researches a listing to make sure it checks off all things on their want list before ever setting foot in the home. A great listing is not only appealing, but also prepares potential buyers to know what to expect, so there are few if any surprises. After getting pre-qualified, the buyer heads to the open house where the realtor works to close the deal from the moment the buyer takes their first step into the entryway. Prospective buyers have as much time as they need to walk through the house as the smell of freshly baked cookies wafts through the air.  This experienced realtor's careful scripting of the experience, makes qualified buyers now imagine themselves pulling those fresh cookies out of the oven to prepare for a cozy evening on the couch with loved ones watching a favorite film. In their mind, it's already home, let's make an offer.
Now picture a typical (or rather "stereotypical") pet adoption event. Whether it is at the shelter itself or off-site, the available animals are lined up in an enclosure of some sort. The dogs are often barking, whining, and hopefully not growling. The cats are similar, it is a collection of talkers, sniffers, hiders and ignorers. While the potential new pet parent is trying to get to know the animal, there are three other families standing in line behind them, waiting for them to step away for just a second so that they, too, can potentially adopt this pet. It is a high stress situation, with a smell distinctly different than freshly baked cookies wafting through the air.
If you talk to most pet parents, they will tell you that from the time they said "yes, this is the pet for me" to the time they walked to the car with their new family member, it was all a blur. As they were driving away from the adoption event or shelter, reality started to set in… they now have a living being to take care of. Doubt starts to creep into their mind, wondering if they really can take care of this new pet.  But what if this scenario could have been avoided in the first place?
 According to many participants in a recent survey via PetHub1, the preparation for new pet parents for their new journey was often a brief interview at the time of adoption, a small bag of coupons and food samples as they left with the pet, and potentially some follow up emails a few weeks after the adoption event. This approach, for many, was not enough to make them feel confident to handle their new pet properly and safely. Based on suggestions made by young, new adoptive pet parents from the survey, three simple, but key adjustments during the pet adoption process can make all the difference:
Preparation BEFORE the event
Time & space to bond & connect
"Basic" training on pet's needs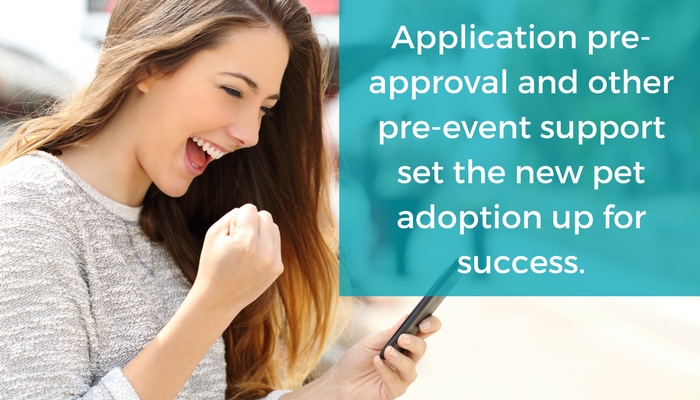 Pre-adoption Prep: Adoption events are always going to be busy for shelter staff, but beginning the connection with potential pet parents ahead of the events, even getting their application process completed before they ever meet the animals, can make potential adopters feel much more confident. An added benefit is that staff will not be as overwhelmed on the day of the event. Once you pre-qualify an adopter, send them a pre-formatted email that lets them know they are "cleared for adoption!" so they don't have that stress of "not knowing" before they come meet their potential fur-ever kid. Also, in that email, provide them a list that has information about items they will need for their new pet. If you want to get really fancy, have links from Amazon for each item they will need. Sign your facility up for the "Amazon SMILE" program, and every time someone purchases something they can "SMILE" at your organization and a portion of the sale goes back to you. By providing advance notice, when a pre-qualified new pet parent attends your adoption events, they will be better prepared to care for their new pet.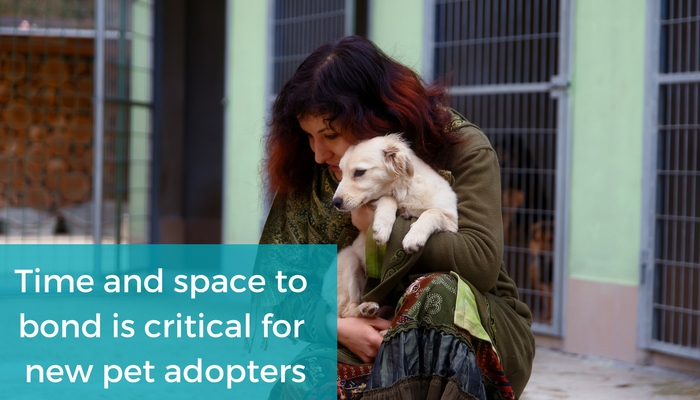 Time & Space: In the recent PetHub  survey of so called "Millennial" first-time pet parents, one complaint that kept coming up was that people felt rushed, felt they didn't have the time to bond with their new potential family member during the adoption process. Many times, they had only one point of contact with the animal, but wanted to be able to interact a bit more, to see if it really was a good personality fit. Yet they felt like if they asked for more time, the pet would be moved on to other potential adopters, so they didn't dare to ask for additional time.  At the event, start taking potential adopters out of the chaos. Set aside an area, whether it be a separate room or a pen/enclosed area, that both the humans and the hopeful pet can have an opportunity to bond.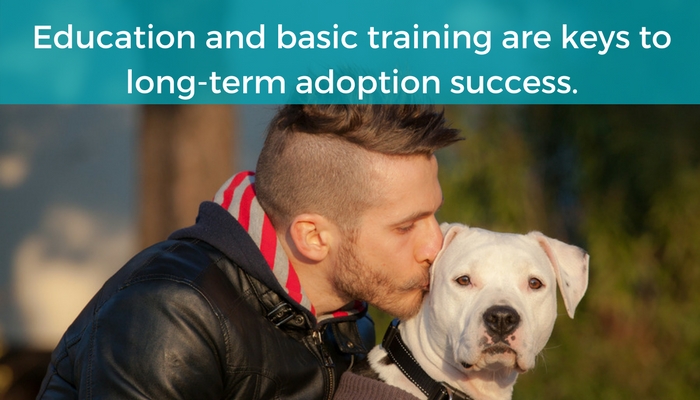 Basic Training: Another recurring theme in the survey was that adopters felt unsure of some of the basic things they needed to do when they first got home with their new companion, and they wished for more guidance from the shelter staff. Before the new parents leave your facility, show them some care tips to help them feel more prepared for their new family member. Allow them to spend a bit of time outside of the caged area, so they can practice handling the animal, and have time to ask a few questions – remember, they are brand new pet parents – they are excited, but unsure. Show them things like: how to adjust the collar, put on a harness, and a proper leash length. Equally important: explain the importance of training and give them local resources for dog trainers and classes. Taking just a few minutes to educate an inexperienced pet parent can be the difference between an "uncontrollable dog" getting returned back to your shelter after a few days and a sweet, although high spirited one-year-old staying with their new family and actively learning how to be a "good canine citizen."
Young pet parents surveyed wanted more instruction in how to determine what food to buy, when to go to the vet (many had no idea when or what vaccinations were needed or required), and how to handle the animal for things like getting into the car, or put on accessories like a harness. Unfortunately, busy adoption events have staff being pulled in a million different directions and leave little room for additional discussions. Adopters often leave events with a stack of paperwork with terms that they did not necessarily understand, feeling as if they just did an expensive legal transaction, rather than feeling like new prepared pet parents. By preparing BEFORE the event, providing time and space to bond & connect, and showing "Basic" training on pet's needs, your staff will not be as overwhelmed and your new pet parents will feel more confident as they begin their journey into pet-parenthood.
1PetHub conducted a survey in April 2017 with over 180 new pet parents between the ages of 21 and 35 on their experiences with obtaining their first pet.