The PetHub team is always excited to work with interns who are just getting started in the animal healthcare industry and tech world. Isamar Sanchez came to us through the Veterinary Entrepreneurship Academy, a high-impact educational program that combines innovative pet health companies, entrepreneurial vet students, and forward-thinking veterinary colleges to accelerate innovation in animal healthcare.
Isamar shared her story (below) that led her to wanting to become a veterinarian. From the streets of Mexico City to studying at Texas A&M University - College of Veterinary Medicine, Isamar's passion for helping animals is infectious.

Life is funny and puts you in situations that you would have never expected to be in, and I could have never planned for my life to take me to where I am today.
As a little girl growing up in Mexico City, I was taught to appreciate the country's rich culture, beautiful scenery, lively people, and mouth-watering food (believe me, you must try the tamales for breakfast and street tacos for dinner).
Sadly, I also saw how animals were often mistreated and abandoned in the very streets that I ate my favorite street tacos. It was normal to see dogs at every corner looking for food, only to be chased off with a broom.
Every day as my family walked down the street, I would point at a dog and ask my mom if we could take him home. The answer was always "No, Isa. How are we going to take care of a dog?"
As I grew older, I found myself advocating for abandoned dogs who were not given respect and love. This deep-rooted connection to animals continued to grow and I began my journey of helping these animals by educating children and adults about the importance of animal welfare.
My path to becoming a veterinarian was fostered by more than just one dog; it was a whole population of stray animals who needed an advocate who saw the power of the human-animal bond.
Loving dogs need a loving home
There is a lack of data on the pet population in Mexico, but in 2015 it was estimated that there were roughly 1.2 million dogs in Mexico City alone and at least 17% of those dogs had no home.
I realized that a major problem was that people could not connect about stray or lost pets in Mexico City and the surrounding areas. My brother and I created a Facebook group where community members could share information about lost and found animals and facilitate potential adoption. You might have a similar group in your community!
Over the next 5 years, our Facebook group grew to over 5,200 members from all over Mexico City. Our original goal was to help at least one lost pet find his way back home, but it has grown into so much more because of the community that has come together to advocate for these dogs.
My work did not stop there... I kept finding stray dogs
While growing up there were many times when I would walk outside of my house and find a dog sitting in our grass or playing with our dogs. I would kindly put them in my old Jeep and drive to the nearest veterinarian who would help me confirm if the pup had a microchip.
I usually spent the whole day driving with this dog, but what made it all worth it was pulling up into a driveway and seeing a thankful family run to my car to hug their dog. These efforts constantly reminded me of the importance of the human-animal bond and inspired me to focus on becoming a veterinarian.
Over the years, I've saved gifts from those families who were so grateful for my assistance in helping their pet find his way home. What they do not know is that I am driven by the experience of losing my own dog and how I wish someone had been there to help me.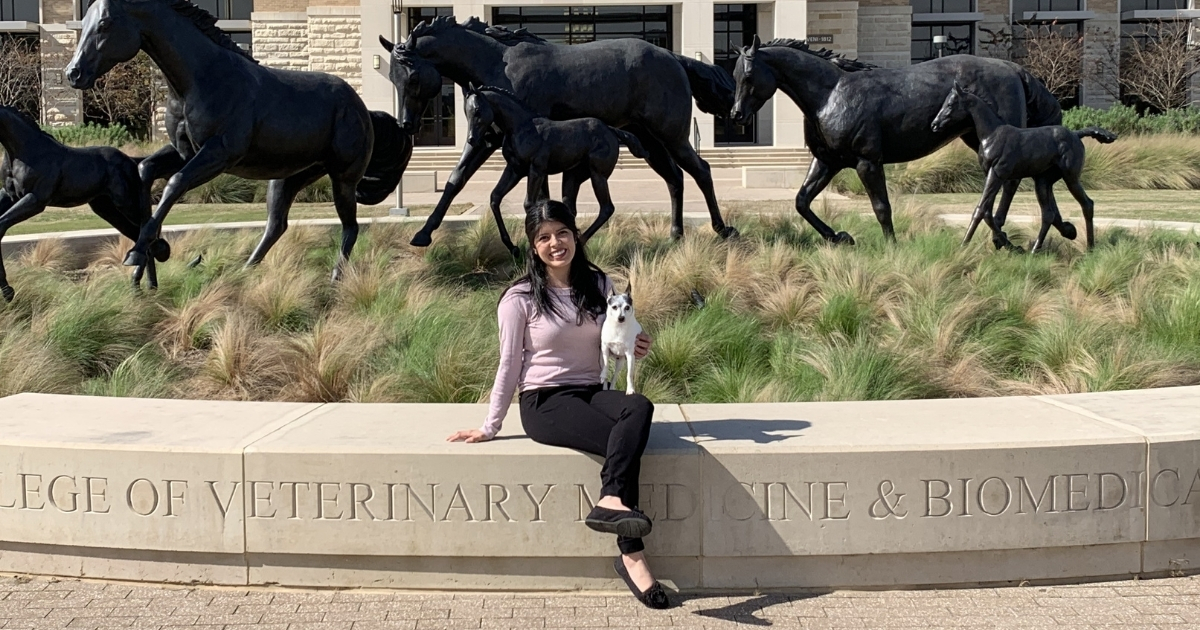 Veterinary student to a PetHub summer intern
After moving to the United States at the age of 7, I began to develop an interest in business. By helping my family sell imported Mexican pottery, I learned how to provide great customer service along with three fundamentals of business: running a successful business takes dedication, many sleepless nights, and trust.
Throughout my adolescence, I worked alongside my family in our three family-owned businesses and learned a lot. Following my passion for animals, I started school at Texas A&M University and am currently a third-year veterinary student.
Having learned the importance of business fundamentals as a child, I applied to participate in the Veterinary Entrepreneurship Academy this summer where I would continue to learn the fundamentals of starting a business while getting real-life experience through an internship with a company in the pet industry.
Life has a funny way of doing things. After finding out I was paired with PetHub for my internship, I was instantly taken back to my roots in Mexico City: finding and reuniting pets with their forever homes. Working closely with the PetHub team, I have seen first-hand how they truly commit to their mission of getting lost pets home fast.
The human-animal bond is an important bond to all of us who have considered our pet part of the family and it was made clear to me from these experiences. I may return to Mexico to continue my advocacy work, but for now I will focus on using these experiences to push me to be a better and more compassionate veterinarian.