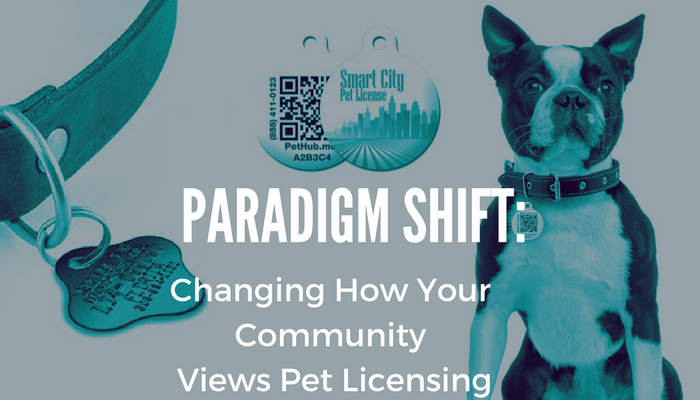 In the last couple of years, Baby Boomers have been replaced as the largest group of pet owners by the so-called Millennial generation. The majority of this new group of pet parents view their pets as their children, their "fur kids." They are looking to provide the best food, toys, enrichment, and services to ensure that their pets have nothing but the best. Yet, many millennial pet owners are unaware of the benefits their own community offers through pet licensing programs, nor even realize they are in violation of any ordinances by not taking advantage of them. By making a few changes to your message about your community's program, you can change the paradigm about pet licensing in your community.
1) More than a Tax
 -- Many municipalities offer a "free ride home" program or discounted care for licensed animals that enter their shelters until their owner picks them up. Often pet parents cannot imagine their pets ever entering the shelter. For some, it is because instead of putting their pet's license on the collar, they have a custom-made tag that has their identification information. Should their pet ever get lost, they believe that their fellow citizen will call them instead of turning their animals into the shelter. By offering a digital tag, from companies like
PetHub, Inc.
, you are providing a more attractive program for your citizens. Digital ID tags not only link to the owner's identification information through the tag, they also provide multiple ways for the pet to get home.  
2) Show me the money -- Unfortunately, many community members don't understand where all of the money from pet licensing goes, a lot of their education comes from unfounded assumptions, often based on rumors on social media (not always in a positive light). You know licensing costs help cover everything from food, vet care, and keeping the lights on for your shelter ~ show that detail of how licensing fees are spent so the public knows, too. Show your community that, by purchasing a pet license, they are not only ensuring a safer future for their pet, but are also helping pets in need. Many will no longer see their pet's license tag as just more government wasted spending, but instead associated with helping all pets. 
3) Shifting Focus
-- Instead of viewing a licensing program as a hindrance to your department, view it as an opportunity for growth. By investing in a digital tag that offers more than just the basic stamped metal licensing number, you can provide a powerful identification tool that encourages citizens to self-report and get pets home before they hit the local shelter. Not only does this reduce overall shelter expenses by reducing intake, some digital ID companies like PetHub's
Shelter Share
offer programs that help you bring additional income into your city with their license tag programs. 
4) The Microchip Conundrum -- Microchips are an important part to a pet's safety plan, but they do have some pitfalls. Not all microchip readers can read all microchips that are available to pet parents. Due to the number of different readers, it is impossible for a community to have all of them currently out on the market in their possession, unless they have invested in an expensive universal scanner. With people  traveling more with their pets,  there is a greater risk of them getting lost in a community that does not necessarily use the same type of reader as the microchip in the pet, rendering the chip useless for getting them home.  Another pitfall: if a lost pet is found by a citizen, they might not take the time to bring the pet into a shelter for a variety of reasons. However, most people will help a pet get home that is wearing an easy-to-read external identification tag. Provide citizens with a stronger safety net to get their pet home, a two prong approach of an external digital id tag and a microchip for your community's licensing and registration program.
5) Make it a Community Initiative -- Create a plan in your community that is supported by all the stakeholders. Gather together your local shelters, rescues, and veterinary clinics, and outline your city's lost pet plan, and the key part pet licenses play. By having the entire community involved in the process, you are creating a network of awareness and community action.