Providing licenses to 25 cities and unincorporated King County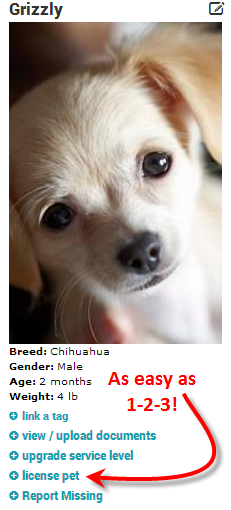 Get a Digital RASKC Pet License TODAY!

PetHub has partnered with Regional Animal Services of King County to help pet owners easily obtain a license for their pets. There is no additional charge for this service

-- you will pay PetHub the same fee you would pay RASKC for licensing your animal -- and get the added benefit of a digital ID tag that links to a FREE online profile and 24/7 Call Center.
Whether you're new to PetHub or already have an account,
getting started is as easy as 1-2-3!
New to PetHub?
Click HERE

Choose which license type you need.

Complete information form.
Existing PetHub user?
Log into your PetHub.com account

Add a new pet (or select an existing pet) & Click the "License Pet" link (see example on the right)

Pick the municipality (city or county) in which to license your animal
That's it! After completing your purchase you will receive a receipt and your data will be sent to RASKC. You'll be sent your new digital ID license in a few days and you'll activate it at at that time.
Each year we will remind you that your license is expiring and you can either renew through PetHub or through the appropriate shelter based on where you live.
Why License Your Animal?
Cities and counties rely on your licensing dollars and donations to help return lost animals, keep animals safe until they can get home, and re-home abandoned animals. They offer many more services, too, including helping to micropchip animals, spay & neuter services, maintain off-leash dog parks, providing safe & warm shelter, clean food & water, and so much more.
Please take the time to license your animal. It not only helps your four-legged loved one, it will help so many more who are looking for a safe place and a chance to get home.
---
If you want to license your pet through PetHub and cannot find your municipality on the list, contact PetHub and we will reach out to them to enlist them in our program.