At PetHub one of our primary goals is keeping your pet safe and healthy for life. Having a copy of your dog's, cat's, ferret's, or other pet's veterinary records is important in determining what type of care and treatment he may need. Just like you, your companion pet will have a complete medical file that should travel with them if they change owners, veterinarians, or where living location. The laws that dictate the rules of the release and transferal of your pet's medical records vary by state, so it's important to visit the American Veterinary Medical Association to check on the rules that apply to your state.
What Should Be Included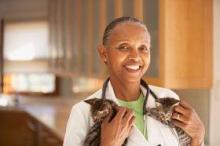 Especially if you've gotten your pet from another owner, you may not have a complete record of your pet's medical history, past surgeries, or any other issues that you'll need to know about. At the very least, you should have a record of when your pet's essential vaccinations were last administered, and that they've been given treatment to avoid common issues such as heartworm.
Image Source: Ariel Skelley/Blend Images/Getty Images
A complete medical history should include a record of every veterinary visit from your pet's birth onward. It should not only include the date of the visit and a record of basics, such as length, weight, and vaccination history, but it should also include a thorough record of any medications prescribed, surgeries, and hospital visits. If your pet needs tests or blood work administered by the veterinarian, there should be both a record of that test being performed and the outcome of those tests.
Getting a Copy
If you adopt your pet from a shelter, it is necessary for them to give you your pet's medical file, so that you can pass it along to your new veterinarian. In the case of adopting a pet from a friend or a private owner, that person should give you any pertinent records on the day you take the pet home with you. It's important to know what level of care the dog, cat, ferret, etc., received prior to coming to live with you, and that your new pet has been given the appropriate vaccinations and checked for any health issues.

Changing Veterinarians
Perhaps your pet isn't really a new addition to the family, but you've moved and need to find your pet a new doctor, or you simply didn't like the care you were receiving from your former veterinarian. There are all sorts of reasons for changing vets and your old vet isn't likely to have any hard feelings regarding the change.
Before changing veterinarians, pay a visit to your old vet and ask to see your pet's original file. Make a note of everything that's included in the medical history so that when you request a copy to be sent to the new vet, you can verify that all pertinent documentation has been included.
If you haven't chosen a new veterinarian yet, be sure to have all the important contact information for your pet's old vet. Being able to put the new vet in touch with your old vet is the best way to avoid confusion, lost files, or questions regarding medical history. If your new veterinarian does have questions about your pet's medical care, they should feel free to speak to the former vet about visits or procedures, as they're likely to get a more thorough answer than simply asking you.
Treat your pet's medical care with the same meticulous attention to detail as you'd pay to your own medical history. Much of what's located in your pet's medical history may seem like relatively insignificant detail, but you never know what's going to prove to be helpful in the future.