Giving YOU The Puzzle Pieces Needed for Lost Pet Prevention
We will be spending the month of July talking with you about the puzzle pieces that make lost pet prevention a success. When the puzzle is "solved," you have everything you need to keep your pets safe, happy, and HOME for the rest of their lives. If one piece is missing, the puzzle simply doesn't work. These necessary pieces include: Return to Home Tools, Training & Enrichment, Pet Travel Safety and Local Resources (i.e. shelters and animal rescue organizations).
We are so excited to be working alongside so many amazing pet industry partners and shelters to educate pet parents and promote best practices for lost pet prevention and recovery. There will be helpful articles, Pet Lover Geek Podcast episodes, informative social media posts, and more! You can follow along through our Twitter, Facebook, and Instagram (@PetHub) and through this page for in-depth resources and tools.
Schedule
Each week we will be diving into a specific topic for Lost Pet Prevention Month:
Week 1 - Return to Home Tools

Week 2 - Training & Enrichment

Week 3 - Pet Travel Safety

Week 4 - Local Resources
Through our social media, we will be sharing videos from our partners discussing LPPM and why it is important, daily interactive stories, answering lost pet prevention and recovery questions, and more!
You can follow along through our Twitter, Facebook, and Instagram (@PetHub).
Giveaway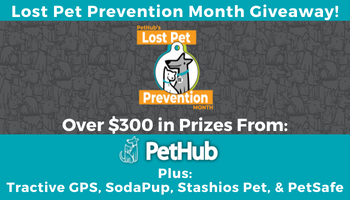 You could win a Lost Pet Prevention Month prize pack worth over $300 from PetHub, Stashios Pet, SodaPup, Tractive GPS and more! Use the link to enter below. One lucky winner will be selected July 31st and will be notified at the beginning of August. No purchase necessary to participate. 
Puzzle Pieces Week by Week
Week 1 - Return to Home Tools
Frequently Asked Questions
PetHub started LPPM in 2014 to drive a deeper conversation around the many aspects of keeping pets safe at home with their families. Throughout the month pet industry partners join together to discuss all things involving lost pet prevention and recovery. Pet parents will have the opportunity to hear from industry experts, learn new tips and strategies, and connect with other pet parents around the United States.
While there is no way to ensure your pet will never become lost, there are several ways you can reduce the chances of it happening and make it easier to get your pet home if it does happen. Here at PetHub we stress the importance of multiple identification methods, including: external ID tag, microchip, pet license, and additional tools like travel crate tags and wallet cards.
Take a peek at all of our resources on this page - it's a great place to start. Together with our partners, we have collected a variety of strategies, tips and information to help pet parents with lost pet prevention and recovery. Topics include: behavior, environment, traveling with pets, and more!
Connect with PetHub and all of the LPPM partners on social media -- we are constantly sharing more resources (even when it isn't LPPM)!
The potential for pets to go missing spikes in July and August because pets are outside more and travel plans are in full swing. In fact, a survey in 2015 found that Animal Control Services see a 30% increase in lost pets July 4-6, and only 14% of lost pets are returned to their owners.