Planning a trip with your furbabies? Woohoo!
Traveling with your furry family members can be so much fun, but safety always needs to come first! We're going to help you out with some PAWsome tips on
how to keep your pet safe, healthy, happy and with YOU while traveling.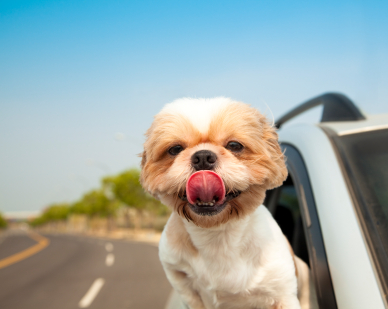 1. Prepare your ride. Make sure your car is fit for a pet to travel in. That means you should have the proper restraints and/or carrier in the vehicle. A great resource for carriers is PetMate.com, and, BONUS, PetHub members get 15% orders of $49 or more! And if you prefer your dog just hangout in the backseat, you can also do this safely by using a pet seatbelt like this!
And don't forget to bring a toy or two in the car to help keep them busy! Make sure they are able to expend some energy on the trip. Throw around a Kong ball when you take rest breaks!
2.

Identification is key

. New environments open up lots of new ways for pets to escape and/or get lost, so you should make sure they have proper ID on them AT ALL TIMES. PetHub's Get Me Home Club QR Tag is the best option for you and your furry best friends! Just attach the tag to their collar and voila! Anyone with a smartphone who finds your pet (in the unfortunate event that they've gone missing) can scan it and get them back to you ASAP. No shelters or animal control necessary! You can also consider getting them a personal collar monitor like this one from Whistle.
3. Keep current medical data. Emergencies can happen anytime. Having your pet's medical info and history stored somewhere is always a huge help just in case! And checkout Vetster just in case your pet's need in care while away from their local vet! 
4. Opt out of off-leash play time. It's really not safe to let your pets roam free, especially in unfamiliar territory. This opens up a plethora of ways for your pooch to get lost or injured! In order to prevent something like that from happening, it is best to keep them on-leash with a long lead, always while traveling. This ensures their safety and you can rest easy. Best vacation ever? Yes, please!
6. Check leashes and collars before heading out on your trip. There are so many new sights and smells when traveling! Your PAW-some buddy may pull a little harder to get to these new sights and smells, so make sure he can't get away by checking those leashes, harnesses and collars for any wear before you head out.
7. Think safety first when going on outdoor adventures. Sunscreen, natural bug repellent and staying hydrated are part of most people's preparations for outdoor travel. But keep in mind, your pet may need these things too! 
Try a travel bowl like this
that you can take on short walks to the longest trecks possible.
8. Make sure your pet is in good health before going on long trips. Nothing is worse than traveling while sick. If you're planning a long trip, it doesn't hurt to visit your vet for your pet's annual physical. Waggles Pet Monitor, is great option for monitoring your pet's activity, temperature and anxiety while traveling. And, while you're traveling, you get 30% off with your PetHub membership!
9. Always remember to pack portable food and water dishes. It's important that pets stay hydrated and fed as they would be at home. Your pets know their routine at home and will expect that while traveling, too! While you're packing food, be sure to add some calming supplements to your bag to feed your pet if they are prone to travel-sickness or anxiety, these ones by Pawstruck are PetHub pet approved! 
10. Don't overdo it. Some things may just have to wait until the next trip! Spread out your activity schedule so as to not over-exhaust your pets AND yourself. Keep in mind if you bring pets on the road with you, this will mean more potty and snack breaks along the way, too! Have patience and most of all, have fun. 
Here at PetHub, our mission is to give you the tools to help you keep your pets

happy, safe and at HOME for the rest of their lives

.