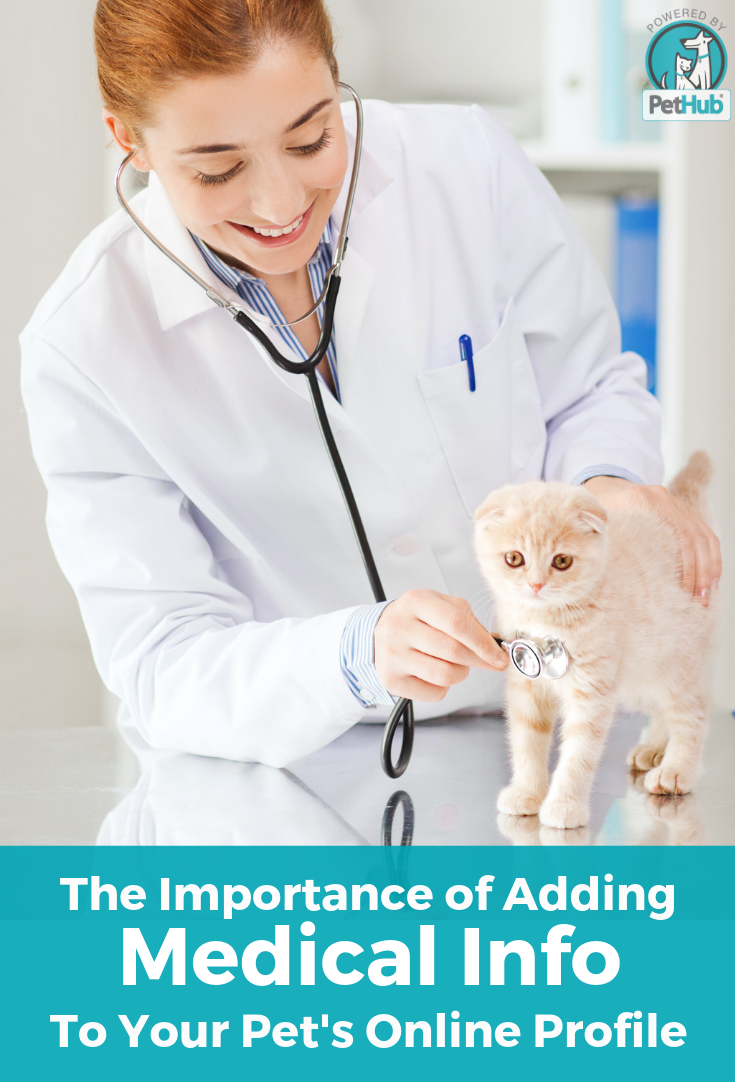 When you set up your PetHub account, create a profile for your pet, and link their new digital ID tag, you may think that you are just getting the lost pet recovery services. But, did you know that PetHub profiles can hold more than just emergency contact information?
Everything from vaccine records, allergies, procedures, conditions, medications, and even medical documents, can be uploaded to your pet's profile. Adding medical information to your pet's profile is extremely important. If they get lost and need to be in temporary care of someone else until you can get them home, it is important that those people know about any medical information. So how do you go about making sure that your pet's profile is as comprehensive as possible?
HOW TO ADD YOUR PET'S MEDICAL INFORMATION TO THEIR PROFILE
Start by logging into your PetHub.com account (you will see the login boxes at the top right of your screen). Once you're logged in, you should see your pet's profile as seen in the example below.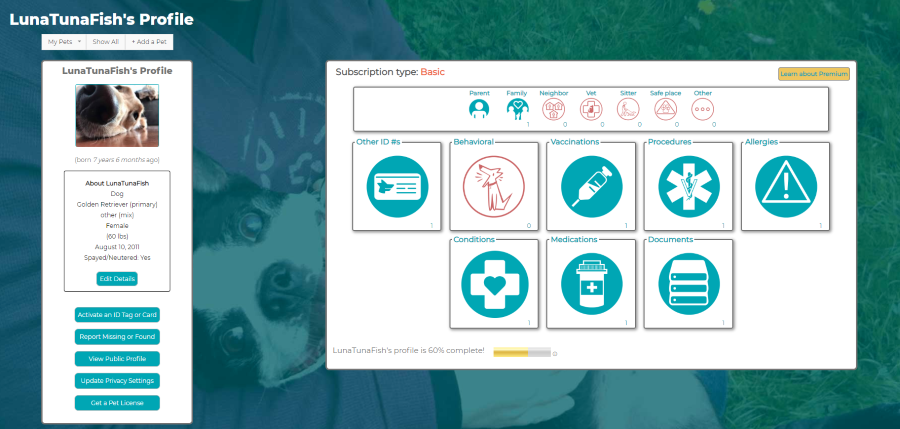 Here you will see all of the options for medical information you can add to your pet's profile. To start uploading the information, click on the square for the appropriate category. You will be taken to the respective form where you can fill in all the necessary information. Below you can see the example form for adding a new medication to your pet's account. Make sure to scroll to the bottom and click SAVE when you have completed each form.

Once you have saved your first medical form on your pet's PetHub profile, you will be taken to the page where you can view all the medical information you have submitted. Here you can edit or delete submissions you have done. You can also see along the top, orange buttons for all the medical additions you can add to your pet's profile. Once you have added all the information necessary, click the blue DONE button at the top of the page.
We want to make sure that your pet's profile is as complete as possible so, should they ever go missing, you have no doubt in your mind that they will be well taken care of. You can also choose which of the above information is viewable on your pet's profile. To change what information about your pet is public when their tag is scanned, click the blue "Update Privacy Settings" button underneath the picture on their pet profile. Here you can check or uncheck whatever you want people to be able to see when they scan your pet's PetHub tag. Click "Save" once you are done.
As always, you can always reach out to our support team for any help with your PetHub profile! Just visit our Contact Page!

(