At PetHub we are committed to keeping every families pets, safe, happy and HOME for the rest of their lives. Making sure your lost pet posters and flyers are so eye-catching that everyone notices them is a great place to start.

 
Posters and flyers are two separate items
When you have a lost pet, you need to take the time to make both. Posters are large items that can be posted where drivers will see them, and will take notice for a few seconds. 
What You Should Know About Posters
Posters are made out of heavy-duty material, are preferably fluorescent and easy to spot, and have words that jump off the page. Phrases like "Reward: Lost Cat" and a picture of your missing pet work extremely well. In the middle of the poster, you can tape the flyer that gives further details about you and your pet, so that anyone who thinks they've seen the animal or may have them in possession will hopefully stop and look.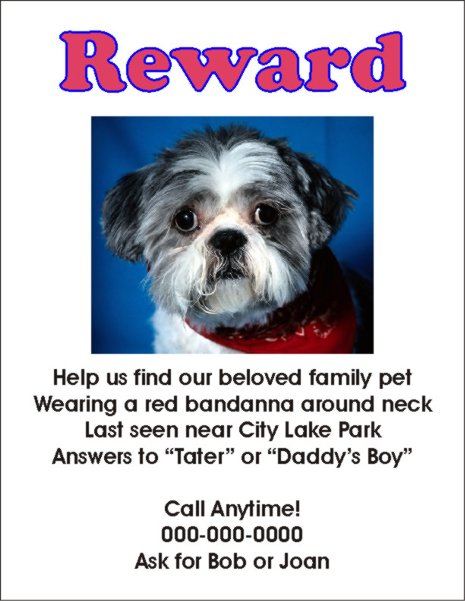 What You Should Know About Flyers

Making up flyers is just as important of a task as creating large posters, and because flyers are much more versatile, you can provide more information and post them in more locations. The best flyers use a standard sheet of printer paper, and include phrases like "Missing Dog" in large print, followed by a picture of your dog. In smaller print, you may write a few sentences describing your pet's appearance and temperament, where and when they were last seen, and any medical information or unique physical traits that will help identify them.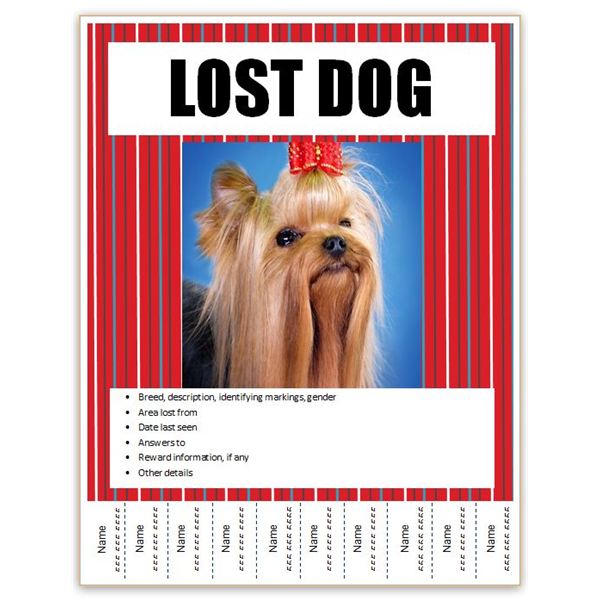 Location, Location, Location.
Leave your posters and flyers in high-volume locations such as the grocery store, coffee shops, local restaurants, bookstores, or anywhere else that has a bulletin board that area residents are likely to read. If you live near a college campus, don't forget to put posters up around the campus, as it's a popular form of marketing that's likely to get attention.
Don't forget to include your phone number, e-mail or a QR code that links to your contact information or your pet's online profile (like on PetHub.com) Some people make little pieces of paper or even print cards with contact information that anyone reading the flyer can take with them. The more people you make aware of your situation, the more likely you are to get a result. Don't be afraid to annoy others in your quest to have your pet returned, as long as you're not littering or breaking any laws.