We might be biased, but we think we have the most PAWsome work family at PetHub -- and that includes our pets!
On the daily, we strive to live by our company's mission in keeping every family's pets safe, happy and home for the rest of their lives. And as we approach the season of love, it seems like a great time to brag on our pets, share how much we love them, and explain how they overwhelmingly enhance our lives. We LOVE hearing your "luv" stories so much, Valentine's Day has inspired us to share our very own stories with you.
PetHub's LUV Stories 
Drake (Business Development Coordinator) and Riley
Riley is a sweet and old Golden Retriever that chose me. One summer while sanding a deck with my brother at my grandparent's lakehouse she appeared. I had known Riley as that precious doggo that swam the lake behind her owner's paddleboat, but this summer she became much more. She showed up every day to lick the sweat off our backs and show us the true meaning of unconditional love. Her owner asked us if we would take her and there was no way we could refuse. Six years later I still cherish her everyday and couldn't ask for a better family member.
Lorien Clemens (Co-Founder and CEO) and Tormund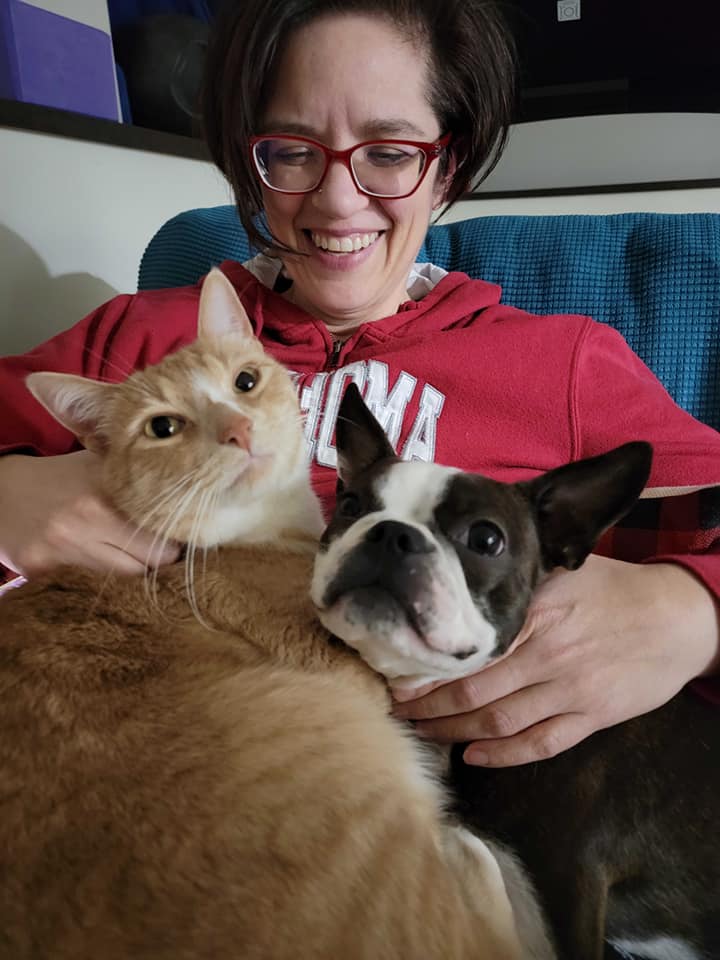 Our cat, Taz, had passed away unexpectedly from what we think was lung cancer (it evolved so quickly, we never had a full diagnosis). Our other cat, Houdini, missed her terribly and stopped eating.  We were torn about getting a new cat so quickly after losing Taz, but then a good friend at the Humane Society let me know that a cat named Tormund (from Game of Thrones) was at the Firehouse Pet Shop's adoption room. Now, this friend knew that my husband and I were OBSESSED with GoT -- so I wonder if that had anything to do with his name...but it DID get us to go visit him at the shop.
He was such a lover -- wanted to be held and cuddled -- after about 1 minute, Tom said, "Well, Tormund, it looks like you've got a new family."  When we got him home, he lived up to his name, and Lady Brienne (aka Houdini) couldn't STAND him even though he was smitten with her. He also was not a bit afraid of our two dogs (in fact, he full on attacked our 55 lb mix when he first met him -- they later came to a "truce" of acceptance of each other). He quickly took over as the alpha fur kid of the house!
Now, over 3 years later, he's the only member of the pack he joined still with us, sadly, though his new fur sister, our 1 year old Boston Terrier, Hedy Pawmarr, and he are best friends ~ both playing and cuddling with each other all the time.  He's also the most amazing friend to our toddler son, so patient and gentle with him as he learns to play politely  with animals. He's also deeply bonded with me, and simply the best cat I've ever had in my life. 
Renee (VP of Operations) and Nog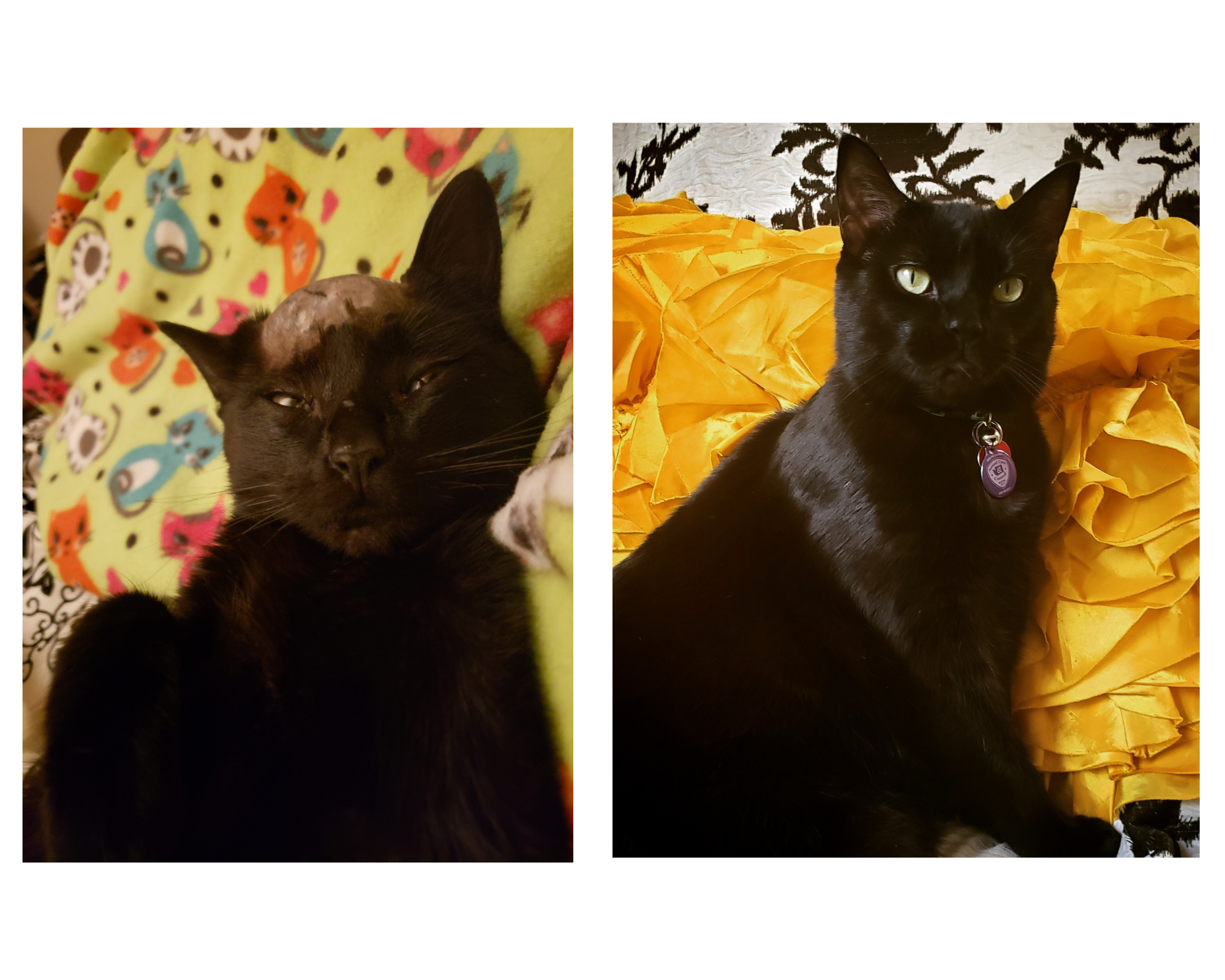 The minute I saw Nog, I knew it was love.
I had volunteered to transport a cat from a local veterinarian, where he had x-rays for a head wound, back to the shelter and although he was clearly injured and in pain, he purred the whole time and bumped his head against the crate door in an attempt to get chin skritches. As I dropped him off to the shelter, I noted that if they needed a medical foster to take him on, I was willing and able! And, they took me up on that offer. It was a go...a few days of giving him time to recoup turned into weeks of drain tubes, Elizabethan cones, syringe feeding, subcutaneous fluids, and follow-up vet visits. But all the while, he remained sweet and appreciative and I knew he was never going back to the shelter if it make it through. And he did!
Three years later, he has grown into a healthy, house panther who is still as sweet as he was the day I met him. He's curious, smart, fun and, at times, rowdy and rambunctious and I can't imagine a life without him. 
Shari (VP of Customer Success) and Sapphira
Sapphira and her littermates were born to a feral mama cat in my friend's old shed back in April of 2006. When my friend discovered the kitties, mama cat took off for good, leaving 4 babies alone to find homes. There was no way to say no, and that's how baby Sapphira came to be in our family at about 4 - 5 weeks old. Now she's almost 16 years old and still happy and healthy, and still proudly bringing us the occasional dead mouse or vole. She's a dragon cat who only likes to be petted on her own terms, but I love her feisty spirit! 
Kat (Marketing Brand/Projects Manager) and Argo
My dog Argo is a black, white and brown tri-color Australian Shepherd and he just turned 7 in December. We got him from a trusted breeder in the Bellingham area in early 2015 when he was just 12 weeks old! He was the cutest puppy ever. It was a long car ride home to Wenatchee and he slept the whole way snuggled up to the back of my neck under my hair against the passenger seat. It was especially exciting to bring him home because my husband and I kept him a secret from our kids and surprised them when we got home. Lots of tears (of joy) were shed that day. In his younger years he was my hiking buddy in the early mornings and loved to be active. He would still love to be active, but arthritis from an old injury has slowed him down a bit these days. In his head though, he is still just a puppy and we love our goofy boy so much! 
Jill (Technical Marketing Engineer) and Huckleberry
I got Huckleberry from a rescue out of Houston, TX that I found on PetFinder.com. His mother was rescued from a high kill shelter when she was pregnant with her puppies and Huck spent his first 11 months at the rescue. Although the rescue does a great job with the animals in their care, Huck's interaction with humans was limited and so when I got him he had serious stranger danger. When I brought him home, he ran to a corner of the living room and didn't move voluntarily for almost two weeks. I had to leash him to get him to go outside and I had to bring him his food and water to his safe corner. Now, a little over two years later, he still has some stranger danger but is so much better. And he's the best, sweetest, snuggliest, most devoted companion I could ask for.
Mykah (Marketing Content Coordinator) and Bunni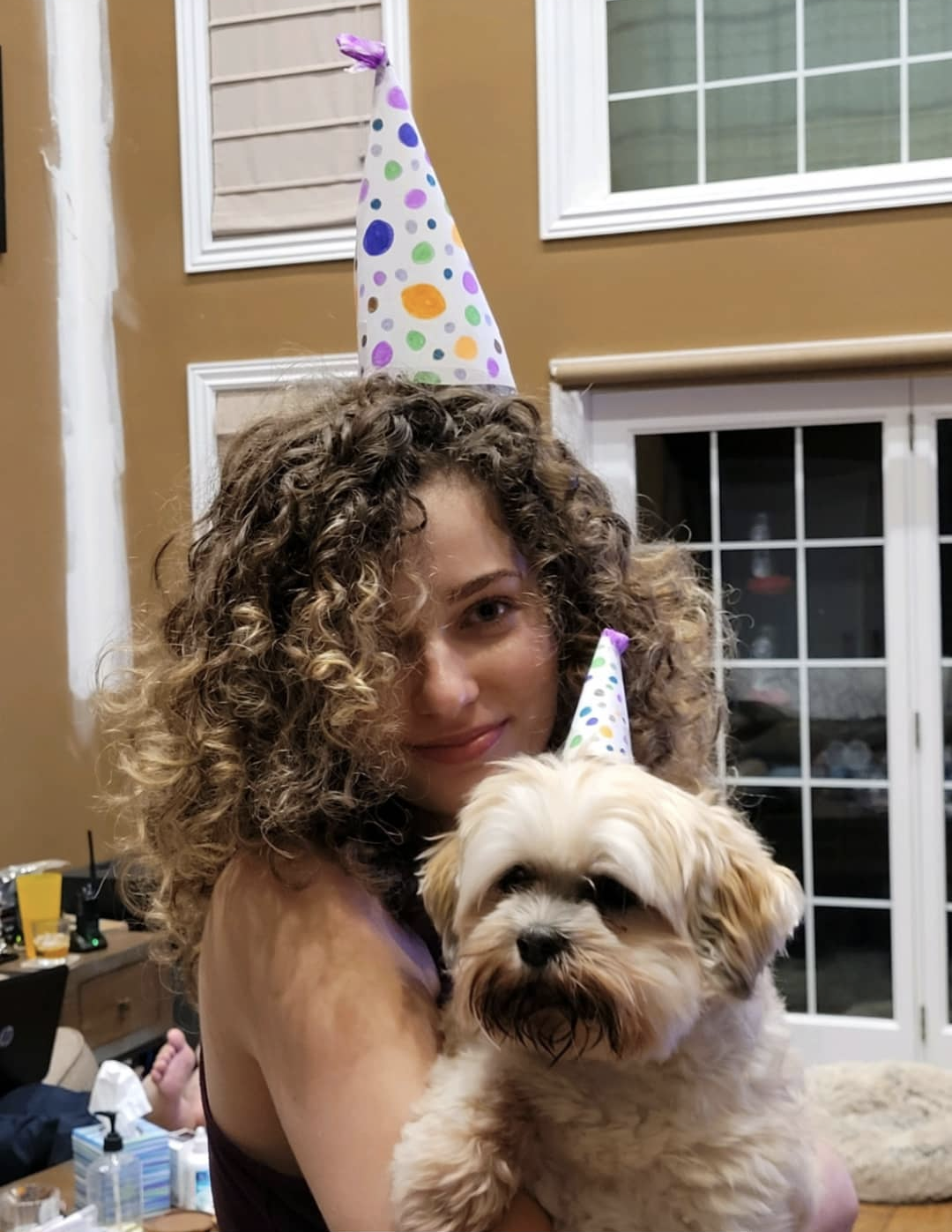 Despite her name, Bunni is a Lhasa Apso. We adopted her when she was an *adult puppy*, but she is still as energetic as ever now that she's in her senior dog years. We found her online looking for small dog breeds needing homes. Bunni whose official title was "Highland ShowTrue SomeBunny Loves you" was rejected by her show-dog family because she was born with a crooked jaw and teeth. She was living outside when we found her online and couldn't let her go another night alone once we met her. To this day she is still "the best bad girl" and the most funny and eccentric dog. We wouldn't trade her for any other doggo, even if she likes to chase cars and kids on roller blades, haha. 
Sharon (Partner Marketing Coordinator) and Aela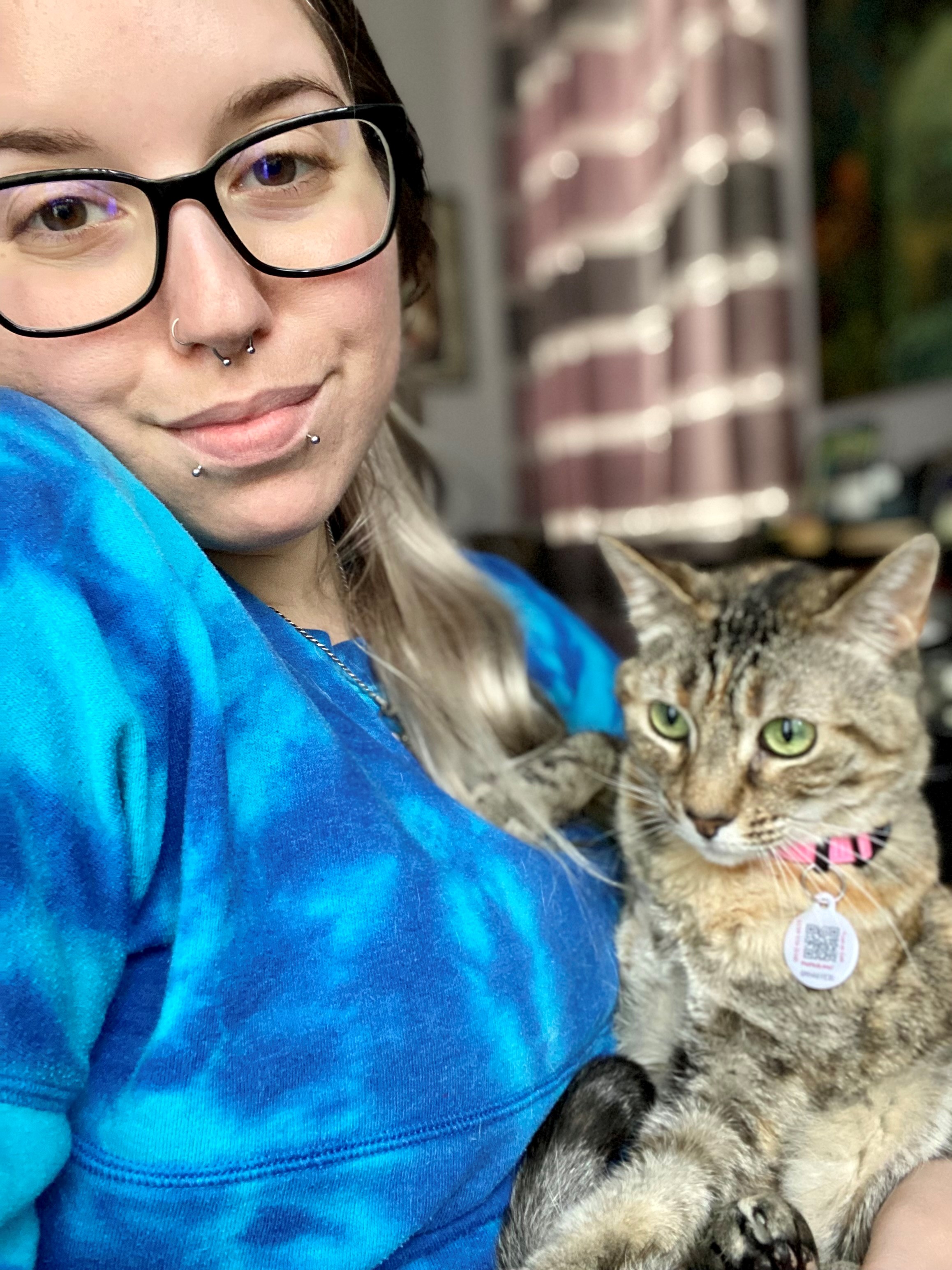 Aela is my first adoption ever! She was goofy and lanky as a kitten, my mom joked that I couldn't have picked an uglier cat when I brought her home. She's grown into herself now and everyone compliments on how beautiful she is (she was always a beauty in my eyes). She is the BIGGEST cuddle bug and never leaves my side. Seriously, never. And she's constantly chitty chatting. She has been my one constant for over the last decade, through all of life's ups and downs. My best girl and soul kitty. I'm very grateful she picked me that day at the shelter as she's shown me how rewarding animal companionship is! 
Our Valentine's Day gift to YOU:
Get a perfect plush replica of your pet with Cuddle Clones! We have unbreakable bonds with our fur kids and wish we could be with them even when life intervenes. Cuddle Clones fully personalized pet plushies are a great way to take your pet with you wherever you go. Premium PetHub'ers get 10% off! 
Get your pet prepped for those slobbery V-day kisses! It's National Pet Dental Health Month and TEEF! has a patented prebiotic powder that you simply mix into your pet's water to clean their mouth and freshen their breath as effectively as a molecular toothbrush! TEEF! is vegan, vet approved, clinically proven, guilt-free and feline friendly. Get 20% off your first order of a 1 month or 6 month supply!
We want to hear your LUV stories, too! On Instagram and Twitter, use #PetHubLuv to grab our attention OR you can always tag us @PetHub. Cool points and priority attention if your pet wears a PetHub tag!