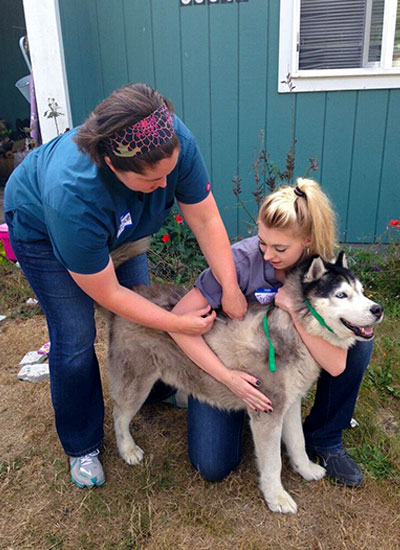 The Port Gamble S'Klallam Tribe can celebrate that 109 animals on their reservation have been vaccinated thanks to the Port Gamble S'Klallam Tribe Rabies Clinic. Not only are these animals vaccinated but are sporting PetHub QR Digital Dog & Cat ID Tags that make it easier to identify them as a vaccinated animal.
This great opportunity happened when the clinic reached out to us (PetHub) for a donation of tags. They found us on the internet and learned that we specialize in getting lost pets home faster with a digital pet ID system that links important information about pets to their QR Digital Dog & Cat ID Tags. They saw the PetHub system as a simple high-tech solution that could help improve the handling of animals on the reservation.
The reservation currently homes not only the peaceful tribe members and their lovely pets but a small population of rabid bats that are known to bite poor unsuspecting four legged souls occasionally. Unfortunately, if an unvaccinated animal is bitten by a rabid bat most people won't know until symptoms start to show and by then it's too late. The best way to combat the rabies disease from infecting an animal is by vaccination. However, vaccination alone will not help the tribe if they can't quickly identify a vaccinated animal.
The tribe doesn't contain an official animal control officer and instead rely on the tribal police officers to handle biting animals. The officers lack thorough training when handling animals and in the case of a biting animal the officers will likely set an unofficial quarantine zone for the biting animal in the owner's home. There Mr. Tinkles, the unvaccinated family dog who may be infected with rabies, can escape quarantine and transmit the rabies disease to a family member or another tribe member.
The clinic needed a solution that could easily let a tribe member identify if an animal has been vaccinated as well as access to other important medical and identification information about the animal. With the PetHub QR Digital Dog & Cat ID Tag, the clinic knew they could easily add information about an animal on the animal's pet profile and link the information to the animal's tag. In the case, a tribe member gets bitten or scratched by an animal they can easily scan the QR code or look up the URL address on the animal's tag to learn more about the animal's vaccination records.
When the clinic decided to reach out to us for a donation, we couldn't resist lending out a helpful paw if it meant improving animal welfare. In the end, 109 animals are now protected from rabies and are easily identifiable with their PetHub tags.