Losing a dog can be a frightening and emotionally distressing experience. Knowing how to begin the search for your beloved dog can be extremely challenging and overwhelming. Don't worry, the PetHub team is here to help answer the question of "how to find my missing dog?"
We speak with pet owners daily, and we understand how frightening having a lost pet can be. We've heard the stories of both the panic they feel when their furry family members go missing and the enormous relief they experience when the search is over and their dog returns to their family.
Proven Search Strategies for Lost Dogs
To determine the best way to help reunite pets and people, we joined forces with the National Animal Care & Control Association (NACA) and conducted a survey.
We gathered advice from fellow pet owners and people who work in Animal Welfare about the most effective strategies to search for dogs.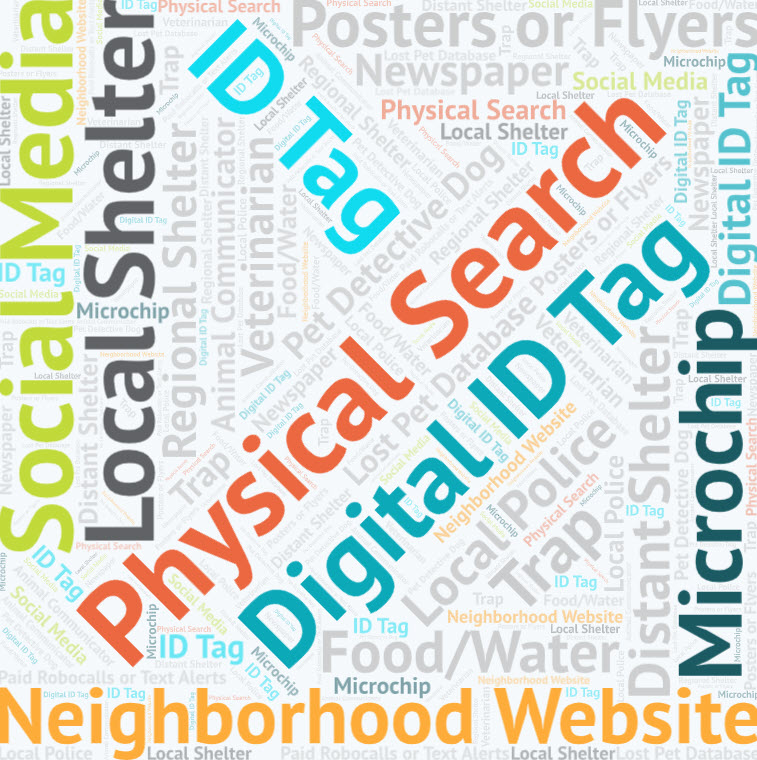 This article will focus on the top most efficient methods for finding lost dogs, according to dog owners interviewed. We'll also talk about secondary tactics that have proven useful (and you might be surprised where some of these tools end up!)
Top 5 Search Tips From Dog Parents
Figuring out how to begin a search for a lost dog can feel overwhelming. It's important to stay calmed and focused. So don't worry, we're here to help!
We're sharing tips from actual pet parents who have lost a fur kid in the past 5 years, in order of effectiveness.
1. Physical Searching
Local searching was found to be the number one way to locate lost animals, according to our survey results, so patrolling your neighborhood can be huge to bringing a pet home.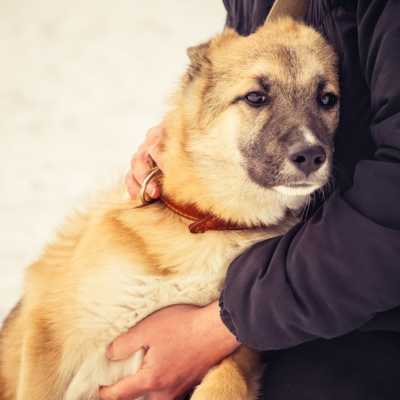 Involve Neighbors and Friends in the Search
We imagine your doggo is pretty popular. Enlist the help of folks who know and love them, like friends, family, and neighbors in the search. Build a search perimeter around your neighborhood, then split up and walk or drive the area. It will increase your chances of finding your lost pupper.
Don't waste time waiting for others to join you or to see if your dog will return home on its own. Start looking the second you realize they are gone.
2. Visible Identification
Okay, technically, ID tags as a category were the 5th most effective tool in getting a lost dog reunited with its family. Collar IDs are incredibly powerful tools for pet owners and are key to reuniting lost doggos with their humans.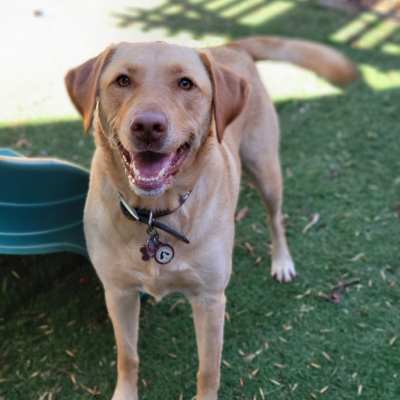 Tags allow for fast identification and safe return of lost pets, often before your dog even reaches a shelter because ANYONE can read the tag and get your fur kid home. Plus, for the most part, tags are an inexpensive, yet invaluable investment in your pet's safety.
Digital ID tags are PAW-some
But wait! Why do you list ID tags as number 2 if they were really fifth?? Well, this was one of the coolest key learnings from the survey. When the ID tag on a pet's collar is a digital ID (what some folks call a "smart tag"), they were the 2nd most effective tool to get a lost dog home.
But wait, there's MORE! According to the survey, on the whole, digital ID tags got dogs home faster than almost all other means except for physical search. Not to toot our own horn, but our internal data here at PetHub shows that most pets (96%) recovered through our system are home in less than a day, 98% never enter a shelter.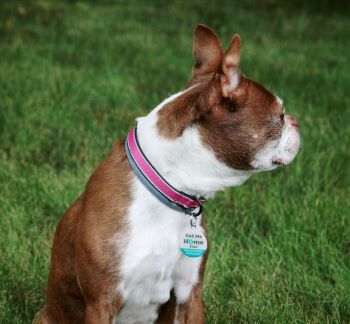 Don't have a PetHub tag? No worries! You can get one right on our site.
What about the cute tag I got etched at the store?
Yeah, that tag is super cute and has her name on it, but we have some downer news for you. Those using standard, non-digital IDs only also ranked external identification as helpful but ranked this tool lower at #6 overall.
Though they may only be a couple of bucks from the machines in big pet stores, these tags only a few lines of static information and they just aren't as powerful as smart tags. At the end of the day, any visible ID tag with current information can help your pet get home. But is just "any ol' tag" good enough for your fur kid? We might be biased, but we believe digital tags, like a PetHub ID tag are the best way to go for pet identification.
Update Your Contact Information
Collar tags are great and work really well. But, only if the information provided is current.
Keeping your information current with a standard tag means replacing the tag when your information, such as address or phone number changes. Don't wait to do this. Make this part of your checklist when changing numbers or moving.
If you have a PetHub digital ID tag, you likely know updating your pet's info is a bit easier! You simply log into your pet's profile, type in your new information, and voilà! Your pet's tag is current with your newest contact information.
PetHub profiles should also include contact info for several 'Safety Circle' members like friends, neighbors, family members, and pet sitters. If you have lost your pet and a kind stranger, local animal shelter, or animal control agency calls to say they have found them, you'll be super thankful they had multiple numbers for your doggo's fan club.
3. Posting Online
The internet can be a search game-changer. We know, the internet was made for cat photos but it can also be an amazing tool when you're looking for a lost fuzzy family member. Dog owners surveyed said this was the 3rd most efficient way to get results.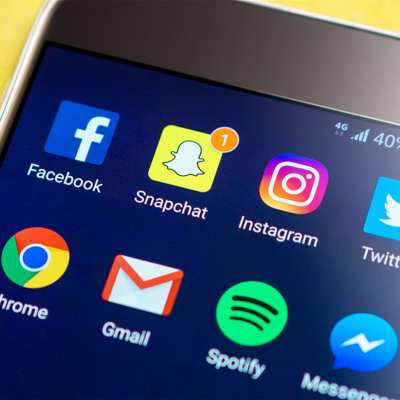 Use Social Media and Neighborhood Websites
Share a photo and description on social media. Include the general area and date missing. Ask friends and family in your local community and neighborhood to share the posts.
Most communities have pages specifically for local lost dogs online, like Found Pet Facebook pages (make sure to check neighboring towns and communities and make posts there, too). Not only should you post about your lost dog on these Facebook pages, but periodically scrolling through recently found dog posts on the page might lead you directly to your beloved fur kid's location.
PetHub Lost Pet Reports* even allows you to share directly to social media networks!
Don't forget neighborhood websites like NextDoor and Ring's Neighbors app. Sharing your search story with those who live nearby can lead to more eyeballs looking for your friend. Heck, even let local mail carriers know, as they walk around your neighborhood each day.
4. Notifying Local Shelters and Shelters Less Than 25 Miles Away
Don't rely on luck - reach out to all shelters within a 25-mile search radius. File a missing pet report with each of them so they have your information should they find them first.
Consider Local Animal Control and Veterinary Offices Too
If your local animal control agencies aren't part of your local shelter (it depends on where you live), you may also want to file a missing pet report with them. Veterinary offices within the 25-mile search radius are also good places to notify, should something happen and your pup end up there.
Pro Tip: Use PetHub's Shelter Alert Service* and save valuable time!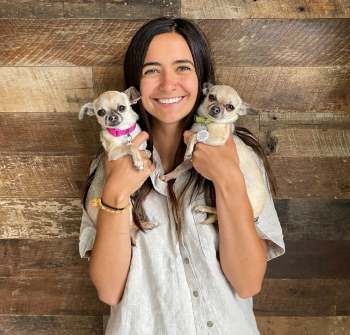 5. Invisible Identification
Microchips are another must-have for your pet. They work together with an ID tag to make sure there are several identifying ways to get them home, should one fail.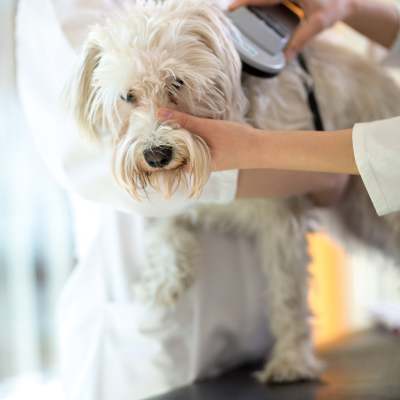 A Piece of the Puzzle, Not the Solution
Contact the provider of your missing pet's microchip to verify that your contact information is current and set a reminder in your phone to double-check the info every couple of months.
Because microchips can move, it's also a good idea to ask your vet to conduct a 'Chip Check' at your pet's annual check-up. Some local animal welfare organizations will also conduct these for you too.
If you are unsure of your pet's microchip provider, reach out to the veterinarian, breeder, animal shelter, or pet rescue where you got your pet. They should be able to assist you. You can also bring your pet to the local shelter or vet's office for a scan of microchipped dogs, which will tell you the brand of chip.
Other Helpful Tools To Try
In addition to the top five resources above, pet owners also reported a few of the common, well-known tools as helpful - though not as effective.
They also noted that they usually did not use these methods until their pet was lost for over a week. So though we encourage you to use the following methods, don't worry about devoting time to them unless your pet is missing for several days.
Notifying Out-of-Area Shelters
Animals can get lost by taking unexpected trips and a Good Samaritan who finds a pet that seems lost may not know which shelters are closest to a found pet's home.
Cast your net wider, by expanding your search area. If Fido doesn't come within 2 days, contact out-of-area animal shelters and animal control agencies about your lost pet. Many will allow you to file a missing pet report by phone or online.
Posters and Flyers
Creating eye-catching flyers with your pet's photo and relevant information, such as the date and time they went missing. This is an effective way to generate attention and increase your chances of being reunited.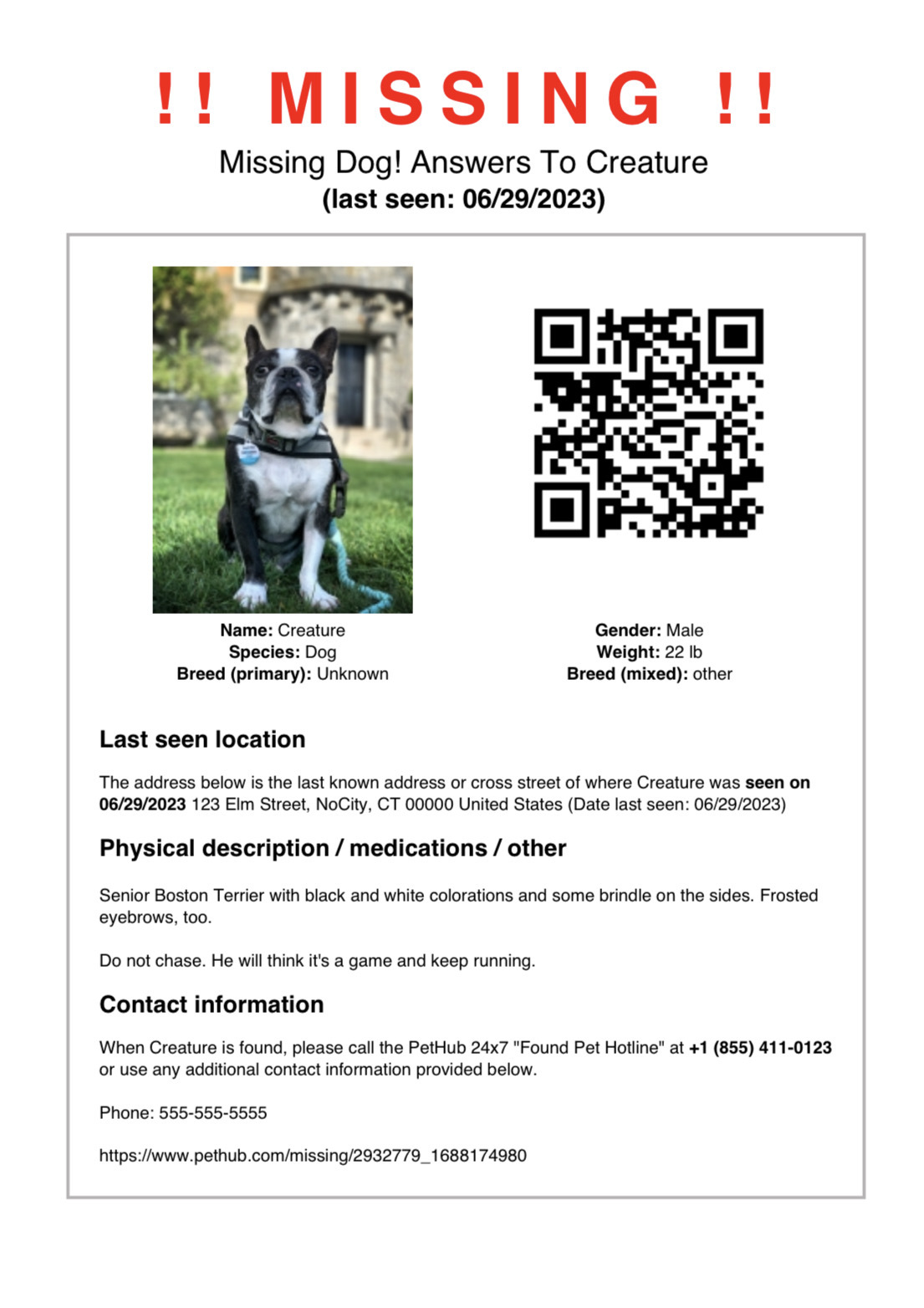 Post these anywhere you think makes sense for your community:
The local shelter
Your veterinarian's office
Neighboring vet clinics & animal hospitals
Dog parks
Pet supply stores or pet stores
The police department
Grocery stores or any stores that have a bulletin board folks may see
Lost Pet Online Forums
In addition to your local animal shelter, post your lost pet to national agencies, such as:
Try Enticing Your Best Friend
Place their food or favorite treats and fresh water outside your home for your missing pet. They may have gone out for an adventure and the smell of food and treats may attract them back home.
The Importance of Continuing the Search
If They're Still Lost, Don't Stop Searching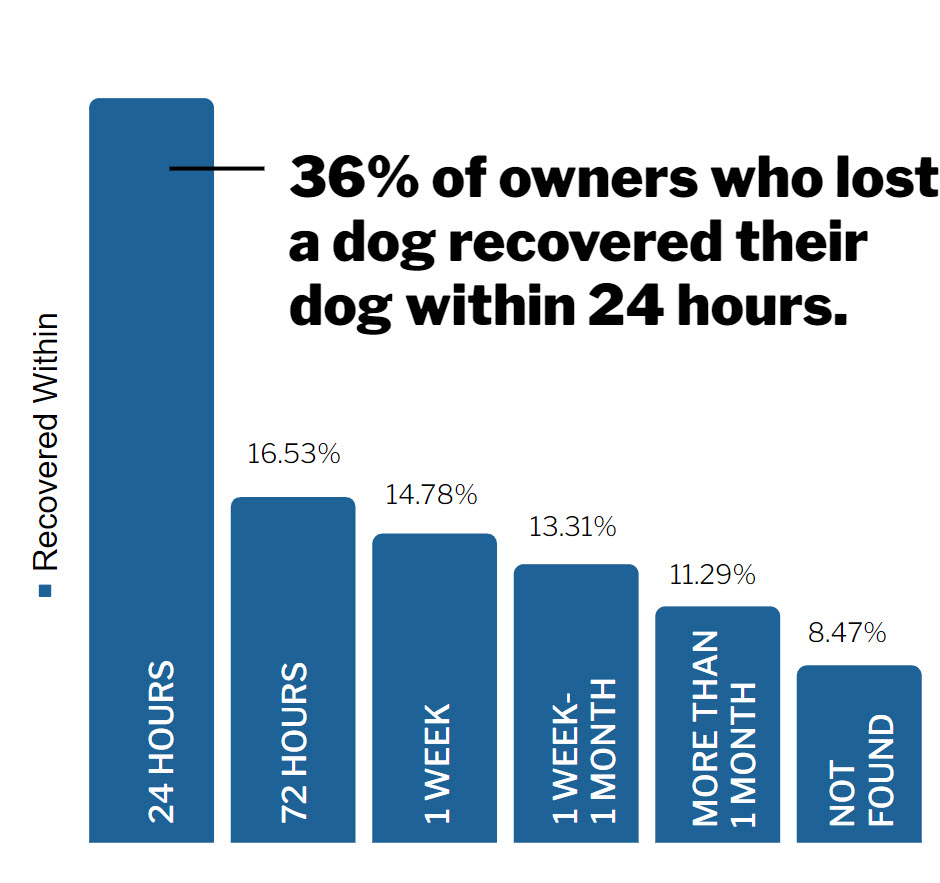 Don't stop the search for your missing pet! Keep visiting local animal shelters, remind people in your neighborhood that your friend is lost, post flyers, and update social media posts regularly.
According to our study, over 50% of lost dogs were home in 3 days or less, and dogs that were still missing still are found. It just takes patience and the willingness to keep up the search.
The Odds of Reuniting with Your Lost Pet
The odds of reuniting with a pet that is lost are in your favor. Research shows that 9 out of 10 missing pets are reunited with their families. Your pet might still be out there somewhere, waiting to be found and come back home.
Summary
Searching for a lost animal can be a traumatic experience, but there are various strategies to help find them quickly and easily. But, by following the proven tips we've provided your missing pet won't be lost for long.
Take time to get the word out and offer several ways to contact you so others can help you during this stressful time. Your community can provide powerful assistance! Stay in touch with neighbors, local shelters, rescue groups, and vet offices while they're gone.
Most importantly, even if your lost pet isn't found today, remain calm and hopeful. Your effort will help bring them one step closer to coming home safely.
One Last Note
While the search information was specifically provided by dog owners, these are also great tips for missing cats. Cats are not "small dogs" as some folks like to think of them, and it's important to understand the most common scenarios of lost cats when you search for them.
Download the Lost Pet Search Checklist for Quick Access
Be ready to act fast when searching for a lost pet.
Download our Lost Pet Search Checklist for quick access to this essential information. We also have guides for building a Lost Pet Tool Kit of all the items you'll need to make your search less stressful. You'll be amazed how
*Join PetHub Basic+ membership to get this and other paws-atively helpful pet tools including lost pet recovery tools, advice from animal experts, money-saving deals on pet supplies, and more! Visit: PetHub.com/pricing.