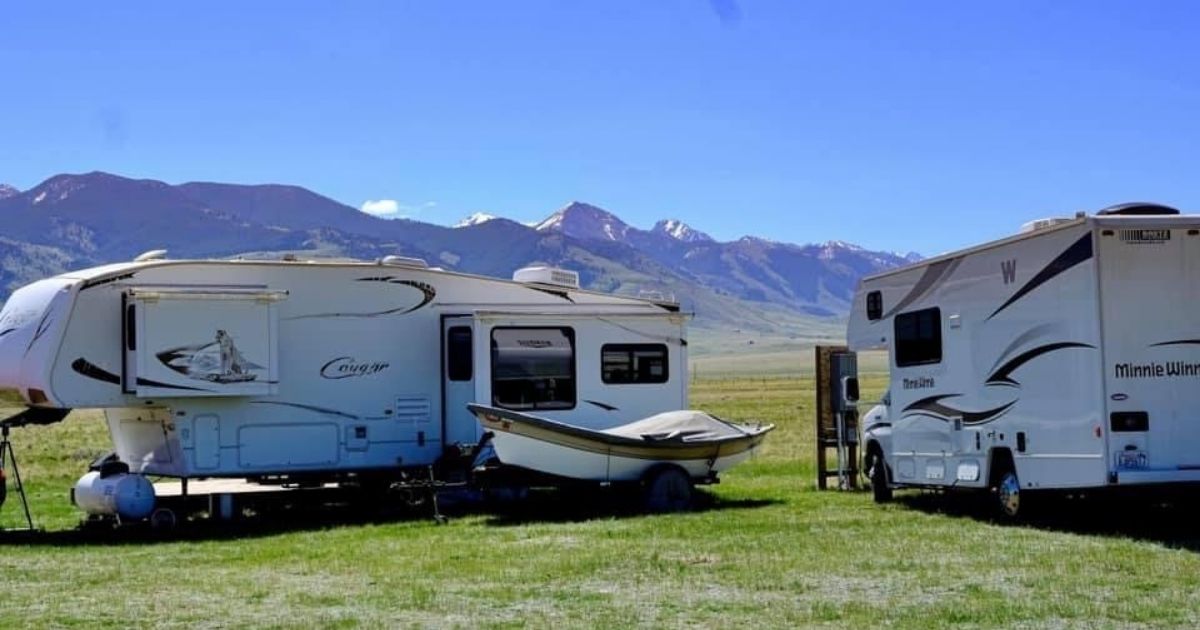 A few months after everything went into lockdown, we slowly realized that working remotely would be our new normal. Team PetHub decided to take a vote on whether or not we should go back to the office or fully go remote - I think you can guess which one won.
We have people who live in our hometown of Wenatchee, and some people who live in Nevada, Oregon, Florida, Virginia and New England! We are all over the map and cannot wait to all meet in person one day, but there is one thing that rings true for all of us… we love wearing sweatpants to work.
Our co-worker Jill has been dreaming about buying an RV for a long time and the pandemic finally gave her the perfect opportunity to do just that. She had been secretly thinking about selling everything and hitting the open road for good. Her friend convinced her that maybe taking a few extended RV trips may be best before making a huge decision like that though. So, that's exactly what she did.
Since Jill is fully vaccinated, she decided to start mapping out a loose itinerary that include stops along the way to see old friends. When she first started planning her road trip, she was only going to bring her dogs Huck & Cosmo along for the adventure - traveling with her kitties could potentially be a bit tough. She had a pet sitter set up for Tom & Phinn, but they ended up having to cancel due to a family emergency. So, not having another option, she started planning in order to take them along for the ride!
Since Jill works at PetHub, she understands the importance of planning for worst case scenarios not only for her, but for her pet's as well. This led her to several research and planning sessions where she finally narrowed down the products she would need to be able to do her job remotely, and the products she would need to make sure her pet's are comfortable and safe for this new adventure.
Going on an RV trip is a big decision, so we compiled the products she created a list so that it hopefully makes your planning a lot easier! All of the items listed are in an Amazon Storefront called "Product Recommendations for Life on the Road with Pets."
Work From the Road Products:
Aimtom Power Station

For "boondocking" when there are no hookups for electricity. Living a life on the road, you truly never know what you may encounter. One thing we do know, you need a lot of battery life!

This was a no-brainer purchase - it can charge up to multiple devices at one time, weighs only 3.48lbs and can be charged by solar panels. It is a bit pricey, but if you are planning on going on the road a lot, this would be the best purchase you could make.

ACOPOWER Portable Solar Panel

For "boondocking" when there are no hookups for electricity, solar power can be incredibly useful. This portable solar power panel is a no-brainer for anyone traveling on the road! It will pay off over time. It is extremely light, easy installation, overcharge protection, and is waterproof.

weBoost Cell Phone Signal Booster Kit

Lastly, the third most important product for someone working on the road…a cell phone signal booster kit! Like the other two items, this one is definitely not cheap. It is an investment purchasing all three, but if you plan on spending a lot of time on the road, you will get so much use out of each item.

This works for most cell phone carriers, is FCC approved, 5G compatible, all-weather tough, and more.
Pet Products:
Waggle

Leaving your pets behind is never easy. This is especially true when you are traveling on the open road!

Waggle is perfect for the moments you may need to step away and get groceries, supplies, or any other task where bringing your pet's may not be allowed or convenient. It monitors temperatures, humidity, and heat index and will also send you real-time updates (text/email).

Tidy Cats Breeze All-In-One Cat Litter Box System

This is a perfect litter box for two cats on an RV trip. The cat box pads lock away urine, solids stay on top for easy removal, and each pad controls ammonia odor for seven days for one cat.

As you can probably imagine, there is not a ton of space on an RV - especially with 4 animals. Odor control is important and this is a great purchase to make.

Disposable Litter Box

When planning the trip, she knew she would never drive more than 5 hours. Still, 5 hours is a long time for some animals, especially older cats. These disposable litter boxes are perfect to put in the crate with the Kitties! It is super durable, 100% leak proof, and can be used for up to 1 month!

MidWest Dog Exercise Pen

Now this gate isn't huge, especially for four animals, but Jill decided on purchasing two. Tom & Phinn tend to be escape artists and it was important to get a gate that would go up against the RV to prevent them from going underneath it. One of the gates will be used to do that, and the other one to connect so that it makes an even bigger space for them to lounge or play!

Feliway Classic Calming Spray for Cats

Every animal is different, and anxiety can be very common for a lot of animals. Phinn is especially anxious when he is riding in the car.

This calming spray has some of the best reviews and will be perfect for 5 hour long car rides!

Ameritex Couch Sofa Slipcover

If you have animals, you know they somehow always track something into your space. Now imagine being on the road for weeks at a time.

This is a must have item to help keep your couch and seats clean! It is quick and easy to wash.

KAWALA Washable Pee Pads

Not only are these sustainable, but they save SO much space in an RV! They have super absorption, odor control, anti-slip bottom, and washable.

This will be used in the pet designated areas in the RV just for extra protection! There will also be one on the bed during the day since the dogs love to make that their spot.

Arf Pets Self-Cooling Dog Crate Mat

If you are traveling during the summer, this is a must have on any road trip. It is a self-charging mat filled with a solid cool gel. This will help to regulate your pet's temperature and provide some cooling relief during those long car rides or just during a hot summer day! BONUS: Lightweight & foldable!
The most important tip we want to leave you with is to make sure you have your pet's tag, microchip, and license all up to date with your current contact information.
If you have a PetHub tag, it is so easy to edit your pet's tag to say your current location - which is changing a lot when you are on a long RV trip. Since we cannot predict the future, we recommended purchasing our PetHub ReadyKit which comes with a tag, window cling, CrateCard, and WalletCard. If an emergency situation happened and something happened to you, this would ensure that first responders know that you have animals. Each product links back to your pet profile and will have all their information there!
On-demand access to a veterinarian is a HUGE resource for pet parents, particularly if they're traveling and away from their normal veterinarian. PetHub's Wellness Tools offers 24/7 unlimited access to telehealth chats, calls, or emails with a veterinarian. If traveling, telehealth is a must have addition!