How can I help my dog's anxiety?
He's so miserable and I just want him to be calm and happy. He's always hiding and seems scared about every little thing. I wish I could help him chill out.
Sound familiar? A increasingly common condition, many cats and dogs experience anxiety. An anxious dog or cat anxiety be caused by various factors such as separation anxiety, fear, or past traumatic experiences.
While some dogs may display obvious signs of anxiety like excessive barking, or whining, sometimes anxious dogs may show less apparent signals such as excessive licking or scratching, avoiding eye contact, or changes in their sleeping or eating habits. A for some dogs, it's a subtle combination of multiple symptoms that indicate they have anxiety.
Common cat anxiety symptoms are often litter box misadventures or sudden changes in appetite. Behavior is often an indicator - being overly moody (which, admittedly, for some felines might mean they are even crankier than usual).grooming themselves more often, even obsessively, and maybe a formerly aloof cat is all of the sudden Mr. Cuddles.
Here's another an important question: Do you know WHY your pet is suffering from anxiety? It's crucial to understand the root cause of their stress to find the best treatment plan. Does your pet dread loud noises or exhibit signs of separation anxiety? Sometimes health conditions can cause anxiety, or they're dealing with traumatic memories from years before.
Unfortunately, some breeds of dogs and cats are just more prone to being nervous than others. Determining the cause of your pet's anxiety is key to finding the right treatment plan, and chatting with a veterinarian can help pinpoint the underlying reasons for your fur kid's distress.
Even if you know exactly what's freaking out your pet, you may still be stressing about how to help them. We've got your back. We have found 10 effective, tried and true remedies that can help treat dog anxiety and calm your cat. To make things more convenient, we've pulled these products in an Amazon storefront for you called "Supporting Dogs with Canine Stress and Anxiety."
Best Cat & Dog Anxiety Relief Aids: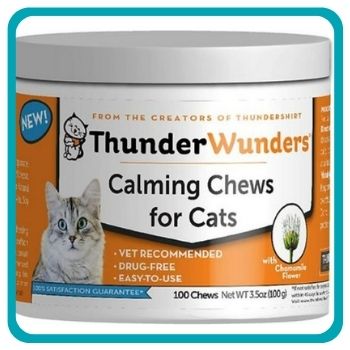 Calming Supplement Soft Chews
Not all dogs are okay with wearing shirts or collars to calm them, so it can be nice to have a form of anxiety relief that all pets can enjoy. These calming chews are designed to promote rest and relaxation for cats and dogs.
As with any anxiety relief treatment, you'll want to make sure that you give your cat or dog the chews before the stressful situation (fireworks, thunderstorms, vet visits, traveling, groomers, etc.).
Dog Parents - Buy ThunderWunders Calming Chews for Dogs on Chewy
Cat Parents - Buy ThunderWunders Calming Chews for Cats on Chewy
Manufactured in the USA, these chews are completely safe for your fur kid. They contain all natural ingredients like Tryptophan, Chamomile Flower, Thiamine, and hemp. And our own pups can attest they are super-duper tasty.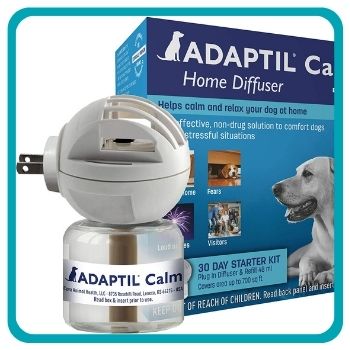 Calming Pheromone Diffuser for Dogs
Many dogs suffer from separation anxiety miss their person when they are left alone, even for a short time. The Adaptil Calm Home Diffuser is the perfect way to soothe and relax your furry friend when you need it most. Whether it's dealing with loud noises, being left alone, dealing with visitors, or facing other unsettling situations, this product will do the trick.
Dog Parents - Buy the Adaptil 30 Day Starter Kit Calming Diffuser for Dogs by clicking here.
The Adaptil Electric Dog Diffuser is a natural product proven to comfort both puppies and adult dogs using a discreet plug-in to bathe the home in a synthetic copy of the canine-appeasing pheromone. It provides continuous​ comfort for your anxious dog, helping them to stay calm and relaxed in their home environment, no matter what situations may arise.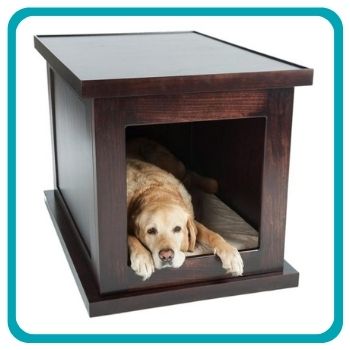 Spaces for a Safe Place
During scary & stressful times like storms or fireworks, or even when you leave for work, it can really help your four-legged friends to have a safe space they can retreat to. Plus, let's be honest, many stress-out pets have destructive behaviors, and your house can look like a tornado ripped through it after a particularly stressful day for your fur-kid that filled them with excess energy.
Crating not only saves your carpet and furniture, it also can help them feel completely safe in a space just for them. In particular, a cat's environment is a huge influence on their behavior, and most cats need a private space, away from everyone else.
Petmate crates offer both comfort and protection for your fur kid. PetMate offers a wide variety of high-quality and affordable crates for cats and dogs alike. Whether it's a kitten or a great dane, your pet is sure to be comfortable and safely kept inside.
For Cats, Dogs and other pet parents - check out PetMate
If you are looking for a splurge item to invest in, another favorite crate of the PetHub team is the Diggs Revol Dog Crate. Hands down, it's simply the coolest crate on the market and we're obsessed with it. The supaw easy-to-use collapsible mechanism and hidden wheels makes this is the perfect crate for those who don't want to sacrifice style for functionality. It has convenient storage pockets on one side and a removable divider in the center to adjust as your pet grows.
No matter which crate you choose for your pet, your fur kid will thank you for giving them a safe space of their own to chill out and escape stressful situations.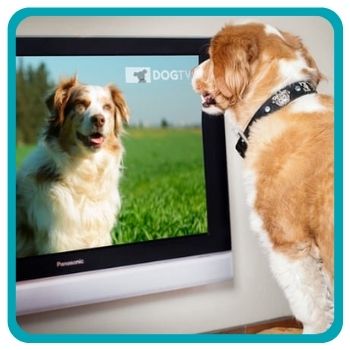 Screentime for Canines
When our furry friends get anxious or scared, the right type of stimulation can help calm their nerves. The truth is, dogs respond positively to audio and visual cues. That's why DogTV is such a valuable resource for pet owners. Their programming offers precisely the kind of stimulation that can play an essential role in different scenarios.
Scientifically developed to bring favourable outcomes, it leads to happier, calmer, and less stressed pups. The convenience factor of DogTV is an added bonus. Enjoy it over your TV, computer, or mobile device for around-the-clock peace of mind.
Dog Parents -- Sign Your Pup Up for DogTV Today with a Free Trial
** PetHub Pack Members!! Check out our sweet Basic+ Perks Deals from DogTV **
Your dog can watch DogTV for hours on end, with no fear of overstimulation. The programming blocks feature calming music, scents, and visuals that can actually help relax them — both during the day and at night. If your pup is feeling overwhelmed or scared, a little extra visual and audio stimulation can help calm their nerves.
Easy to download, stream, and customize to your pup's needs — DogTV is convenient and effective. Interested in learning more about DogTV? Check out our recent podcast with one of DogTV's founders: Why Your Dog Needs to Watch TV.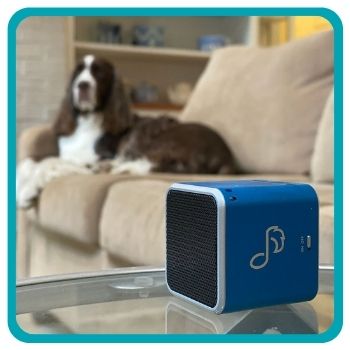 Pet Music & Acoustics
Some dogs don't just feel anxious when they're home alone. So why not provide them with portable comfort when you go on road trips or when they're staying with a friend? Pet Acoustics has created Pet Tunes, to soothe dogs through music therapy. A portable speaker that is pre-loaded with frequency-modified music that has been clinically tested to reduce stress and anxiety in dogs.
Music inspired well balanced behavior is not exclusive to dogs. Did you know that cats hear far better than humans? Playing music for your feline friends can provide significant calming effects, particularly when it's tailored to their sensitive ears.
Dog Parents - Buy the Pet Tunes Calming Music Speaker for Dogs on Chewy
Cat Parents - Buy the Pet Tunes Calming Music Speaker for Cats on Chewy
This rechargeable speaker is small and can be taken wherever you and your furry friend go, ensuring that they stay content no matter where life takes you both. You can choose from pre-programmed calming music and nature sounds, or you can upload your own soundtrack for more personalized relaxation. The Pet Tunes Calming Music Speaker is sure to help your pet (or pets!) relax and stay stress free! Give it a try today!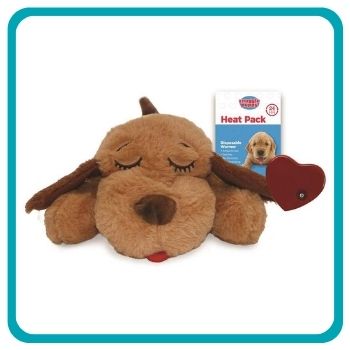 A Smart Stuffed Toy
Dogs are social creatures by nature and are instinctively inclined to remain in the company of their "pack." This is why they become so attached to their owners; you are their new pack once they leave their mom & siblings.
The Snuggle Puppy plays to those instincts by recreating that pack intimacy with a real-feel heartbeat & warmth, right up next to your dog's body. Your doggo can cuddle up to the Snuggle Puppy in times of loneliness or fear and feel the comfort of a "real" companion.
Dog Parents - Buy Smart Pet Love's Snuggle Puppy Behavioral Aid Dog Toy on Chewy
Snuggle Puppy can help soothe your beloved pup in a natural manner, without resorting to medication or restraints. You have the option to use the disposable warmer pack along with it, or go without. It offers two modes -continuous or 8-hour cycles- and can be washed in a machine. Additionally, you can customize the comfort level of your furry friend using its adjustable volume feature.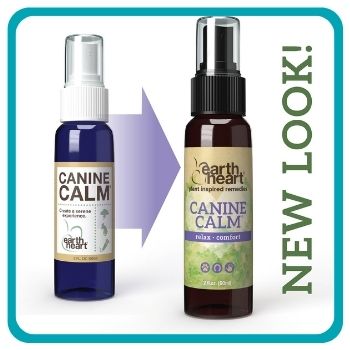 Aromatherapy for Dogs
Earth Heart essential oil remedies for dogs come in different options to fit your lifestyle and pet's needs. Canine Calm with lavender creates a serene experience for you and your dog. Earth Heart products are available in spray mists, wipes, oil diffuser blend and roll-ons.
This special formula of essential oils helps dogs stay calm during thunderstorms, fireworks, boarding, grooming, training and competition, adoptions, holidays, bath time, crating, separation, hospice and clinic visits. Earth Heart also has formulas to help specifically with travel and first aid needs, to help your dog cope no matter what life throws at them (hopefully, it's just a ball or two!).
Dog Parents - Buy EarthHeart's Canine Calm Spray on Chewy
Are you curious about the effectiveness of aromatherapy for dogs? Wondering how essential oils actually work to relieve stress? Check out our featured article: Does Aromatherapy Really Calm Dogs?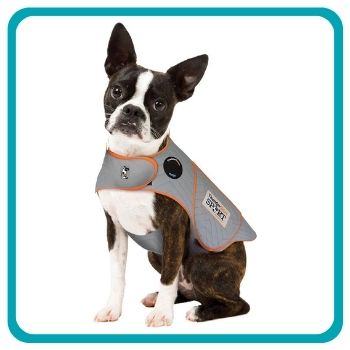 Gentle Pressure Vest
Sometimes when our pets get anxious or scared, they want to be in our laps and held by us (or, if they are like some pups we know and love, they turn into velcro and stay glued to your side). The Thundershirt uses gentle hugging to calm your dog; the gentle, constant pressure has a dramatic effect for most dogs if they are anxious, fearful or overexcited. They even have feline Thundershirts that will reduce cat anxiety!
Dog Parents - Buy the ThunderShirt Anxiety & Calming Aid for Dogs on Chewy
Cat Parents - Buy the ThunderShirt Anxiety & Calming Aid for Cats on Chewy
Thunderworks specializes in helping anxious pets and their parents. They offer a variety of options for helping your pet feel more comfortable in stressful situations, such as thunderstorms, fireworks and even car rides. Check out their full collection on Chewy.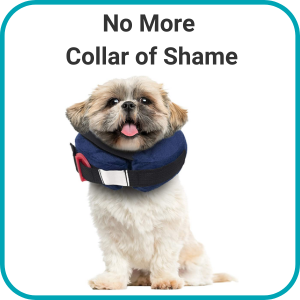 Soothing Alternatives to the Cone of Shame
Calm Paws offers innovative recovery solutions for cats and dogs from traditional cone collars, to comfortable inflatable collars & recovery vests. Their products help pets recover from surgery and injury, while still being able to move around comfortably, all while keeping them calm and relaxed.
In addition, Calm Paws has a wide range of collar attachments, treats and other tools to provide calming support day and night using their premium blend of essential oils.
Dog & Cat Parents - Buy Calm Paws Collars on Chewy
Calm Paws' soft, inflatable collars offer relief from anxiety and promote healing from surgery wounds, injury or persistent skin conditions. Their designs are lightweight and allow pets to eat and drink normally, and avoid the humiliation of traditional "cone-of-shame" post surgery e-collars. They are also perfect for everyday use to mitigate stress-related behaviors, such as excessive meowing or barking, uncontrolled licking and restlessness, and marking.
Speaking of anxiety caused by injury, Suitacle has a wonderful suite of sleeves and vests for both dogs and cats to help them stay calm post-surgery. These highly recommended recovery wearables are a comfy, stress-reducing alternative to help your fur kid mend in calm comfort.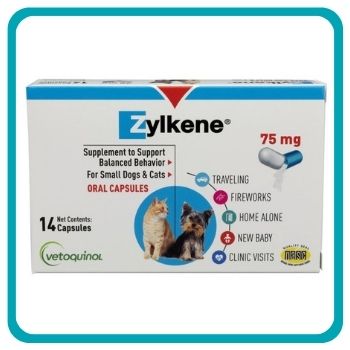 Anxiety Supplement for Dogs & Cats
Zylkene is a supplement, not a medication, to help treat anxiety in pets. It contains a natural product derived from milk to aid in relaxation helping pets cope when facing unpredictability.
Zylkene helps balance reactions in situations that may trigger their anxiety and helps your pet maintain his or her normal and relaxed disposition. Zylkene is an excellent supplement for helping pets cope with the stress and unpredictability of life, and its natural ingredients make it a safe and effective way to reduce anxiety.
Dog Parents - Buy the Zylkene Anxiety Supplement on Chewy
Cat Parents - Buy the Zylkene Anxiety Supplement on Chewy
Zylkene can be given with or without food and is easy to use for pet parents. To ensure that the best results are achieved, Zylkene should be administered as soon as any signs of stress appear. If you have a pet who has frequent anxiety-related episodes, start Zylkene along with other behavior modification strategies to help your pet best manage his or her emotions.
It's important to remember that while calming aids may help alleviate symptoms of anxiety, they should never replace proper training and behavior modification. Working with a professional behaviorist can help address the root causes of anxiety and develop long-term solutions. For expert advice on your pet's anxiety treatment options, simply ask one of our on-call veterinarians. We're here to help and put your furry friend's wellbeing first.
Pet anxiety can be a challenging issue to tackle, but with the right calming aids, it can become a manageable one. From supplements to pheromones to music therapy, there are plenty of options available for pets and their owners. Choosing a product that fits your pet's personality and needs can take some trial and error, but with persistence and patience, you can help your furry friend find the peace of mind they deserve.
So whether you're dealing with separation anxiety, noise phobias, or just general nervousness, rest assured that there are effective and safe options available to help your pet feel more relaxed and calm. With patience, love, and the right tools, you can make a huge difference in your pet's quality of life.