The team at
Trusted Housesitters
have written a guest article for us for Lost Pet Prevention Month. The views and recommendations made are those of the guest contributers.
Got a four-pawed Houdini on your hands? You're not alone. In fact, an overwhelming (and frankly, let's face it - heartbreaking) 10 million pets are lost each year - that boils down to around 1 in 3 pets who will be lost during their lifetime.*
Unsurprisingly, the summer vacation season is the prime time for pets to go missing, spiking over - you guessed it - the July 4th weekend. This makes it all the more important to think about how to keep your precious fur babies safe over summer (and beyond).
Whether you're planning a summer vacay, a weekend getaway, or just some July 4th celebrations, we've got you covered. Take a read of our top tips on how to keep your pets safe this summer - perfect, particularly if you have a furry little escape artist in your pack.
Should I take my pet with me on vacation?
But first things first, the golden question: should I take my pet on vacation with me? It sounds perfect, right? We love going on vacation, we love spending time with our pets, so why not?
While some pets would enjoy a vacation with their pet parents, the truth is, most pets much prefer staying at home in their home environments, even if that means staying with a new caregiver. And guess what? Vets agree.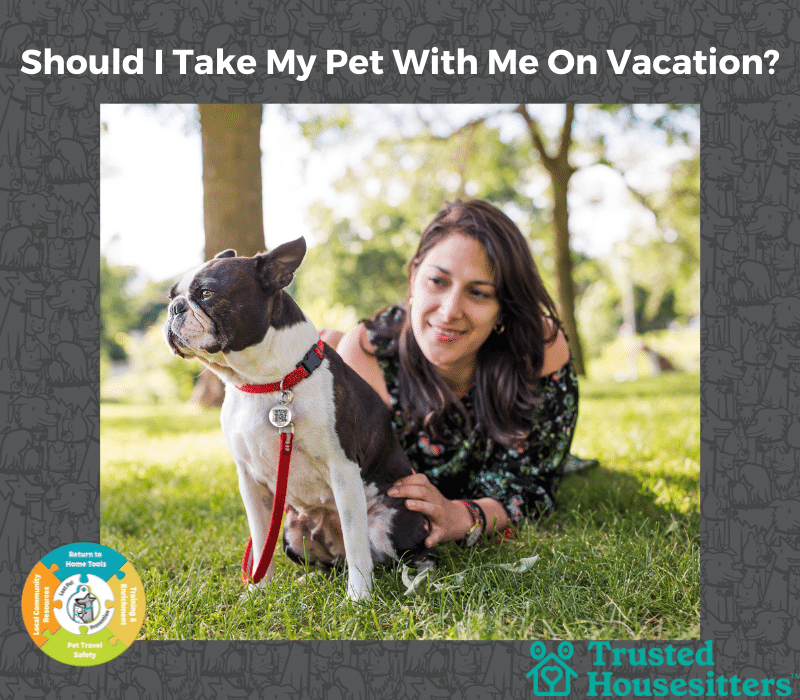 "When owners ask for advice on pet care while they are away, the perfect option is to have a house sitter come to their home. Animals respond to a different care giver better than a new environment. Most animals are particularly bonded to their home, and to the smells that are present there and the smells of their owners. It's best that animals can stay in their own surroundings and be looked after by a new carer, which is exactly what TrustedHousesitters provide." - Dr Scott Miller, Vet On The Hill
So, while we'd love to have our pets by our side 24/7, that's not always feasible - or necessarily what they'd want, either.

How a pet sitter can keep your pets stay safe and happy at home
Hiking weekends, camping trips, afternoons spent lounging by the pool; the summer season is fast approaching. Hooray! But for us pet parents, that raises one pretty big question: what should you do with your pets while you're away?
A recent survey conducted by TrustedHousesitters found that 30% of pet parents would rather give up coffee for a week than board their pet in an overnight kennel for a week. A further 25% won't travel at all, because of their pet's anxiety. The good news is, you don't need to give up your morning coffee OR your summer vacation, thanks to in-home pet sitters like those on you can find on TrustedHousesitters' site.
Finding an in-home pet sitter effectively means finding a loving, genuine pet lover like you to step into your dog-walking or kitty-cuddling shoes. They're fully ID verified and background checked, and there to provide dedicated care for your pets, upkeep their regular routine and even mind your home in the process.
When you factor in everything: the wellbeing of your pets; the stress taking your pet away from their home environment could cause them, not to mention the likelihood for pets to go missing - a helpful solution is to find a loving, vetted pet sitter to care for them in your absence.
Tips for sit handovers
When leaving your pet in the hands of a sitter, follow these top tips for super safe and stress-free handovers:
Fill in a thorough welcome guide for your sitter, detailing everything they need to know: your pet's routine, their likes and dislikes, any 'quirks' they might have (making a dash for it whenever you open the door? Write it down!)
Your welcome guide should also include the details of your veterinary practice and an emergency contact number, in case they're unable to reach you (this information can also be stored in a pet's PetHub profile)
If possible, have your sitter arrive a day before your vacation is due to start so that they can meet your pet(s), you can give them a home tour and run them through your pet's routine in person
Make sure your pet's microchip and ID tag is fully up-to-date with your phone number and address. You can update your Pet's care circle information as often as you need in their PetHub profile
If you have a dog and your sitter plans to walk them off leash, be sure to teach them your pup's recall word of choice
Good news for vacationing pet parents: if you're a PetHub Premium member, you can get 50% off unlimited in-home pet sitting for a year (RRP $129) from verified and reviewed sitters you can trust, who won't charge to keep your pets safe and happy at home. Yes, really! Simply log in to your PetHub account and visit the Pack Rewards page to redeem your free TrustedHousesitters basic owner membership.
Source: *National Council of Pet Population Study & Policy; National Human Society