Until recently, I lived about an hour and a half from my immediate family, meaning any visit included a road trip. For a window of time, we relied on pet lodging (either in-home care or pet hotels, depending on availability). After one of our pets was injured while being cared for by someone else, it was decided that, if my pets can't come along, the trip isn't happening.
As a result, knowing tips and tricks to ensure my pets are safe and comfortable while traveling is something I've researched over the years. Our friends at PetSafe have created a helpful article, including a checklist for Pet Travel Tips for Dogs and Cats by Car that you should read when you have time. It has useful recommendations for products to make the process as smooth and safe as possible while also sharing considerations, like knowing veterinary contact information in advance of your departure, that pet parents may not have considered before.
You will be able to save either checklist as an image that you can save on your phone or print and bring with you!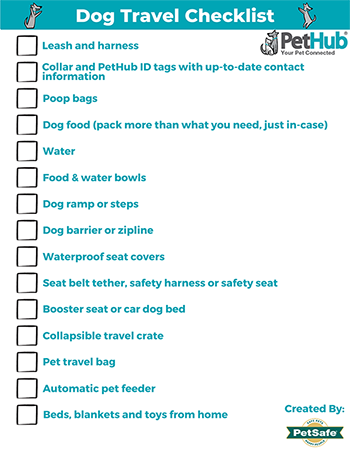 In addition to the article provided by PetSafe, I'd like to share some helpful hints I've learned along the way:
The buddy system helps - while traveling alone might be the only possibility for some people and circumstances, if possible, consider bringing along a friend. It can help with pup hand offs while humans are using the restroom, and ensuring a pet is never left unattended in a vehicle.
Call ahead - sometimes a place is listed online as pet friendly, including hotels, but something may have happened since then that required them to change their policy. It's always helpful to call ahead to ensure that the restaurants, lodging options, tourist attractions and stores that were categorized as pet friendly are still serving as such shortly before you arrive.
Plan ahead - what doesn't seem stressful for pets at home might be something stressful while they are in a new and unfamiliar location. Loud noises, even things like trains or traffic, can be scary for pets. If you know your pet might be anxious, talk to your veterinary team in advance of your trip about options. If they prescribe medication, make sure to do a test run before you leave to be sure your pet reacts well to the medications.
The PetHub team hopes you enjoy time on the open road with your pets and we thank PetSafe for helping to create resources for pet parents as they plan travel with their companion animals.