If you're looking for a lost pet, the first few hours are critical. Your search should be organized and strategic to increase your chances of recovery. That's why we've put together this timeline of steps to follow when you've lost your pet.
As a platform that offers a rich lost pet recovery suite, our Customer Care team speaks daily with pet owners who have had their furry friend go on an unchaperoned walkabout.
We hear about the mixed emotions that pet owners experience when their furry friends go missing, followed by immense relief upon their safe return to the family.
Search Strategies for Pet Parents From Pet Parents
To determine the best way to help reunite lost pets and people, we joined forces with the National Animal Care & Control Association (NACA) and conducted a survey.

We gathered data about actual outcomes from fellow pet owners who had lost and found their pets, as well as people who work in the animal welfare industry, about the most effective strategies to search for dogs. Not only that but also WHEN to execute each strategy.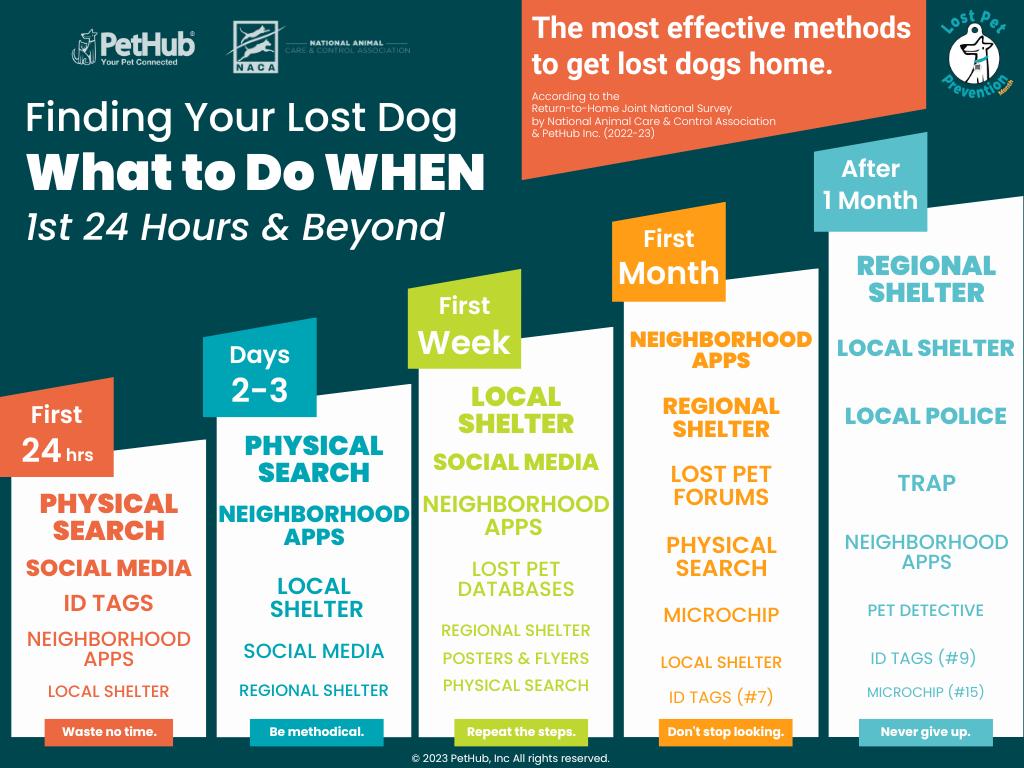 Oooh...a cool survey data chart! We know you are as stoked as we are. Left to right this shows how long it took for the dog to return home. Top to bottom, we've got what method brought the lost animal home, listed in order of effectiveness.
Now let's read the full article, 'cuz we're gonna "hit the highlights" and dig into the top ranked methods for each search timeframe shown above.
The First 24 Hours
The first 24 hours your pet goes missing is critical. When you notice your pet is missing, don't wait for them to come home on their own. Start looking. Surveyed dog owners reported bringing their lost doggo home in less than 24 hours by doing the following steps, in order:
Physical Searching
Our survey results show that local search efforts are the most effective way of finding lost animals. Therefore, searching carefully around your house and then your neighborhood is crucial in increasing the chances of your lost pet being found and returned home.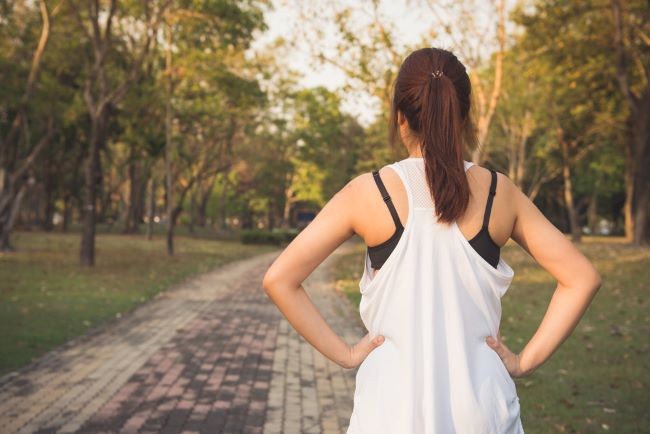 If in an unfamiliar area, use your smartphone to help you methodically search, dropping pins on your phone's map along the way. See a kind stranger while you are searching? Not only ask them if they have seen your lost dog, but enlist their help to find them.
When it comes to physical searches, the more the merrier! Ask friends, family, the neighbor that always asks to pet your pupper...whomever...to help look. Create a search perimeter around your home, then split up and walk or drive the area.
Social Media
Share your photo and description on social media. Include the general area and date your dog was lost. Ask friends and family in your local community to share the posts.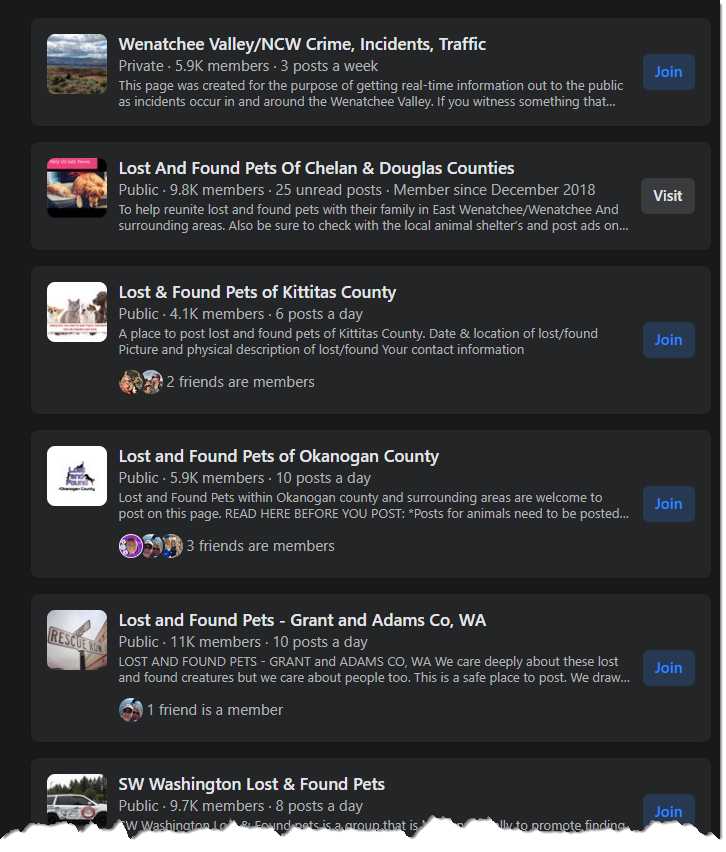 Most communities have pages specifically for local lost dogs online, like Lost and Found Facebook pages (make sure to check neighboring towns and communities and make posts there, too). Not only should you post about your lost dog in these Facebook groups, but periodically scrolling through recently found dog posts on a page might lead you directly to your beloved fur kid's location.
PetHub Basic+ users can make this task quick and easy with PetHub Lost Pet Reports*, which allows you to share directly to social media networks!
Visible Identification
Collar IDs are incredibly powerful tools for pet parents and are key to reuniting lost doggos with their humans.
Tags allow for fast identification and safe return of lost pets, often before your dog even reaches a shelter because ANYONE can read the tag and get your fur kid home. Plus, for the most part, tags are an inexpensive, yet invaluable investment in your pet's safety.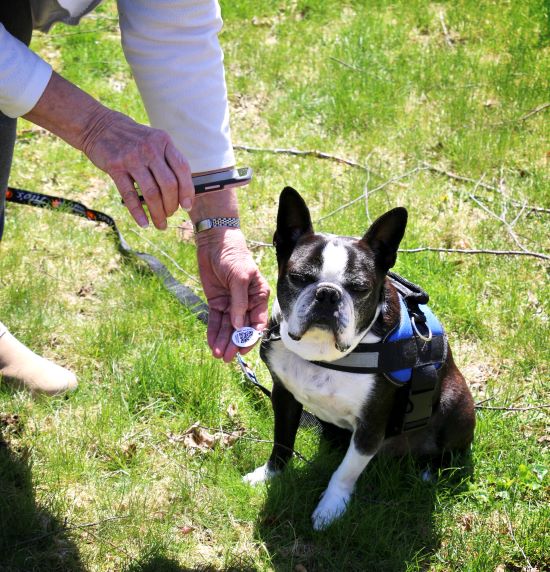 Digital ID tags are su-PAW
Dog parents told us that when the ID tag on a pet's collar is a digital ID (what some folks call a "smart tag"), they were the 2nd most effective tool to get a lost dog home.
Not to toot our own horn, but our internal data here at PetHub shows that most pets (96%) recovered through our system are home in less than a day, 98% never enter a shelter.
Don't have a PetHub tag? No worries! You can get one on our site.
What about the adorable tag I got etched at the store?
Although we think the tag with your dog's name on it is adorable, we have some bummer news to share. People who only use traditional, non-digital forms of identification also those tags useful, but they rated it sixth in effectiveness overall.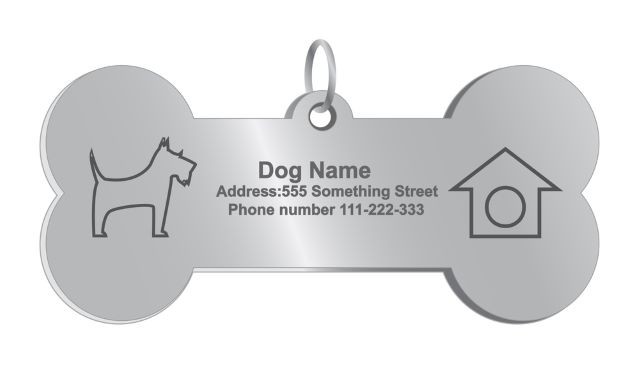 Although tags found in pet stores are inexpensive, they only contain basic static information and do not function as effectively as smart tags. But we gotta ask - is a basic tag adequate for your pet? While we admit our bias, we firmly believe that digital tags, such as PetHub ID tags, are the superior option for pet identification.
Update Your Contact Information
Keep in mind that collar tags are great and work really well. But, only if the information, like your phone number, is current. If your pet has a standard tag, the only way to do this is by replacing it. And while that's cool in the sense your pet gets shiny new bling, if your pet wandered before you updated it, it won't be helpful.
If you have a PetHub digital ID tag, you likely know updating your pet's info is a bit easier. Simply log into your pet's profile, type in your new information, and voilà! Your pet's tag is current with your newest contact information.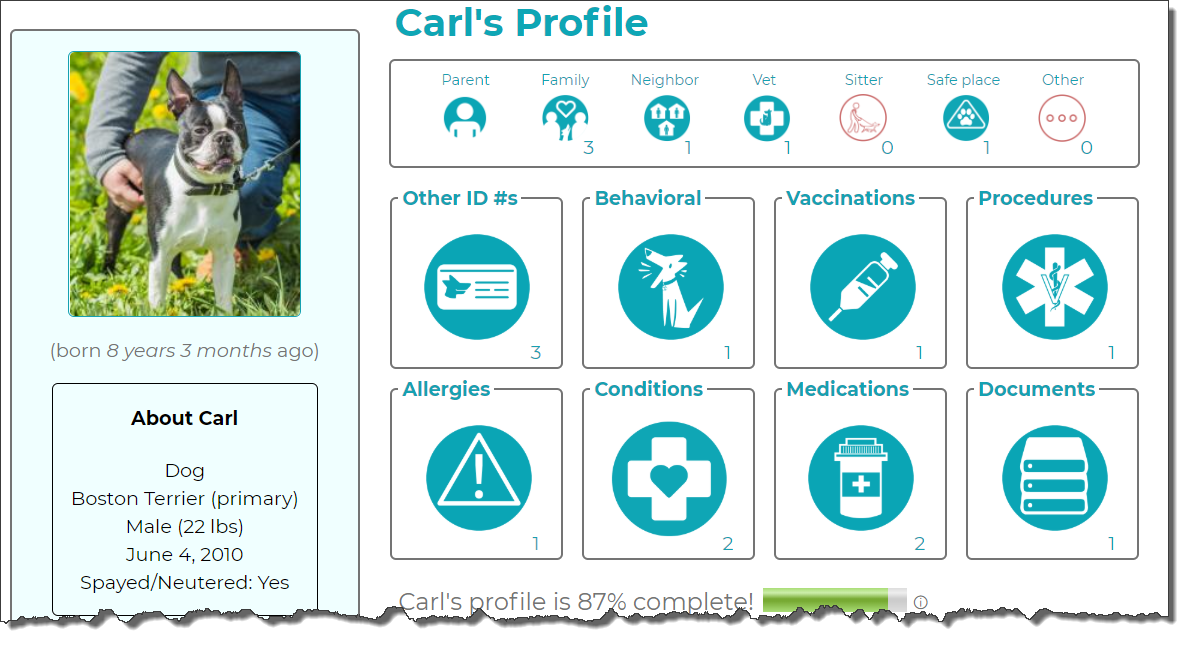 Don't forget to include a phone number for your doggo's other favorite humans in their 'Safety Circle', like friends, neighbors, family members, and pet sitters. This gives someone who finds your pup multiple phone numbers to reach an actual person, not just voicemail if you are unavailable.
Neighborhood Website
Even if you don't see your neighbors face-to-face the internet has made it pretty dang easy to share important info with them through community-focused websites like NextDoor and Ring's Neighbors app.
Use a photo, give important details (like when and where your dog decided to become an independent doggo, your telephone number), and encourage folks to keep their eyes open.
Delivery drivers and mail carriers can also be helpful as they're out and about every day.
Local Animal Shelter
Spread the word to animal welfare organizations within a 25-mile search radius. File a missing pet report with each of them so they have your phone number should they find your pet first. This should include your local shelters and animal control agencies (sometimes they are housed together but it varies by location).
Want to save time? Use PetHub's Shelter Alert Service*!
Days 2 & 3
It can be overwhelming when your pet has been missing for 24 hours but don't give up hope. You should continue with the efforts you have been using, but keep in mind that some tactics may become less effective and you may need to try other methods as well.
Continue your physical search - talk to neighbors and people you see while patrolling. Carry a photo of your pet to show them.
Update neighborhood websites - keep the content fresh and top of mind by updating or reposting about your dog.
Watch local shelter's Lost and Found posts - check in periodically to make sure your pet hasn't come in without you being notified.
Repost on social media - as with other online resources, social media algorithms like fresh content, so repost/update your posts regularly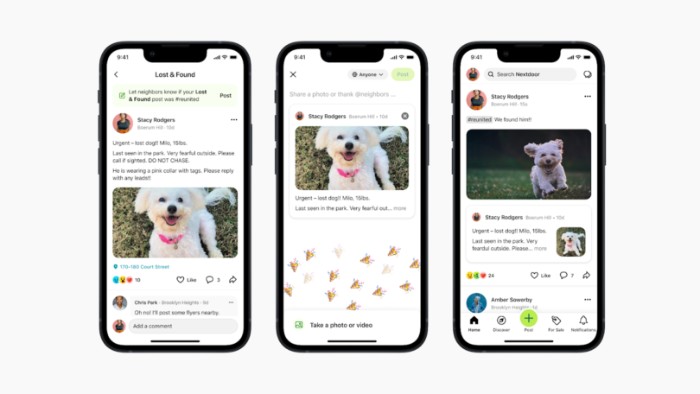 Animal Welfare Organizations and Shelters Over 25 Miles Away
Sometimes, animals wander off and end up getting lost. If someone finds a lost pet, they may not know which shelter is closest to the pet's home.
It's best to widen the search area to increase the chances of finding your missing pet. Contact out-of-area organizations and animal control about your lost pet. Most shelters allow you to file a missing pet report by phone or online.
Through the First Week
As you hit the 4-day mark, the search focus and the order of importance of tactics change, including adding some new tools that haven't been mentioned yet.
Most importantly, don't give up. Keep looking and stay positive.
Keep an eye on your local animal shelters - check in periodically and update your lost pet report if need be. Walk the adoption halls and ask about strays that have been brought in.
Continue posting to social media - getting the word out that your pet hasn't come home yet is su-paw important, so update posts or create new ones to make sure folks know
Update neighborhood websites - refreshing the content of your post by giving updates tells community members you're still on the lookout for your missing pet.
Lost Pets Databases and Forums
In addition to your local animal shelter, post your lost pet to national agencies, such as:
Stay in touch with out-of-area animal organizations and animal control agencies about your lost pet. Review their found pets log. You may need to update your missing pet report with them too.
Posters and Flyers
Creating eye-catching flyers with your pet's photo and relevant information, such as the date and time they went missing. Don't forget your telephone number! This is an effective way to generate attention and increase your chances of being reunited.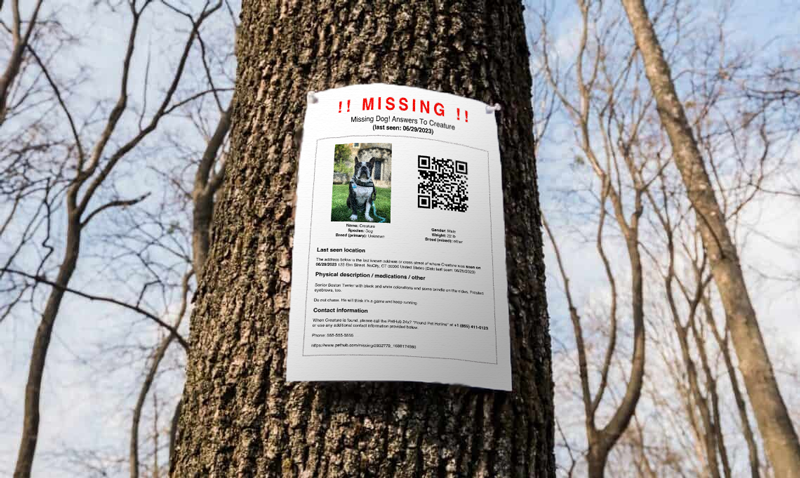 Post these anywhere you think makes sense for your community:
The local shelter
Your veterinarian's office
Neighboring veterinarian offices and animal hospitals (your pet may be injured and brought in)
Dog parks
Pet supply stores or pet stores
The police department
Grocery stores or any stores that have a bulletin board folks may see
Physical search is still reported as helpful during this period, but not as effective as the above methods.
After a Week
Updating Neighborhood websites - at this point, this tool proves to be the most effective in getting a lost pet back so beef up those posts and get Fido home!
Visit out-of-area animal shelters and animal control agencies - if your pet decided to travel, now is about the time we see reunification. Take a quick trip out to these shelters for an in-person search of their facility. Include both stray animals and adoptables in your visit.
Scan Lost Pet Databases and Forums - look in the found pets section of these and refresh your pet's listing. If using a paid service, it may be time to renew your post.
Physical search is still reported as helpful during this period, but not as effective at this point.
Invisible Identification
Microchips are another pet must-have. Together, with ID tags, they make sure there are several identifying ways for pets to return home.
A Piece of the Puzzle, Not the Solution
Just like ID tags, this only works if the contact information on file is current. Reach out to your missing pet's microchip company to verify that your contact information is up-to-date. A free national microchip database is also a great tool, no matter what brand of chip your dog has.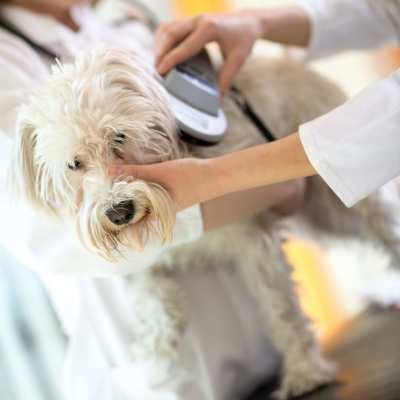 If you don't know who your pet's microchip company is, ask the vet, breeder, shelter, or rescue where you got your pet. They can help you.
Beyond a Month
Once your pet has been missing for over a month, you may feel like there's no purpose. But we assure you, pets DO come home at this point (we've seen pets come home even years later). So, keep the faith and enact the following tactics and resources.
Local animal shelters - one of the best ways to find your dog after a month. Check your lost pet report to make sure it's still active, browse their found pet reports, and visit! Don't stop checking(and don't get discouraged).
Local Police - While this has been not as helpful leading up to this point, pet parents note that after a month this becomes a very helpful resource so make sure you've filed a report
Scan Lost Pet Databases and Forums - look in the found pets section of these and refresh your pet's listing. If using a paid service, it may be time to renew your post.
Share on Neighborhood websites - you might be tired of seeing this since we've included it throughout this article (albeit in different orders of importance) but it's THAT good! So keep up on it.
Hire a pet detective - Ace Ventura anyone? But seriously, our survey results report this as a trusted way to bring their furry family member home.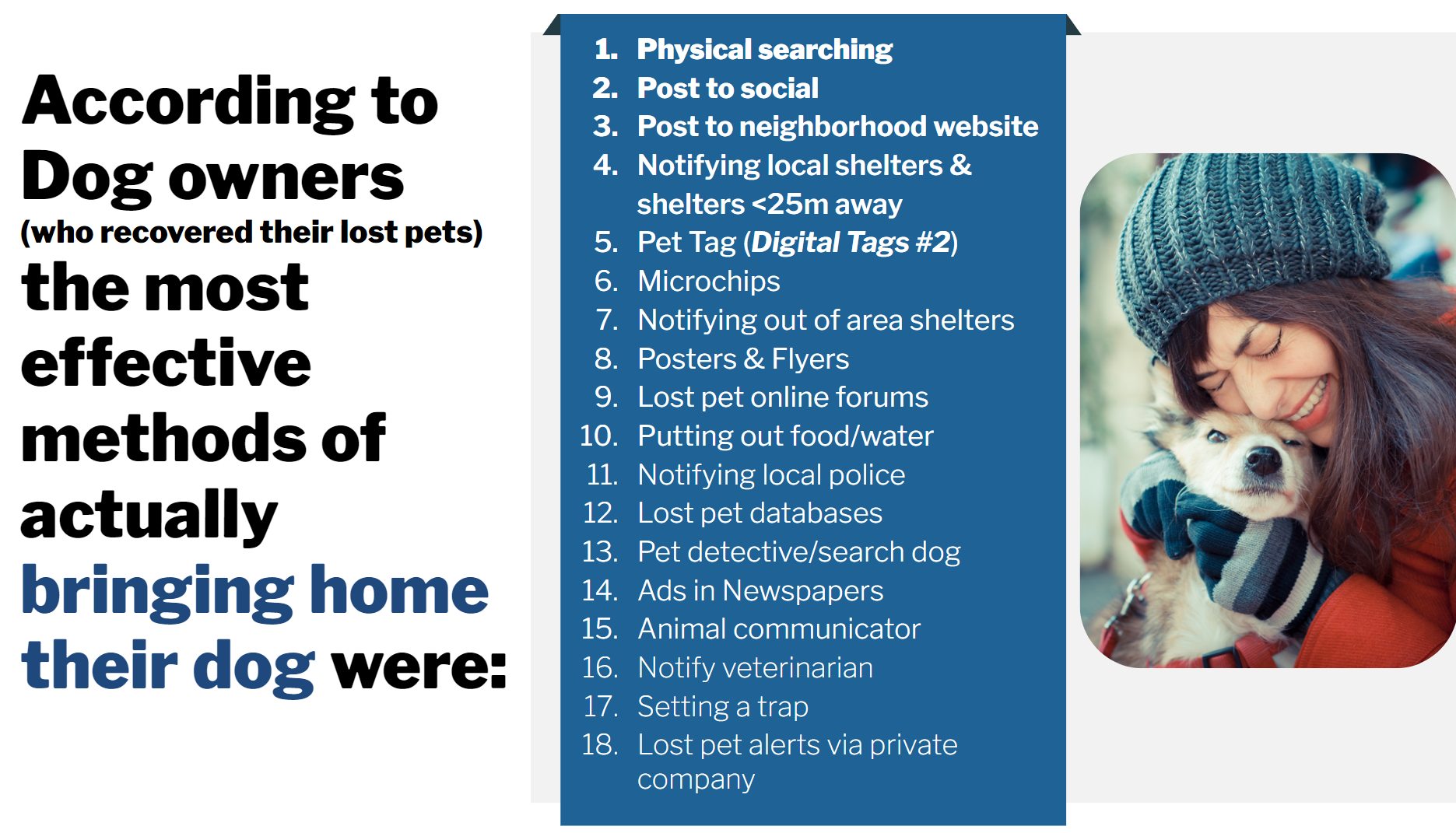 Above is the full list of the top methods lost dogs got home to their families, according to actual pet parents that had lost a dog in the last 5 years. If you have the time and resources, we say, "Try everything!" And never, ever give up.
Losing a pet is an emotional and stressful experience for any pet parent. However, with careful planning and preparation, and using the advice outlined above, pet owners can significantly increase their chances of of getting their pet home, safe and sound.