We've all seen it. Photos on social media showing chewed up baseboards, scratched furniture, and rifled through trash bags. A bored pet can be a destructive pet.
If there isn't something available for a fur kid to distract their mind and be active in a constructive way, they are more likely to find other ways to be distracted, which could result in chewed up shoes or some other unsavory activity.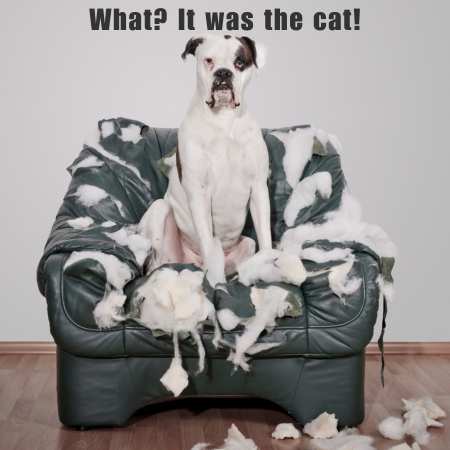 The PetHub team is made up of pet parents and with it comes experience on what tools work best to occupy a pet's minds when we're away. We've pulled together the top dog and cat boredom buster tools for you to try!
Boredom Busters for Dogs
Here are examples of when having a boredom buster plan for dogs makes sense based on feedback given from the PetHub team. You'll notice that there's no "one size fits all" reason for rolling out the products, processes or tools that we've rounded up for you. Examples of times to use boredom busters like an interactive dog toy, dog treats, exercise and mental stimulation through dog a dog puzzle include:
When working from home but a meeting-filled day prevents us from interacting

Keeping a dog distracted during "everyday encounters" like when someone comes over to do repairs in the home, or a guest is visiting, or during high action/traffic times of day like getting ready for school and work

When tasks like work or cooking dinner interfere with prevent play time

When we can't take our pet with us for some reason and they're home alone

When there's no reason, but you want to spice things up for your dog
Beef Marrow Bones
There's no fancy link here for you to purchase a marrow bone, but your local butcher probably has some on hand for your furry friend. A quick stop to a grocery store can supply you with a beef marrow bone for your dog to gnaw on.
They can be kept frozen until you need them and can also be used to make bone broth as a meal topper or in an enrichment mat for your pet to lick up. Your pup will love to use their chompers and tongue to try to get the marrow from the middle of their bone.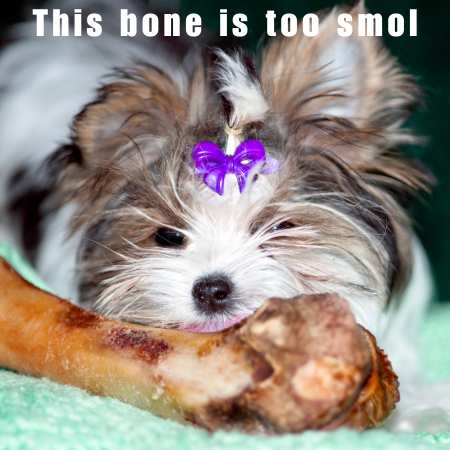 One PetHub team member buries her bones in a special sandbox for their larger dogs in the backyard. It means they need to use their noses to sniff out the bones and other tools to unearth them before they can start to chew on them. She mentioned her fancy sandbox in an article called "Backyard Product Roundup for Pets," which illustrates the top things we use in our own backyards.
Of course, dental health is important and bones can be hard. Keep an eye on the bones for splintering and in your dog's mouth to ensure they aren't damaging their teeth. For us, it's a tool we use sparingly but when we know we need to keep our dog occupied.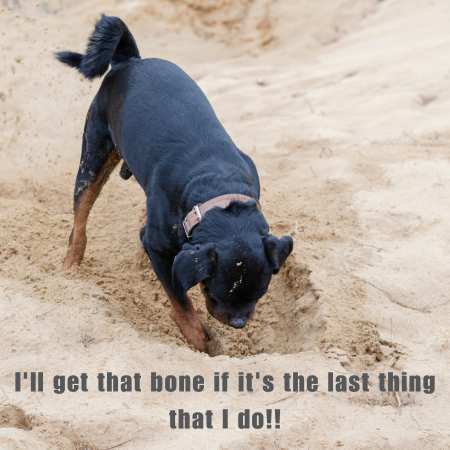 A Game of Fetch
It sounds so simple, but there's a lot of evidence that shows a tired pet is a less destructive pet.
While there are lots of fancy tools out there that can help with enrichment and engagement, basic (and sometimes taken for granted) things like playing some rounds of fetch at the local park or in the backyard with our pet can be all that's needed to keep a dog entertained and tire them out before you head to work or before running an errand.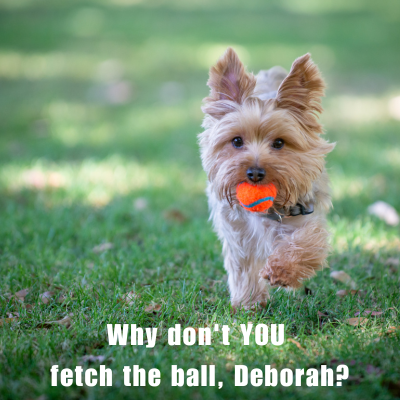 These balls for fetch come in three different sizes and also squeak, which is great for many pups who might be distracted by sights and sounds outside. They look like a tennis ball and it comes in a multi-pack so dog parents can continue tossing to their pupper even if they don't bring the ball back each time! Fetch is a simple way to get rid of excess energy that will make your dog happy.
Going for a walk
Yup, we're keeping it simple for this recommendation, too. Taking your canine companion friends for a walk before you need to leave can help keep them tired and snoozing while you're away.
Many dogs love new adventures, so different walks will keep your pup occupied! It can be to a new spot where you allow them to take the lead on where to head and what to sniff. It can be a fast-paced stroll where both of you have elevated heart rates by the time you're done. It can be a stroll over different terrains. It can be a little bit of all these things. The important part is going out there, getting moving and keeping your dog active.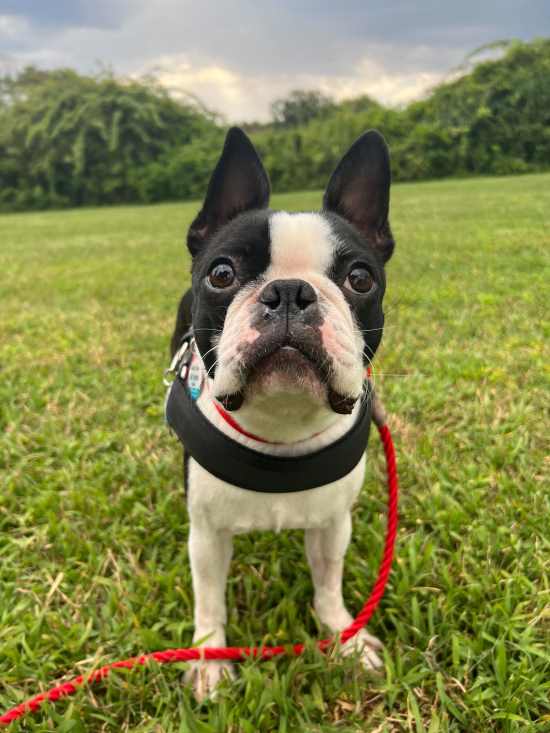 Image by Bryn Souza
If you're like many dog parents who can't to bring their furry friend dog on a walk on their own, consider using a dog walker. A dog walker can help with physical exercise even if you're away for more than a few hours, ensuring your dog stays active.
Make sure you have a high quality dog leash, harness or collar, and visible (and up-to-date) IDs on your pup anytime you're out and about.
Food and treat dispensing toys
A food and treat dispensing toy like the Kong Wobbler, Starmark Bob a Lot or Toppl can be filled up with some or all of a meal or treats to allow your pet to interact with the toy and be rewarded with some tasty noms. They can also be used as an alternative to slow feeder bowls if your dog loves to scarf their food.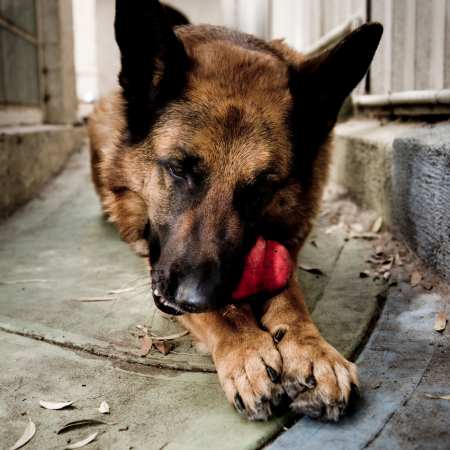 We've used food and treat dispensing toys at mealtime or as a way to distract our pets when a guest comes over or during an important work call. Once the food or treats have been dispensed, it's a sturdy enough toy to be chewed on or played with, keeping dogs entertained for more engagement and to ward off doggy boredom.
Expert Tip:
Dog owners, get your paws on multiple interactive dog toys you can fill with food or a tasty treat (like a Kong toy). You can stuff with goodies like dog safe peanut butter, place in a ziploc bag and freeze. Take one out each time you need your pet to be distracted for some frozen treats inside that most dogs love.
This means you'll always have some dog boredom busters on hand even if you didn't have time to clean out the toy from a previous play session (note, most of these toys are top rack dishwasher safe).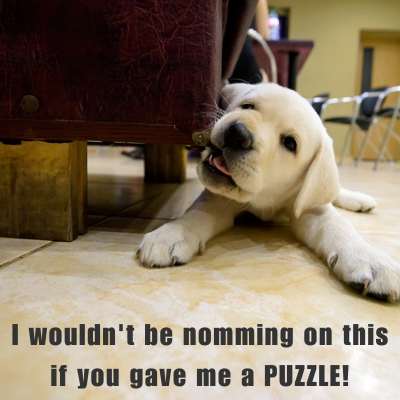 Try having one of each toy, like a stuffed Kong, Toppl and Bob-a-Lot so your furry friends have the mental stimulation of different ways to get to their rewards each time. This will make your dog work for their treats inside and encourage mental stimulation.
As an extra special dog treat for your boredom buster, consider adding doggy ice cream to their toy mixed with crumbs of treat bags, and some dog safe fruit like blueberries or bananas.
Use a scent training interactive toy like a snuffle mat
We've brought up snuffle mats in the past as dog boredom busters to consider having for your dog friends and it's no coincidence that we're bringing them up again. They're a way to keep your dog interested in mealtime and to ensure extra mental stimulation.
Allowing a doggo to use their noses to sniff out a reward or their entire meal as an alternative to a slow feeder dog bowl can be a great way to provide mental stimulation. They be used for an entire meal or for short breaks when a pet needs to be distracted.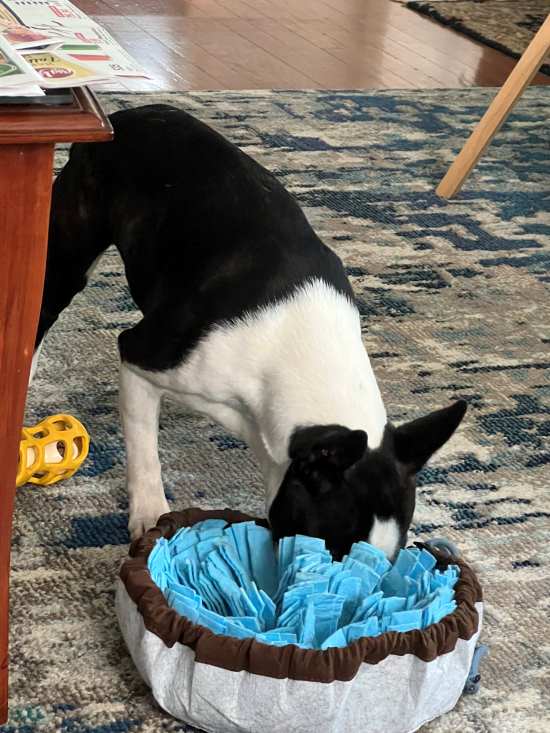 Image by Bryn Souza
You can make your own snuffle mat as a diy dog toy or find them online in a variety of places. Either way, they are so much fun to use and a great way to keep your dog engaged and for a slow feeder alternative.
Use puzzle toys for problem solving
Puzzle toys are an awesome way to challenge a pup mentally while ensuring they receive a reward for interacting with the puzzle. They range in difficulty, what they're made from, durability, and how much food or treats can be held.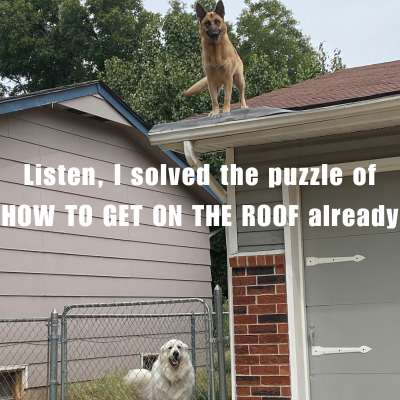 We recommend spicing things up by having more than one puzzle toy on hand so your pupper is regularly challenged thanks to a variety of offerings.
Don't forget, there's nothing wrong with DIY. A puzzle toy can be as simple as a muffin tin with treats and a tennis ball on top. Your dog will love a challenge with puzzle toys regardless of whether you hand made it or bought it online.
Use calming toys, like "stuffies" to sooth
Not all dogs have the same need for exercise to be engaged and would rather be soothed. There are calming toys, including stuffed dog toys, that can be used for pups that would rather snuggle with something that will help them to be calm and content.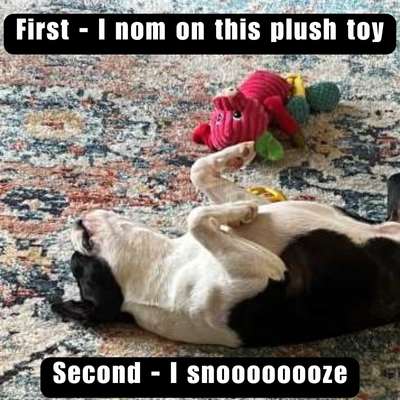 Of course, all dogs are unique, so what may be a soothing agent for one pup may be a recipe for beheading and de-stuffing for another pet, so provide whatever resource you think is best for your dog's personality and propensity for destruction of soft things. Sometimes plush toys that your dog destroys can also be a source of joy for dogs, so grab some that may keep your dog occupied, even if it's for a short while (make sure to keep your pup supervised).
Use lick-mats for treats and a distraction
We see LOTS of photos on social media of lick-mats that are filled up in fun, fancy and pretty ways.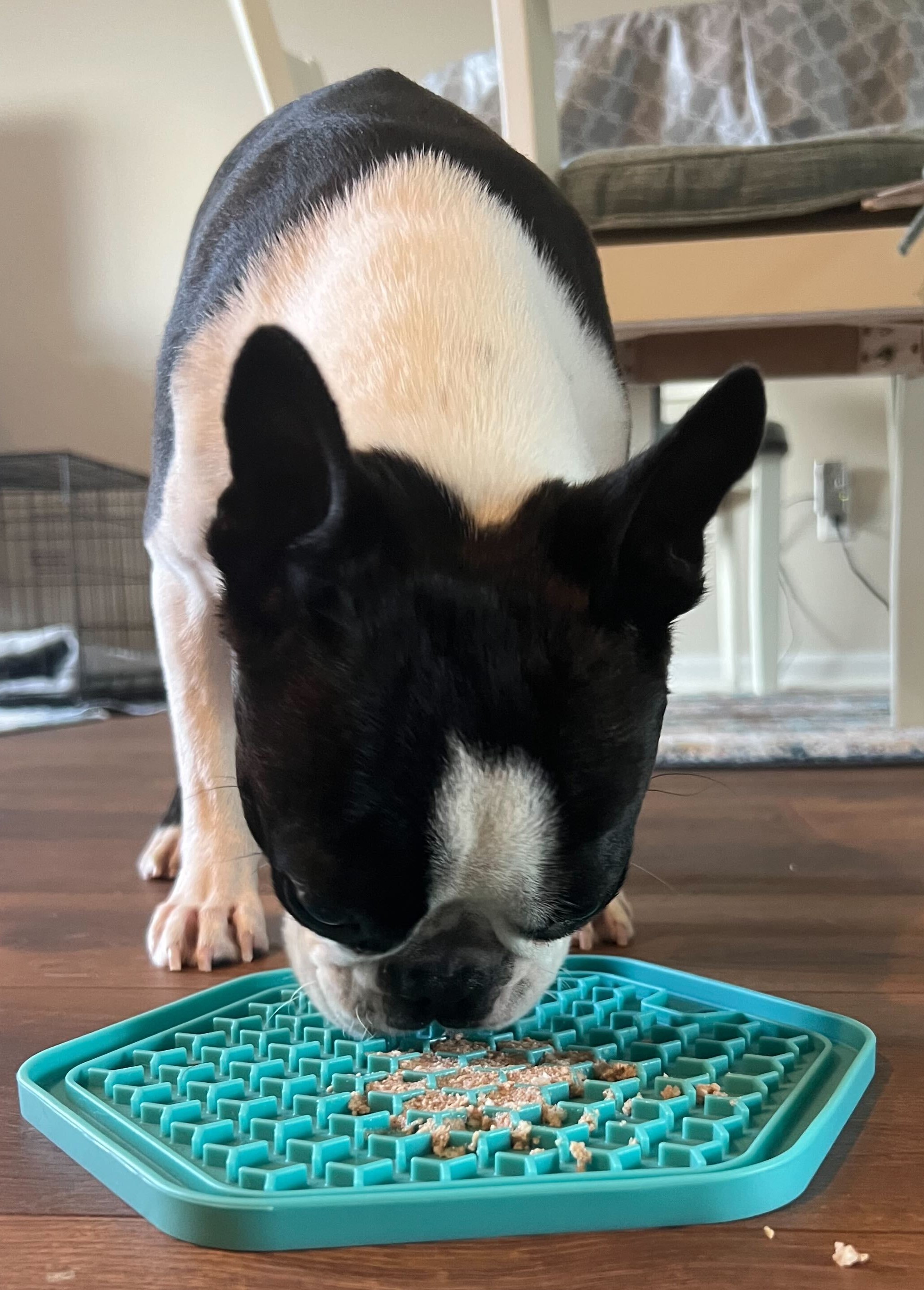 Image by Bryn Souza
While we think it's fun to challenge ourselves with new and creative ways to fill a lick-mat, we are also here to remind you that your dog doesn't care if it's pretty. They care that it's tasty and it's different from how they normally get food or treats. Hopefully that takes some of the pressure off of using lick-mats as boredom busters for dogs.
Smoosh some canned wet food into the grooves of a mat, add some plain Greek yogurt, bone broth, or fruit puree and plop your mat in the freezer to extend the amount of time it'll take for your pet to lick up all the goodies or to help cool them down on a hot day.
Durable lick-mats like this mat from LickiMat can withstand nibbles from large dogs, like PetHub team member's German Shepard Dog and Great Pyrenees. As with all ways to keep a dog busy, be mindful of the choking hazard of broken pieces and check puzzle toys or lick-mats often.
Use long lasting dog chews for hours of entertainment
A long-lasting chew isn't as hard as a bone, but does allow for extended use. Things like Himalayan Dog Chews are great for flavor and last for a long long time. Our PetHub team members report these chews lasting for a couple of hours and, as an added bonus, when the last nubs are all that's left, you can pop the chew into a microwave to create a fun cheese puff treat!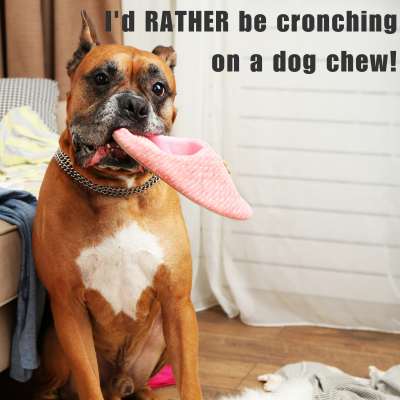 Other chews, like Collagen Chews or bully sticks are long lasting, but not as hard on teeth. So, they are a good middle ground for chewers when you need your pet to be distracted, but not for as long as when you're using a bone.
Expert Tip:
Keep your dog entertained with an easy and convenient way to hold onto their chews with the help of holder dog toys like this option from West Paw or the Bow Wow Labs bully stick holder. It helps reduce mess while providing a tool to help your dog hold onto its chew for nomming. When the toy is emptied of its chew, it can be used to stuff with something like peanut butter, or to play fetch, or for your pet to play games.
Boredom Busters for Cats
There are lots of PetHub team members with cats as part of their furry family. As thoughtful pet owners, they are always on the hunt for tools that will help encourage calm behavior in their kitties. The boredom busters listed below help to provide mental and physical stimulation for cats! Here are some instances when these tools can help pet owners and their kitties:
When you want to tucker out a kitty so their nocturnal tendencies change to being more active during the day instead at night
When you want to ward off unsavory and behaviors like scratching and going potty outside of the designated potty zone
When you want to keep a multi-cat household active and entertained
When you want to encourage natural instincts for getting food like stalking and pouncing
Different toys for different needs
Use catnip toys for cat playtime
Catnip is a delight, ask any cat you know. Toys infused with catnip, or stuffed with catnip can provide hours of entertainment for a kitty. Our cat loving PetHub team members especially like a toy stuffed with catnip that looks like butterflies from Yeowww! These toys are easy to scoop up and toss in the air, which replicates the play and hunting instincts a kitty loves to employ.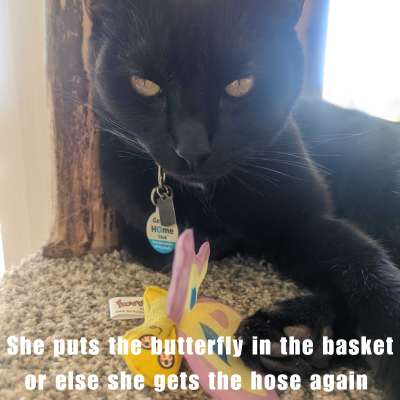 Expert Tip:
Make any plush toy a catnip toy by sprinkling some catnip on it before leaving the house.
A toy that moves helps with cat entertainment
Movement on a toy, especially when there are different speeds and attachments, can entertain a cat in a variety of ways. That's why a PetHub team member loves the SmartyKat Hot pursuit toy. It can be adjusted by pet parents to change speeds, attachments can be swapped out for different types of interaction, and its battery is long-lasting!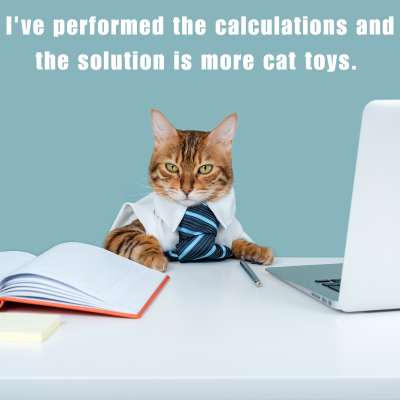 Another motion activated toy that moves AND dispenses treats is from Catit. It's small enough to be batted by paws, but sturdy enough to bounce back. The top includes a wand attachment (and replacements) that move and the body lights up. It'll reward cats for playing with it by spitting out tasty treats and is a great way to engage a cat when you're away from home or in a different room.
Use a snuffle Mat - they're not just for dogs
Cats like to forage for their food as it helps to replicate hunting skills. This toy from Camidy includes a snuffle mat in the center where food and treats can be placed along with a rolling ball track all around it.
Cats can be rewarded for their playtime and it can help to reduce stress. This is a great tool for multi-cat homes because one cat can be playing with the ball track while the other is using the snuffle mat. Cat owners on our team prefer using tools that help to encourage hunting and foraging for food instead of free-feeding. Not only does it emphasise the natural behaviors a cat would perform, it encourages exercise to ward off the dreaded "Your cat is a mega chonk," convo with a veterinarian.
Interactive toys help with enrichment
An interactive fish toy that moves when played with that also has catnip?! That sounds like a perfect combo for cats. It's a tried and true toy one of our PetHub team members uses for her multi-cat household. This toy is motion censored, so when your kitty walks nearby, it'll start to wiggle, prompting a pounce and some rousing playtime with your feline.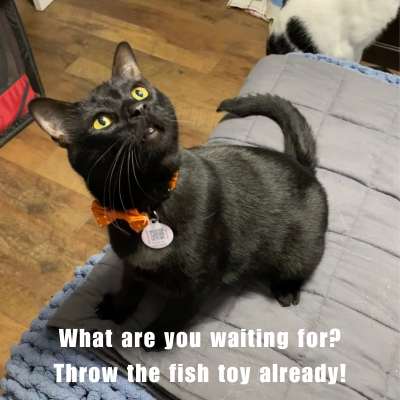 Bring the Outside In
Bird Watching
All a cat needs to be happy is a comfy perch and a way to watch the birds in action. A clear bird feeder that's mounted to the window allows for easy bird watching from the comfort of home.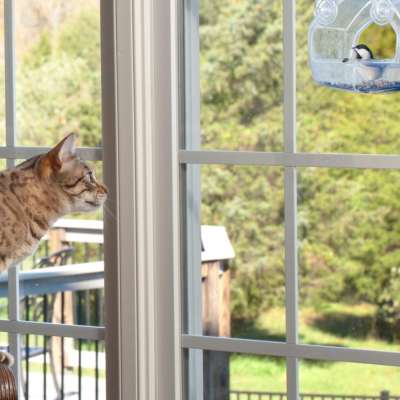 Make sure to fill the feeder with high quality feed to entice fancy birds to come for a visit and give your kitty a spot to view, like a cat tower, condo, or window hammock.
Grass Monching
Cats like to chew on grass. Grass chomping can help reduce furballs and stimulates a cat's digestion! You can provide a safe way to satiate that need with the help of a planter from Catit. It can't be knocked over like other planters that we know your cat has been tempted to swat in the past. It's easy to clean and maintain, and it helps to bring the outside in for a kitty.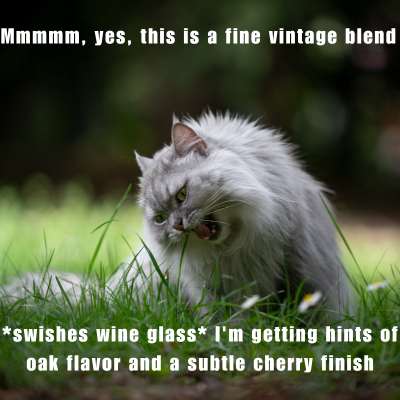 Packaging - a cat's playground
A friend has recorded videos of her cat having taken over a box its food came in at the base of the stairs for over two weeks. Each day, she tries to break down the box, and each day, Teddy, the big chonky cat, plops its bum and gets comfy in the box. It has been entertaining for the family, for the cat, and for friends she shares the videos with. It has shown us that any box can by a toy box and source of enrichment for a cat!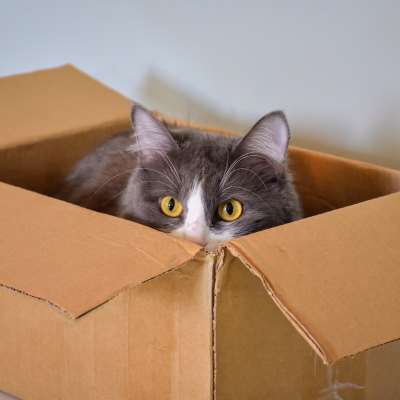 She has since swapped out the Chewy box for a slightly smaller box and some plain brown paper packaging. He chomps on the box, rolls in the paper, and takes some high quality naps. If you plan on using a box, or bag, or other packaging, be sure it's free of handles or plastics that could be a choking hazard. For added fun, sprinkle some cat nip in the box or packaging!
There are tons of boredom buster choices for your dog or cat!
Our dogs and cats benefit from variety and choices when it comes to boredom busters. Spicing things up with different tools help to provide continued enrichment for our furry friends which in turn reduces the likelihood of them getting into unwanted antics because they're bored at home.
Check out our infographics on boredom busters for dogs and cats for more helpful ideas!
Published on 8/1/23