When your pet goes missing, there is no time to waste. We work hard at PetHub to ensure that every family's pets stays safe, happy and home for their whole lives. We know that time is of the essence when it comes to taking the steps to get your pet back home. Making lost pet flyers can be time consuming and stressful. So, we have made reporting your lost pet and creating a lost pet poster easy and simple, so you can spend more time looking for your furry friend!
REPORT YOUR PET MISSING
To start, login to your PetHub account. Below your pet's profile picture is a series of blue buttons. Click on "Report Missing or Found".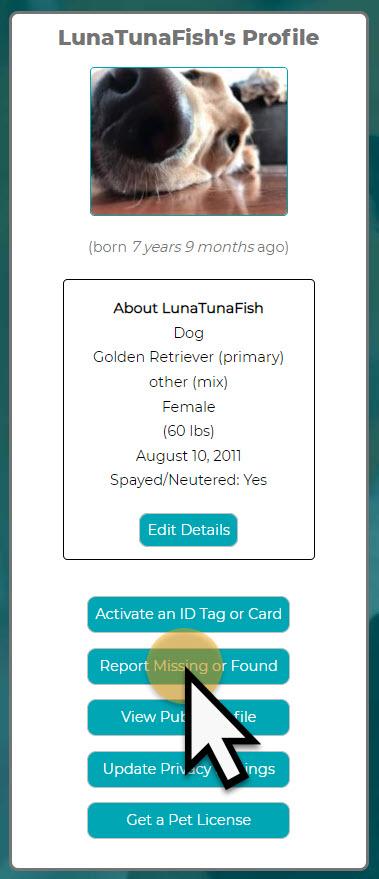 The next page will give you a breakdown of what steps you will take in the process of reporting your pet missing and creating their lost pet poster. Click on "Let's get started" to continue.

The next page will be the first of three in confirming and updating all of your pet's information. Confirm your pet's name, breed, weight, microchip number, rabies number, and license number if applicable. Once you've done this, click "Next Step" to continue.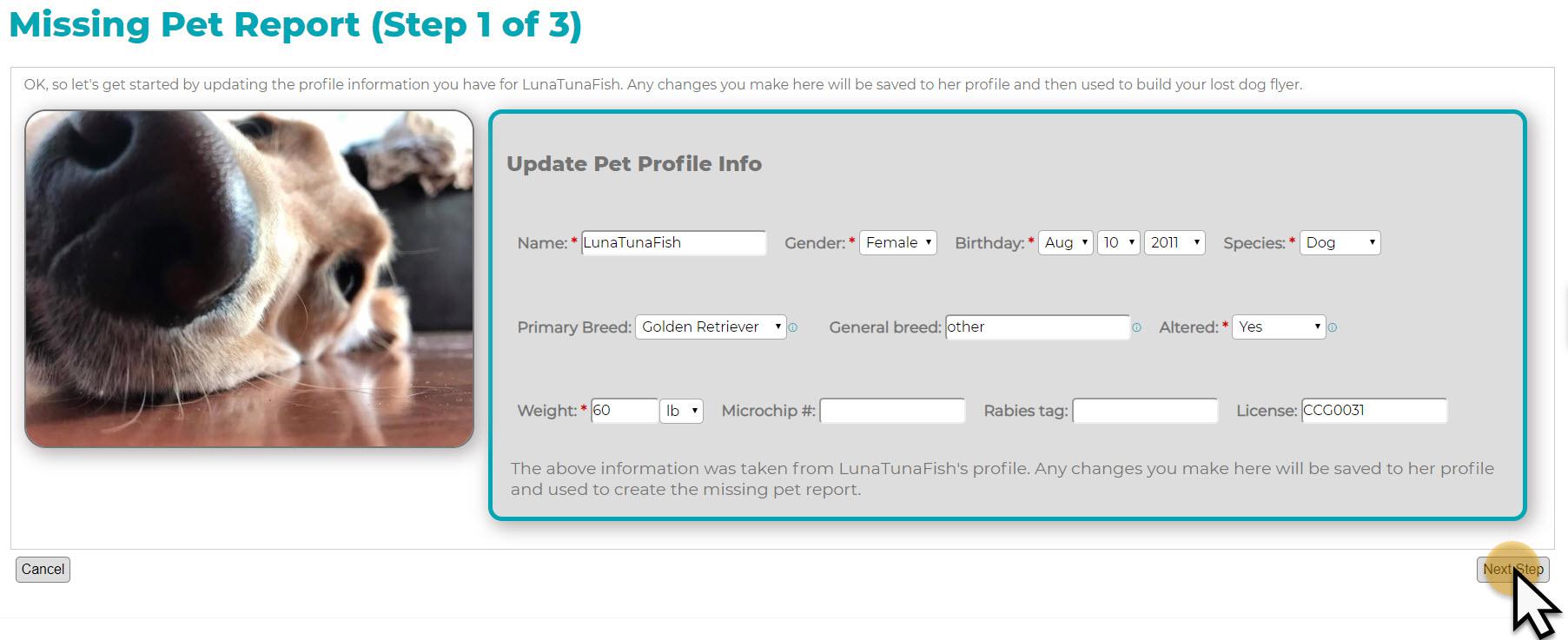 The second page of this process will have you update the physical description of your pet as well as any important medical or behavioral information people should know. This could include things such as shy around kids, has food aggression, will always come to you with treats, etc. Add or update any information you need to then click "Next Step" to move forward.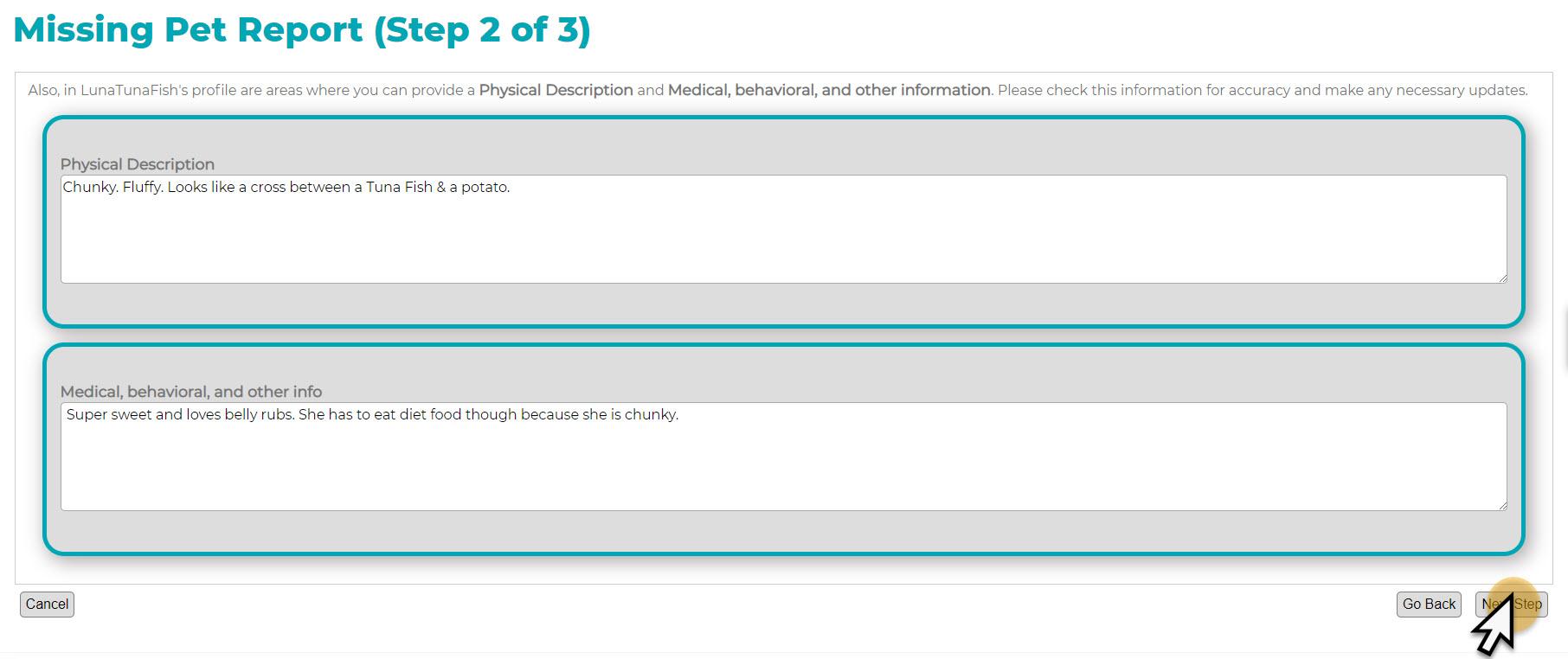 The final step in reporting your pet found and creating the lost pet poster, is filling in where your pet was last seen, when they went missing, the best contact information, and what you want the title of your lost pet poster to be. Fill in this information then click "Submit Missing Pet Report" to complete the process.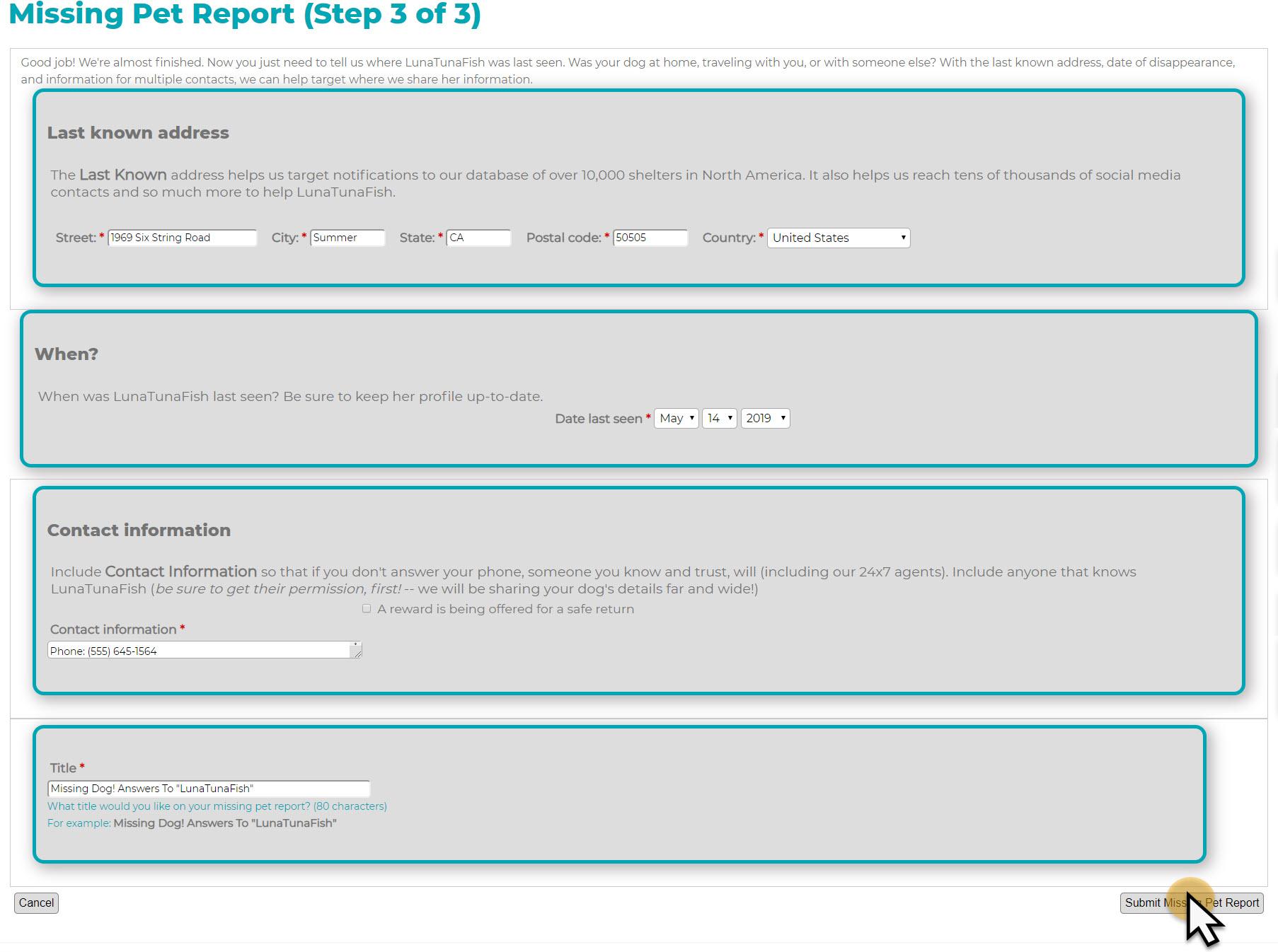 Once you have submitted the lost pet report, the next page you will see is the missing pet dashboard. This page will be your go to for managing everything regarding your lost pet. On this page you can view your pet's tag scans as well. This is a live list of every time your pet's PetHub tag is scanned or input into our lost pet lookup. There are also a list of articles and resources that you can use to further help you look for and report your missing pet around your area.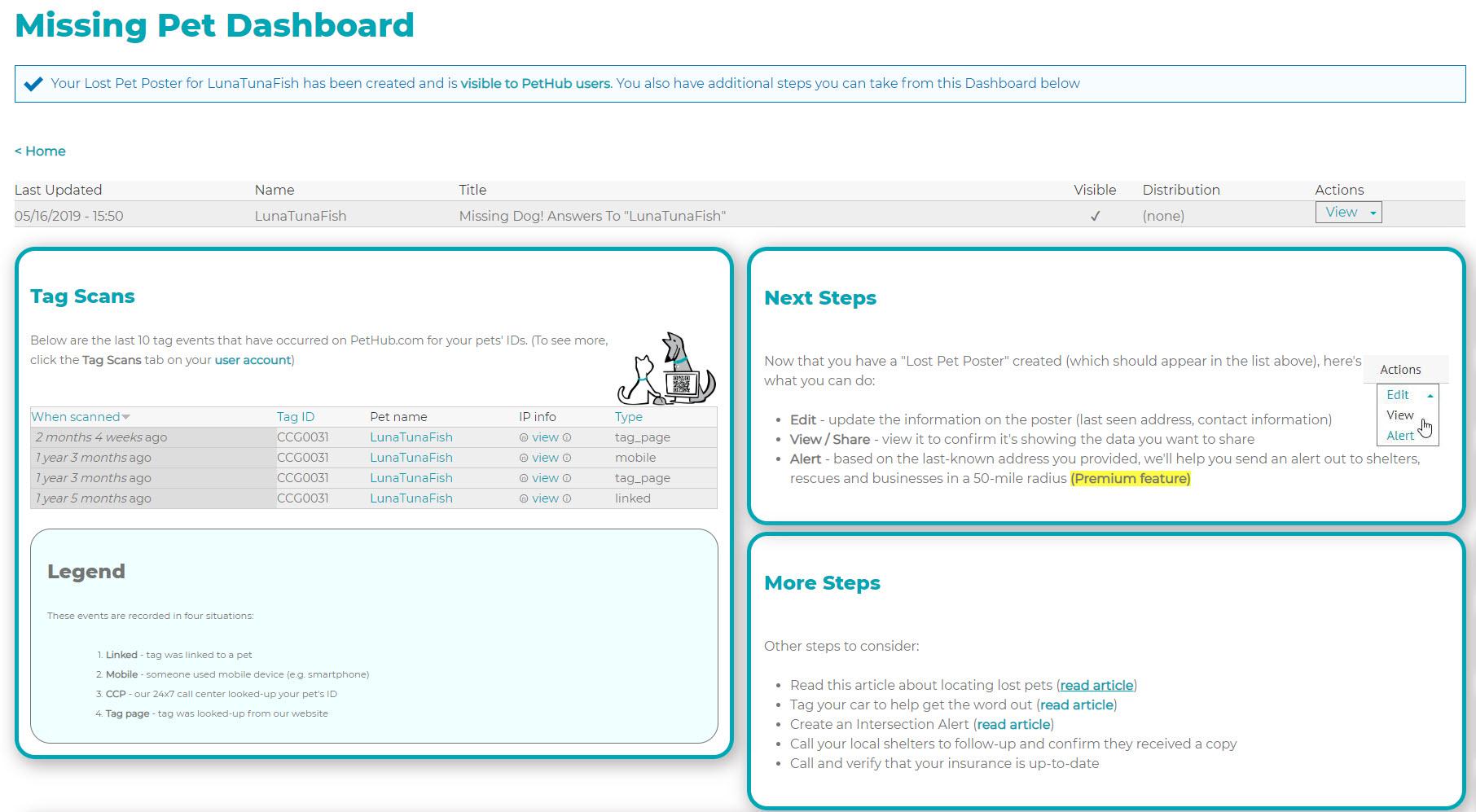 At the top of the page is a grey bar with your pet's name and title of your missing pet poster. On the far right is a drop down menu. This is where you can manage the actions you can take to further share and report your missing pet. Click on the arrow then select the action you wish to take. The options are:
View: this allows you to view your lost pet poster. From here you can save the poster you created, share it across social media platforms such as Facebook & Twitter, or print it.

Alert: if you are a premium member, this will be how you send out a "Community Alert" (like an amber alert for your pet to all pet businesses within 50 miles).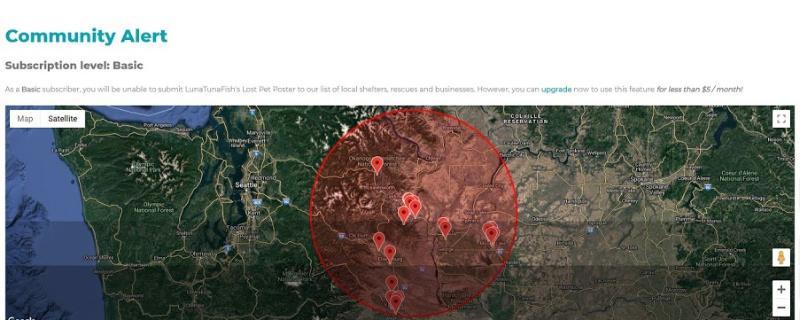 Edit: this is how you will make any edits to your lost pet poster should you need to.

Delete: if your pet has been found, this is how you will delete them from the lost pet database on PetHub (aka reporting them found).
Once submitted, your lost pet report will also be featured on PetHub's website on the "Missing Pack Member" page (https://www.pethub.com/pack/missing). Here, people from your area can search for pet's missing near them and view your pet's lost pet poster. Anyone can also click the "Share" button and share your pet's missing pet poster to their own Facebook page. The more eyes that can see your pet's information, the more likely they are to get home to you!

You also need to visit or call your local shelters in the area where your pet was last seen. You can print out your lost pet poster you created and drop them off at shelters, pet stores, and businesses around the area they went missing.
Time is of the essence: get out to their last-known location, call their name, take their favorite toys and treats with you, and don't run at them when you see them (they might be frightened, so give them time to recognize you and come to you).
Losing a pet is scary, but taking the right steps as soon as possible can only aid in getting them home to you quicker, and we are here to help in any way we can.
If you have any further questions or need any assistance, contact our support team by visiting our Contact Page!