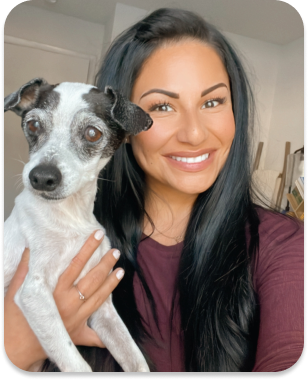 Sales Specialist
Gabbie's first pet: "The first pet that I brought home was a white, long- haired chihuahua named Chookie. He was always very sweet to me but in true chihuahua form, he was not sweet to anyone else. Chookie is still biting ankles today and will be turning 21 this year!"
Current Fur Kids: "Currently, my babies don't have fur, they have feathers! Pablo is my 2-year-old cockatiel and Penelope is my one-year-old parakeet. When I have more space in the near future, I plan on being a foster mom for our local humane society, Austin Pets Alive."
Gabbie's Mantra: "Be the person your dog thinks you are."
Why she works for kibble: "I chose to work for a start- up because the newness and potential for success is very motivating and exciting!"
Gabbie's favorite part of working for PetHub: "The company mission is what sparked my interest but the people and the culture sold me! I am very lucky to be a part of an amazing team and who all strive towards similar goals."
If Gabbie was a dog (or other pet): "If I were a dog, I'd probably be a Pitbull because I am extremely loyal, dorky and often misjudged."
Want to learn how PetHub's tag program can benefit your organization? Schedule a meeting with Gabbie now.