If you have been on PetHub's website recently, you may have noticed that we have a whole new look. If you're new to PetHub, you might just think "Hey, what a cool website!" Either way, we wanted to take time to give you a look around to see what's new, where to go to find what you need, and how to use all the great features!
If you are a current PetHub user, you can login easily at the top right corner of the homepage. This will take you to your pet's profile page, which has been updated and may look a little different (we will get to that in just a bit).
If you are new to PetHub, first off, WELCOME! Secondly, you may be here for a variety of reasons. We have made it easy to navigate where you need to go. On our home page you will see a list of actions including activating your new tag, updating your pet's profile, buying or renewing a license, and more. Choose the appropriate option and work through the guided steps.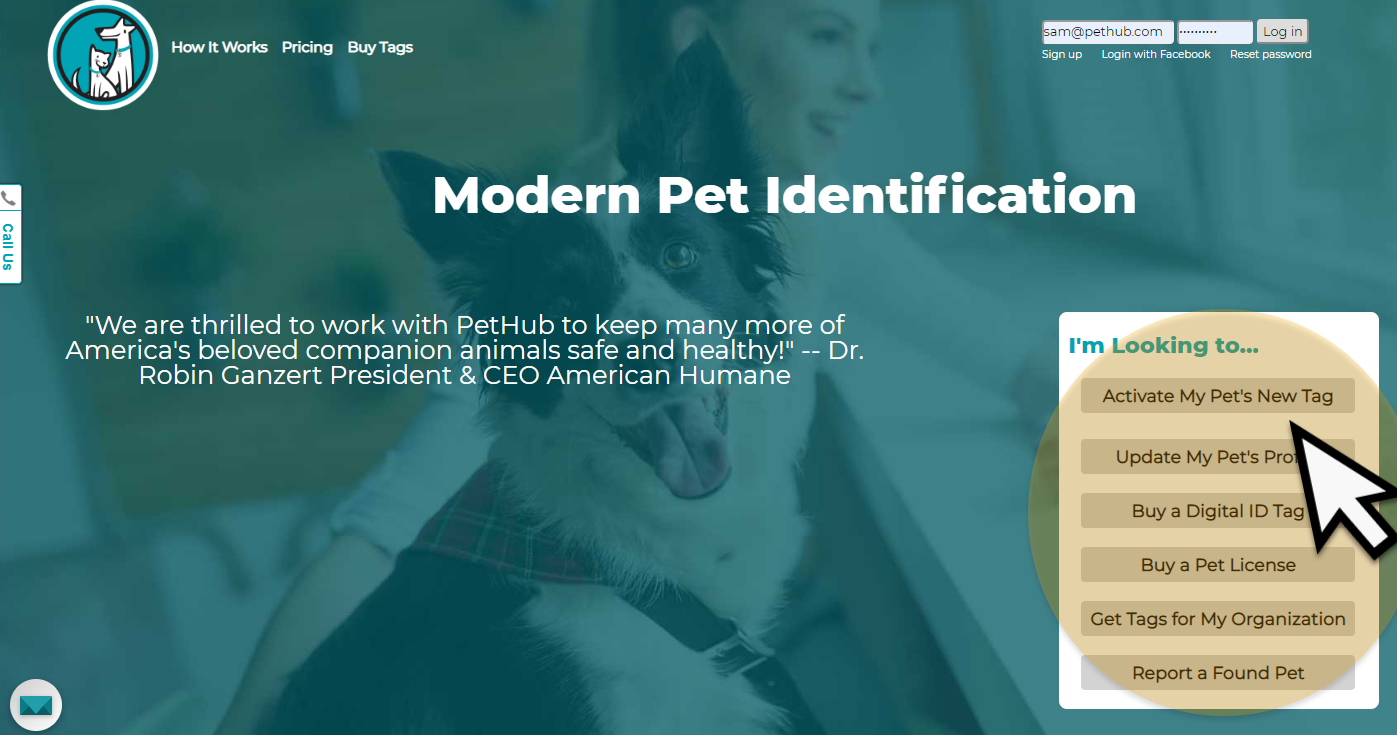 Most people that come to the site as a new user will be activating their pet's new PetHub tag. How exciting! Click on the "Activate My Pet's New Tag" button, and away we go!
On the first page, start by creating your new PetHub account. You have the choice of signing in using your Facebook profile, or you can simply type in the details yourself.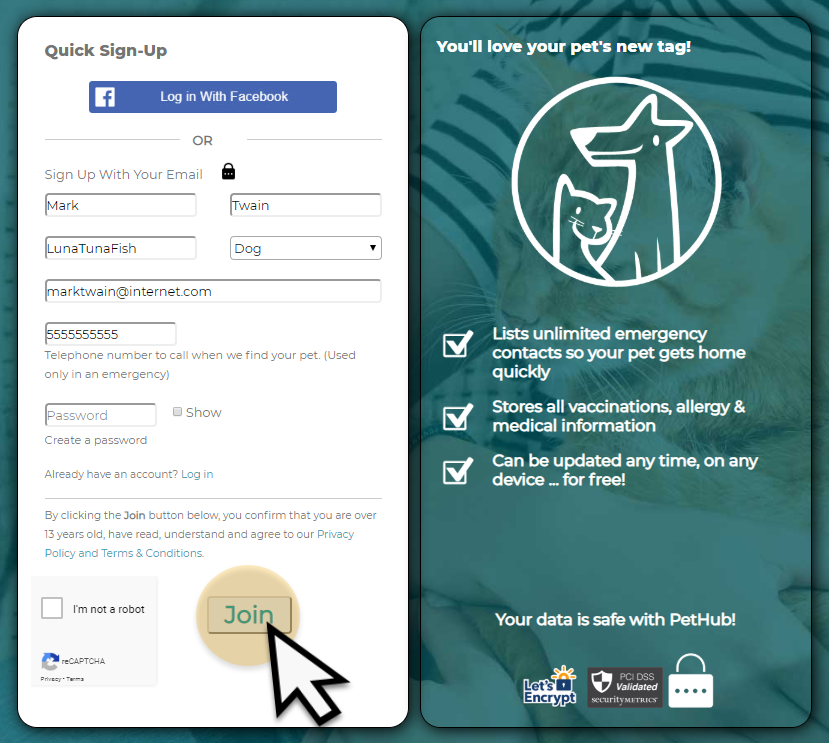 The next three pages will be all about your pet (don't worry, you can add more pets later). The first step is uploading a picture of your pet.
The next two pages will be gathering information about your pet such as their name, breed, age, color, etc. These are all important pieces of information to have on your pet's profile. If you need to change any information on your pet's profile in the future, don't worry, you can edit it at any time.
The last step of the process is to activate your pet's PetHub tag. Simply type the tag ID number (found underneath the QR code) into the box and proceed!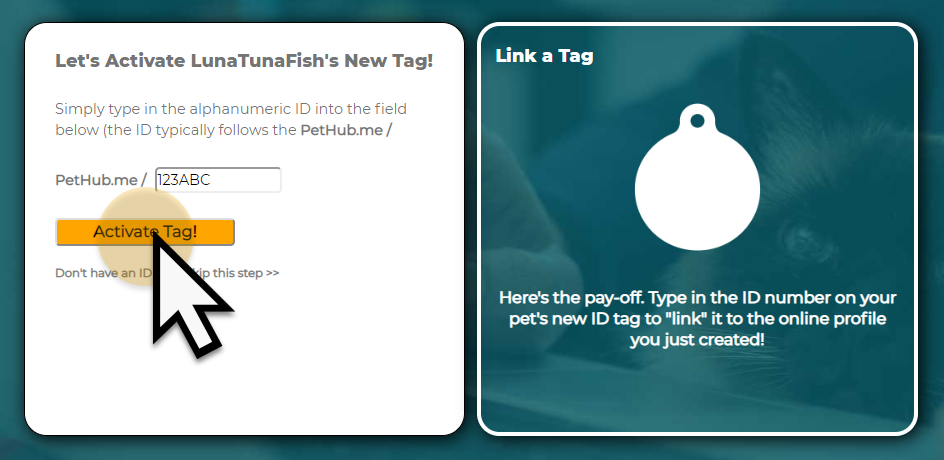 Once you activate the tag, you'll learn about our Premium Service. While this is optional, we HIGHLY recommend upgrading your pet's profile. Our Premium plans start at just $5 a month, so you can upgrade your pet and get extra services like instant text and email alerts when your pet's tag is scanned, digital lost pet posters, shelter alerts when your pet goes missing, and more!
To upgrade, simply select the plan that works best for you & your pet. If you choose not to upgrade, simply click "No Thanks Just Basic" at the bottom of the page.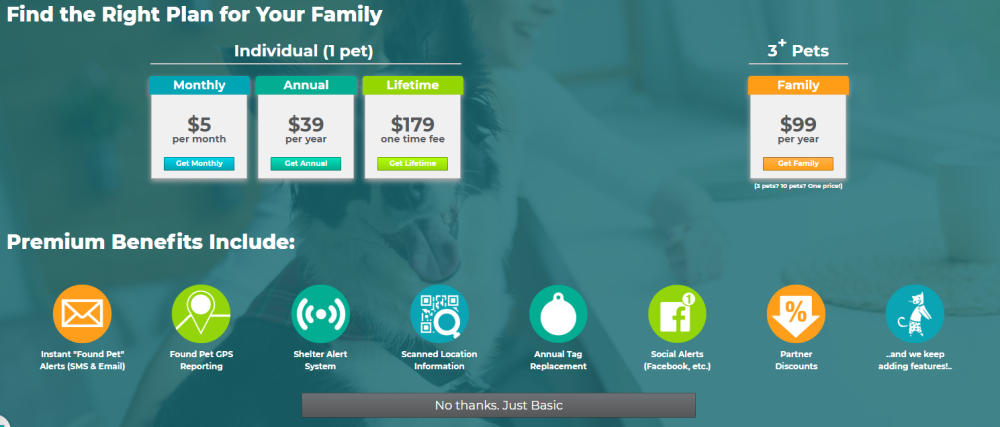 After the Premium upgrade page, your pet's profile is ready to go! This is the hub for all your pet's information and includes their Safety Circle (a place for all people that care for your pet), documents, vaccination and medication records, procedures and surgeries, etc. All of the records can be edited, added to and viewed here at any time.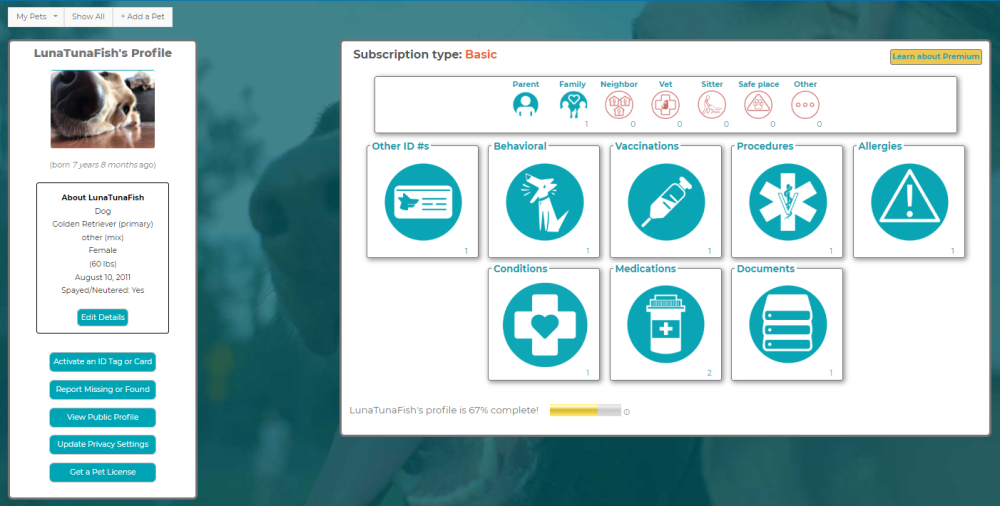 If you need to add more pets or toggle between different pet profiles, turn your attention above your pet's picture. Click "My Pets" for a drop down menu of all the pets on your profile and simply click on the pet you want to view. To add more pets to your account, click "+ Add A Pet" and find the form to add a new pet!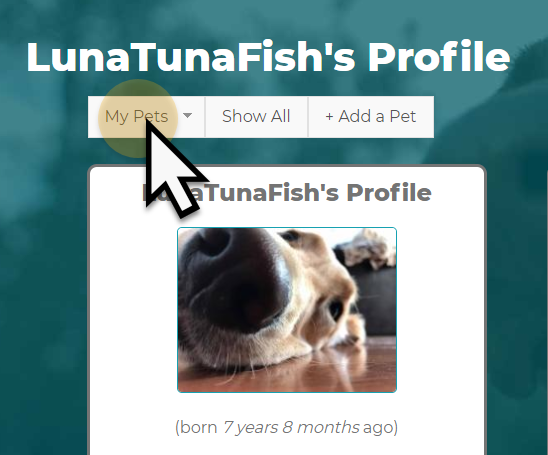 If you would like to find more information about us, wish to purchase a new tag for your pet, access our contact forms, or head to our blog, you can find the menu bar at the top of the page!

Have questions or need help? Contact us at support@pethub.com or 866-795-8440 ext2