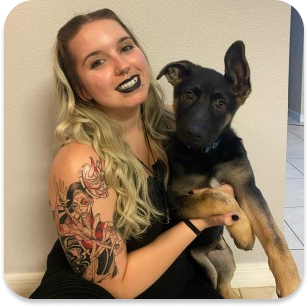 Partnership & Client Success Specialist
Sharon's first pet: "My cat, Aela, was my first rescue that I have raised myself, but I grew up having cats my entire life."
Current Fur Kids: "I now have a sweet German Shepherd, Gojira, who's my big baby, alongside my two cats, Aela and Valentino (also my babies just a lot more independent)."
Sharon's Mantra: "Don't wish for it, work for it!"
Why she works for kibble: "I have been an animal lover for as long as I can remember and have always been active within the animal welfare programs in my community so finally getting into the industry was a dream come true. I believe what we do here at PetHub is important and I'm so fortunate to be a part of it!"
Sharon's favorite part of working for PetHub: "Knowing that what I do every day plays a part in keeping pets safe, happy, and home for the rest of their lives. As well as the amazing people I work alongside with!"
If Sharon was a dog (or other pet): "I would probably be a cat since they are the pros when it comes to napping and being cozy - two of my favorite things."
Want to learn how PetHub's tag program can benefit your organization? Schedule a meeting with Sharon now.