Amy Burkert from
GoPetFriendly
contributed a guest article for PetHub to help Pet Parents prepare for Lost Pet Prevention Month in July.
Absolutely gutted. There are no other words. That's how I felt as I watched my lightening-fast dog racing off after three deer.
My husband and I were out for a walk with Myles, strolling the gravel roads near our friends' home where we were visiting. They live in a spectacular community; 13,000 acres along the spine of the Sangre de Cristo mountains in southern Colorado. But when your dog pulls the leash right out of your hand and takes off after the local wildlife, it feels more like a vast, terrifying wilderness.
I think we're responsible pet owners. In fact, I write a blog about traveling with pets and have covered the precautions people can take to prevent pets from getting lost when they're away from home. We'd also worked on recall with Myles, kept him on leash when we had any concerns that he could take off, and fitted him with both a visible ID tag and a registered microchip. But that day showed me that, no matter how careful we were, dogs are animals — and they can go missing in a heartbeat.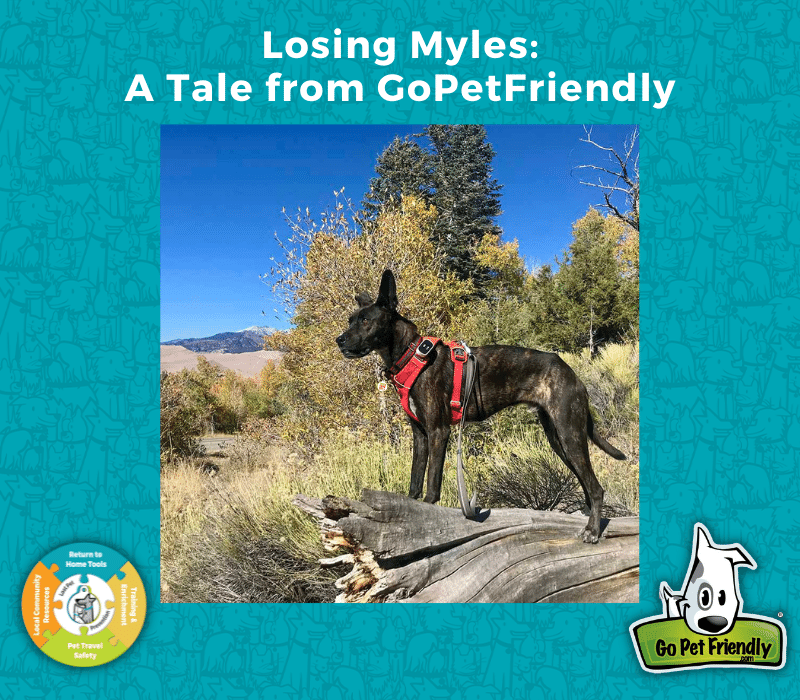 It's hard to blame Myles. He is a dog after all! And those deer did wait until we were super-close before jumping out of the brush and running across the road in front of us. They startled me, and as I gathered myself, it was like everything was moving in slow motion. Myles barking, lunging at the deer, his leash trailing down the dirt road and then disappearing into the tall grass. I called his name, but he didn't hesitate. The deer had his full attention, and he looked a little like one as he excitedly bounded down the hill after his quarry.
When I finally snapped to, my mind moved quickly. He was dragging his leash, which could get caught on any one of a million obstacles he was likely to cross. Since we were staying with friends, he was unfamiliar with the area. There was little traffic on the roads, but the vehicles that were there moved fast. From where I was standing, I could see the border of the national forest — over a million acres of difficult terrain. We were more than a mile from where our car was parked, and Myles was heading in the opposite direction. The ID tag Myles was wearing had my cell phone number on it, but I had no cell coverage in this mountaintop location.
It's difficult not to panic in these situations. You know it's only going to make things worse, but the mind sometimes does what it wishes. With my heart racing from the shot of adrenaline, I took off for the car while Rod, my husband, charged down the hill trying to follow Myles. We agreed to meet on the road in the general direction Myles was heading when we'd last heard him.
When I picked Rod up, he looked heartbroken. He apologized for not being able to keep up with Myles, as if that was ever a possibility. We didn't know what else to do, so we rolled down the windows and alternated calling our dog and listening for his barks.
We drove around, stopping cars and asking everyone we saw to keep an eye out for a brindle dog in a red harness.
Finally, we decided to go back to the place where Myles had run off. And just as we approached, there he was trotting up the road! He looked quite pleased with himself — like he'd just had the best adventure. Little did he know that I'd aged 90 years in the 90 minutes he'd been gone!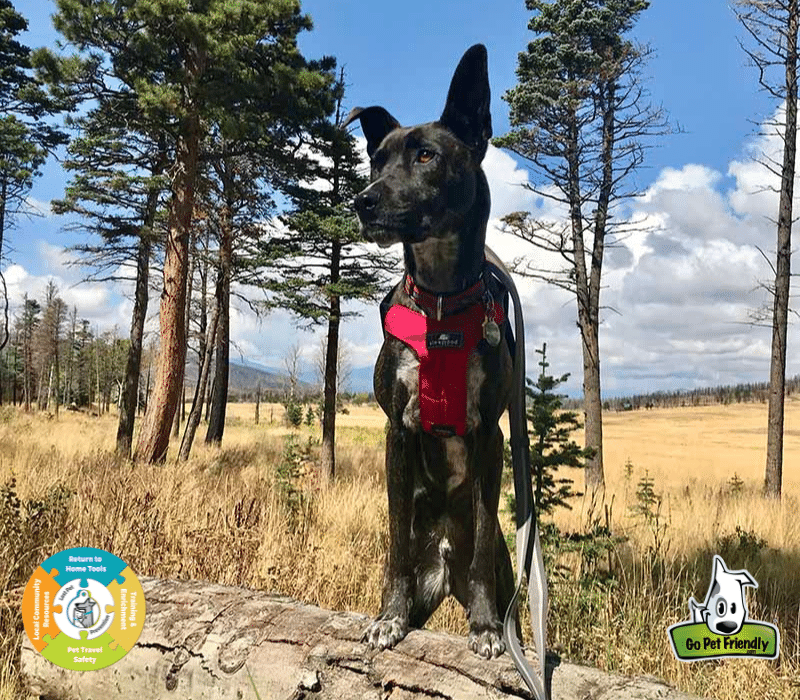 Of course we were delighted to have him back. For a time we all sat there catching our breath, feeling grateful that things had worked out. But as the days passed, it struck me how differently things could have ended. We'd done everything right, and we'd still lost our dog. This wasn't something that only happened to irresponsible pet owners. It could happen to any of us. Anytime.
The lesson Myles taught me that day is to never get overconfident. Doing everything I can to prevent him from getting lost isn't enough. I also need to be prepared for the day that he goes missing. Because it could happen again - just as quickly as it did the first time.
In 2009, Amy Burkert launched GoPetFriendly, a website that inspires people to do more with their pets and provides the resources they need to make that happen. With more than 65,000 pet friendly listings across the U.S. and Canada, GoPetFriendly makes it easy to find pet friendly places to stay and things to do.
After launching GoPetFriendly, Amy and her husband, Rod, traveled full-time in their Winnebago with their dogs for more than twelve years. With 200,000 miles behind her, Amy shares pet friendly destination advice and practical pet travel tips on the GoPetFriendly blog. She also self-published the award-winning book, The Ultimate Pet Friendly Road Trip, which highlights the #1 pet friendly attraction in each of the lower 48 states.