Hi, I'm Tom 

My name is Tom Arnold and I'm the founder of PetHub. My background is in computer science from Purdue University which has allowed me to be in the software development space since 1990 having worked for many small and large software companies doing anything from programming to testing to writing technical documentation and managing large projects.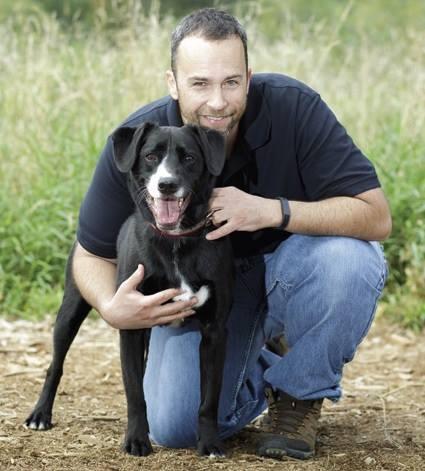 My dog "Ullr" (pronounced: ooh-luhr) and I in the park.
Why I'm Here
In 2010 I left Microsoft to combine my passion of software development with wanting to make a positive difference in the lives of our animals. When I had my indoor cat, "Taz," get spooked and run out the front door of my home, I realized only then how unprepared I was to help get her back again quickly and safely. When I was traveling for months at a time and looking for caretakers to help me keep my cats well cared for, I realized no such system existed to help make those connections.  These were the seeds to the idea behind PetHub: to create an end-all, be-all place to manage your pet's life and the connections with those who are important to you and your pet.
We are continuing to grow the vision on a daily basis and as of this writing PetHub is in over 250 communities as a pet license or rabies ID tag. We are the fastest growing pet community on the Internet with 600-800 new pets joining the site daily.
Outside of PetHub
While PetHub is my 60-80 hour a week focus (because it's not just my job, it's my passion), I do enjoy times where I can go skiing in the winter (I'm a member of the National Ski Patrol and enjoy helping my fellow skiers and snowboarders with mountain search & rescue), hiking with my pups in the spring/summer/fall months, and volunteering with our local high school for teens interested in learning how to program in Java. I'm also fortunate enough to be a new member of the International Rotary organization where we raise money for our local community including improvements to local public parks as well as helping to fund scholarships for young adults who come from a family that has not yet had someone go to college.
Pay It Forward
If you have the opportunity and are so inclined to give back through donation of your time, I invite you to explore service organizations in your local area. Even better, since you're reading this, you're likely an animal lover: go volunteer at your local shelter -- they *love* having people come to take their animals on walks to get them out into the community, to keep them exercised and socialized, and to help people see what wonderful animals are at their local shelters available for adoption.
Thank you for being here. I'm excited to be a part of this journey of creating an inclusive, supportive community, and I'm humbled that you're willing to give feedback to help us continue to improve.
Sincerely,
Tom Arnold
Founder
PetHub
up
0 users have voted.
Did this post provide value?