Well hey there 

 My name is Samantha (however, most people call me Sam) and I am the Customer Success Manager here at PetHub.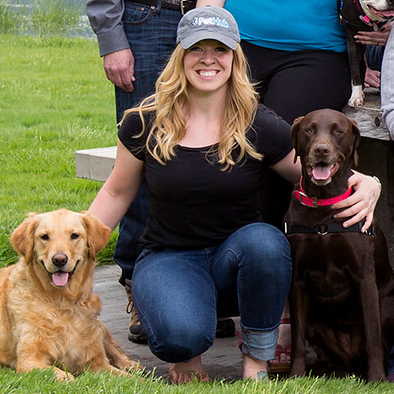 Who I Am
I am a dorky, enthusiastic, crazy dog loving, music obsessing, outdoor enthusiast. I am the lifetime member of the Wenatchee Valley on our team here at PetHub (not important, but I enjoy that fact nonetheless). I have two beautiful crazy fur kids; Cocomo, a 5 year old talkative female chocolate lab & Luna, a 3 year old ditzy golden retriever. I am a self professed crazy dog lady (agreed upon by anyone who knows me). My favorite passions & hobbies outside of work are music and fitness. I write lyrics, sing, and attend live shows monthly to feed my music addiction. I also workout regularly and am so thankful to live in an area with SO many outdoor recreation options. 
Where I Came From
Born and raised in the Wenatchee Valley, I have held my share of jobs over my working lifetime. From retail to being a daycare teacher to selling fishing supplies and being a barista. The most recent job I had before PetHub, was at our local Gold's Gym. I did just about everything there in my almost 5 years. Front desk, sales, online marketing manager, director of training, and then a personal trainer. I also got my BS in exercise science & nutrition, so the gym was a pretty solid fit for me. As much as health and fitness are important to me, in our small little town I just didn't feel fulfilled. So I decided to keep my ears open in case any positions came up. Then one day I saw that PetHub was hiring. I remember seeing their booth at the 1st Dog Days of Summer event in Wenatchee and researching them. I applied immediately and well.......
Why I'm Here Now
I truly love animals with all my heart and have always wanted to do everything I could to help make a difference for them. When the job for PetHub came up, I knew I had to at least apply. I remember vividly in my interview, I believe I said that I am a crazy dog lady no less than 200 times (you can ask our VP, she was there and I am sure would agree). I started with PetHub in September of 2017 and it was one of the best decisions I have ever made. The people I work with have become my family and getting to work alongside other individuals who have such drive and passion and tenacity is truly amazing. I am inspired every day by my coworkers and the animals we are working so hard to help. I truly love my job & all that PetHub is doing and will continue to do.
What I Do
I am the Customer Success Manager at PetHub. Basically anything that the customer does, uses, sees, or experiences, I make sure works how it should. We are, of course, a growing business and so nothing is perfect (nor will it ever be). But we strive every day to give our users the best and most user friendly experience possible.
PetHub is in the business of helping animals, but none of it would be possible without all of you. Thank you for constantly helping us grow & improve and in the process, helping more and more animals every day. We couldn't do this without you!
Stay Paw-some Friends!
Samantha Sinko
Customer Success Manager
PetHub
Did you know that snails can have over 25,000 teeth? And alligators can't stick out their tongues? Crazy right.....
up
0 users have voted.
Did this post provide value?