This is a featured guest post from Pet Living with Kristen Levine
Our friends at Pet Living with Kristen Levine put together some great tips for preventing lost pets for Lost Pet Prevention Month. We highlight three below, but head over to Pet Living for six more pawsitively GREAT ideas for keeping your pets safe at home.
The content below is an excerpt from the blog post "9 Important Ways Ways To Prevent Lost Pets" from the Pet Living with Kristen Levine blog (we got permission to repost, of course!)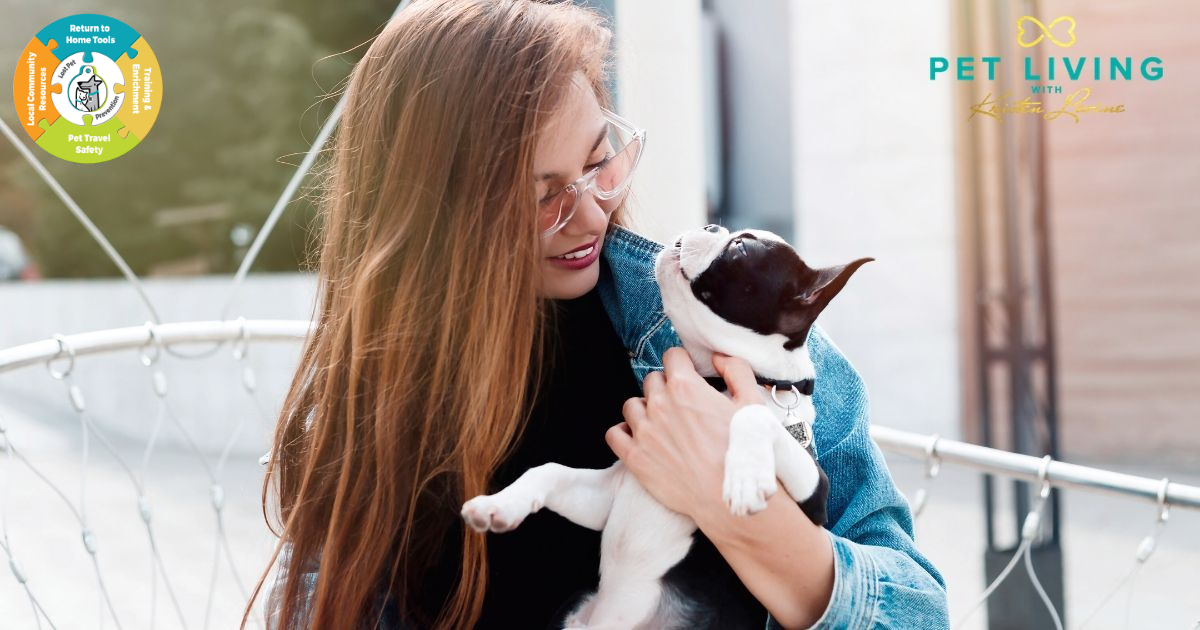 Always use a leash. When your pets are outside and not confined by a fenced yard, keep them on a leash so you can ensure they don't run off to chase a squirrel and end up getting lost! This is especially important on walks or when you're away from home with your pet walking in unfamiliar territory. I prefer leashes with two handles, like this one, in case I need to shorten up the distance between me and my dog for better control. If your dog is difficult to manage on a leash, I love the Freedom No-Pull Harness by 2HoundsDesign.
Pet-proof your home. A well-secured home is critical to your pet's safety. This means ensuring all doors, including storm and screen doors, are not just pulled to, but securely latched. Windows at ground level should remain shut. If you need to have your door open for an extended period of time, perhaps while moving large items in or out of the house, be sure to keep your pet in a secured room or in an escape-proof crate, like this one.
Get the right tech. Should your pet escape, tools like Ring doorbells and security cams can help you discover which way your pet ran off. The Nextdoor app is a free tool that allows you to communicate quickly with your neighbors and local retailers if your pet is lost. If you do allow your pets outside, they should be in a securely fenced-in yard or on a leash. When you go out for walks, keep dogs leashed at all times, even those who are usually controlled by voice command. Loud, unexpected noises could cause even well-trained dogs to forget their training and bolt.
Bonus tip: Make sure your pet wears an external ID tag and pet license 24/7. If your pet does manage to escape, external ID tags are the most reliable way to get them home quickly. Make sure that your pets' tags are easily readable and that the information on them is up to day. Registering your pet with the local authorities is another great way to protect your pet. If you pet does go missing, your pet's licensing identification can help bring him home safely.
Keep these tips for preventing lost pets in mind (plus six more tips!), and your summer months can be a fun, safe experience for the whole family!